The data shared at this year's ASCO Annual Meeting moved the field of clinical oncology forward.

Our survey with over 60 oncologists who attended the conference shows that ASCO 2019 did not disappoint.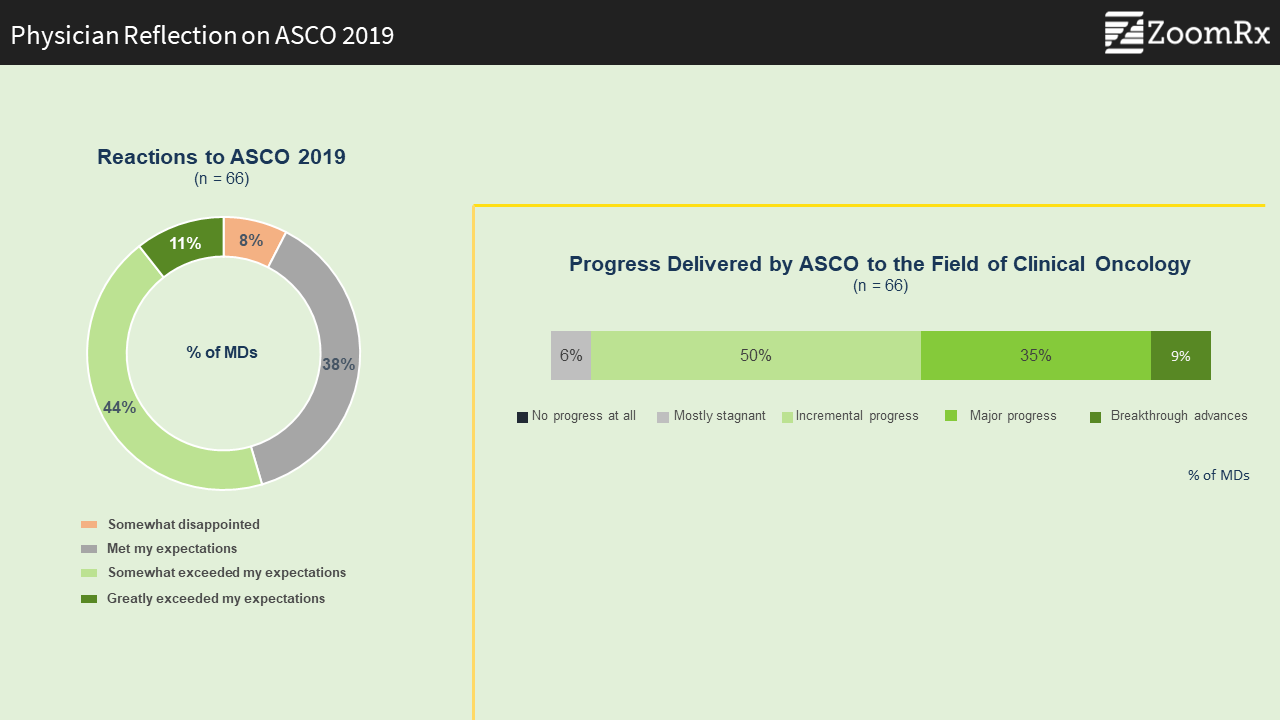 Data with immediate implications for improving clinical practice captured the greatest interest.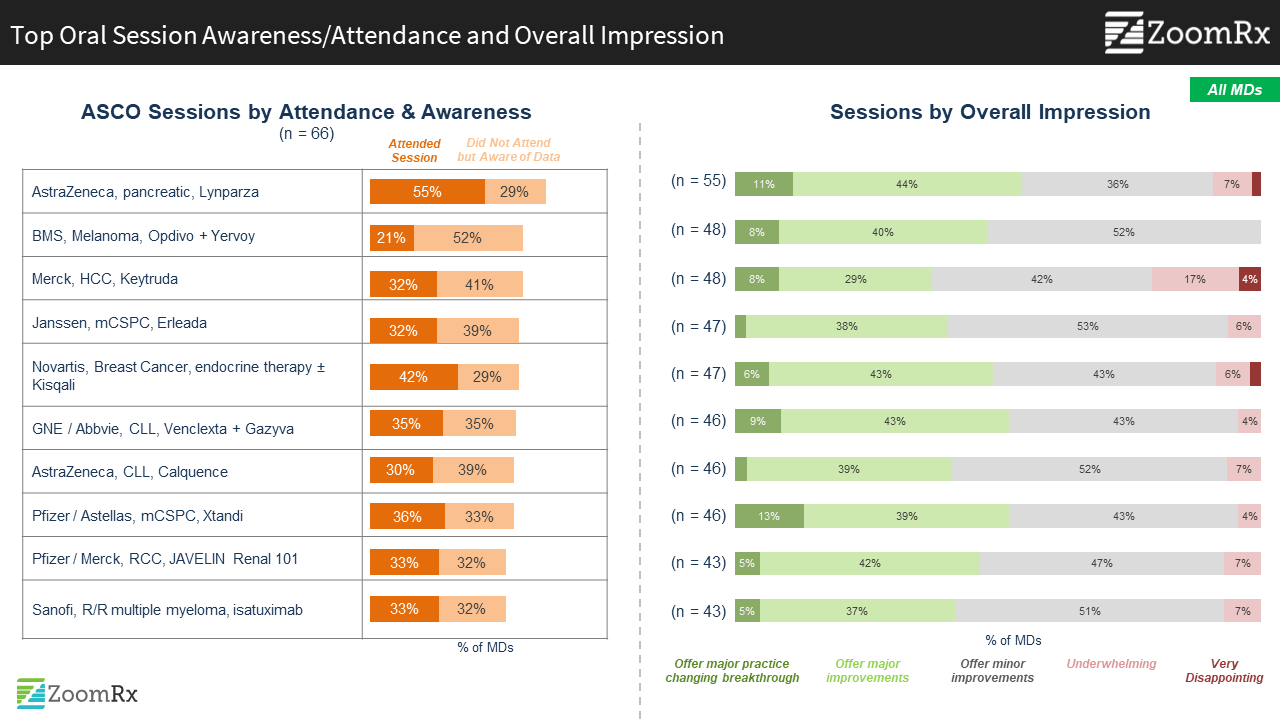 What other oncologists are saying:
"I found the expanding use of PARP for maintenance in BRCA mutated metastatic pancreatic cancer promising. I will use Lynparza in this setting and I'm completely onboard with mandatory BRCA testing for my non-resectable patients moving forward. Testing will not be a barrier."
"Kisqali conclusively showed OS benefit for use in premenopausal women. My guess is that the other competitors would have the same results as this if tested, but, I do plan on using Kisqali for my premenopausal patients moving forward."
Among emerging MOAs, new immunotherapy options captured attention as having the potential to transform current practices.

We asked oncologists about their awareness and perceptions of emerging MOAs featured at ASCO.  Newer immunotherapy options, CAR-T and BiTE, top the list of most attention-grabbing and promising, beyond the "1st generation" IOs of PD-L1, CTLA4.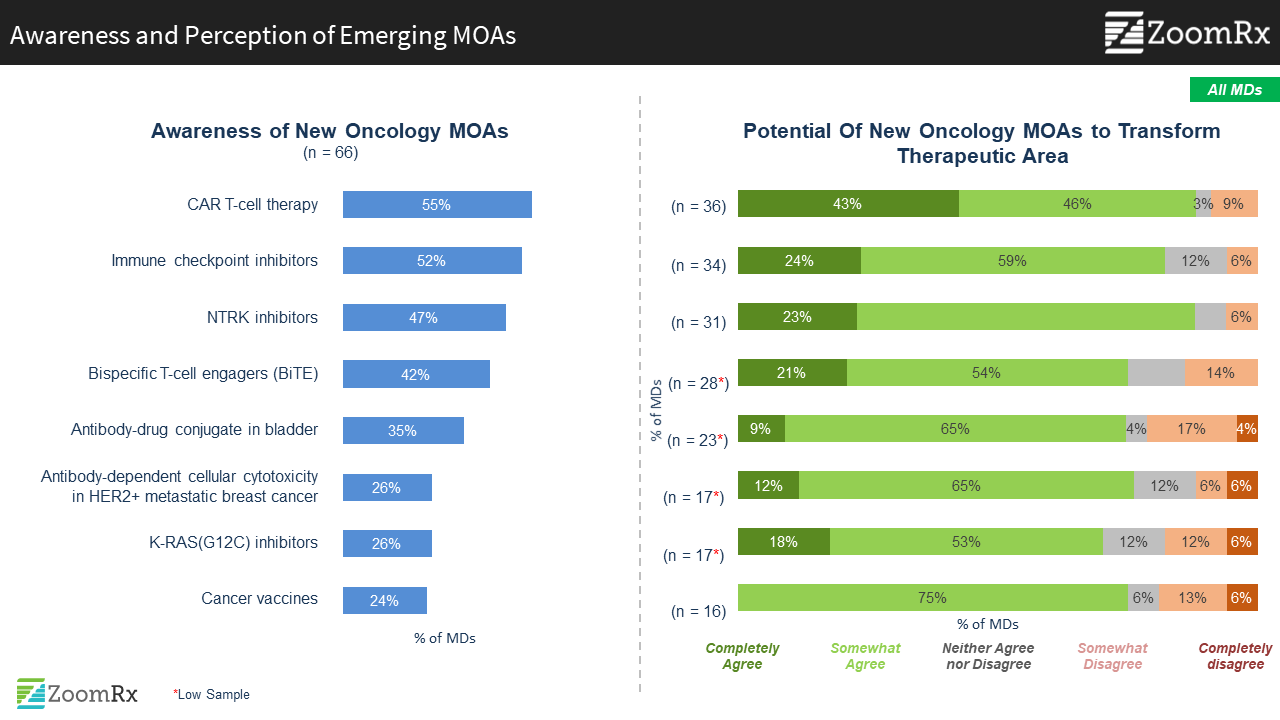 What other oncologists are saying:
"BiTE is an interesting alternative for R/R after BCMA and CAR T. This treatment shows promise, but testing is still early."  
"The highlights to me were the recommendations for increased use of molecular testing and NGS, the likelihood of future treatments including combination immunotherapy with chemotherapy in advanced cancers & new biomarkers to test because of targeted drugs on the horizon."
Join our community of oncologists to lend your voice to research.
We have ongoing surveys for oncologists across 30+ therapeutic areas. If you are interested in participating, please leave your information below and we will invite you to surveys relevant to your practice.
Interested in participating in clinically relevant research?
Name
Email
NPI
Thanks!
Your message has been successfully submitted.