Introduction:
The 2022 annual earnings reports for the leading global pharmaceutical companies have been released, providing a comprehensive overview of the industry's performance and strategic priorities. Our analysis of these reports aims to identify the fundamental trends and developments that are shaping the pharmaceutical industry. With this objective in mind, we have sought to answer critical questions such as:
Financial Performance: What were the major drivers of growth in 2022?
Research & Development: What are the current focus areas?
Macroeconomic Climate: How are companies optimizing their core portfolio?
#1: Financial Performance in 2022: Drivers of Growth and Disparity

In 2022, the top fifteen pharmaceutical companies by revenue experienced collective growth of around 9%. While seven of these companies grew by double-digits, the majority of the growth was concentrated among major vaccine manufacturers and those with a robust oncology portfolio. Several other companies within the industry grew at a more subdued rate.

Pfizer, the first pharma company to hit $100 billion in annual revenue, has achieved a 23% growth rate in 2022 , surpassing Johnson & Johnson (J&J) in revenue.
Merck grew by 22% in 2022, driven by its blockbuster Keytruda which accounted for 40% of its revenue.
AstraZeneca had a 21% growth rate driven by its Oncology product sales, especially Tagrisso.
The Disparity in COVID-19 Revenues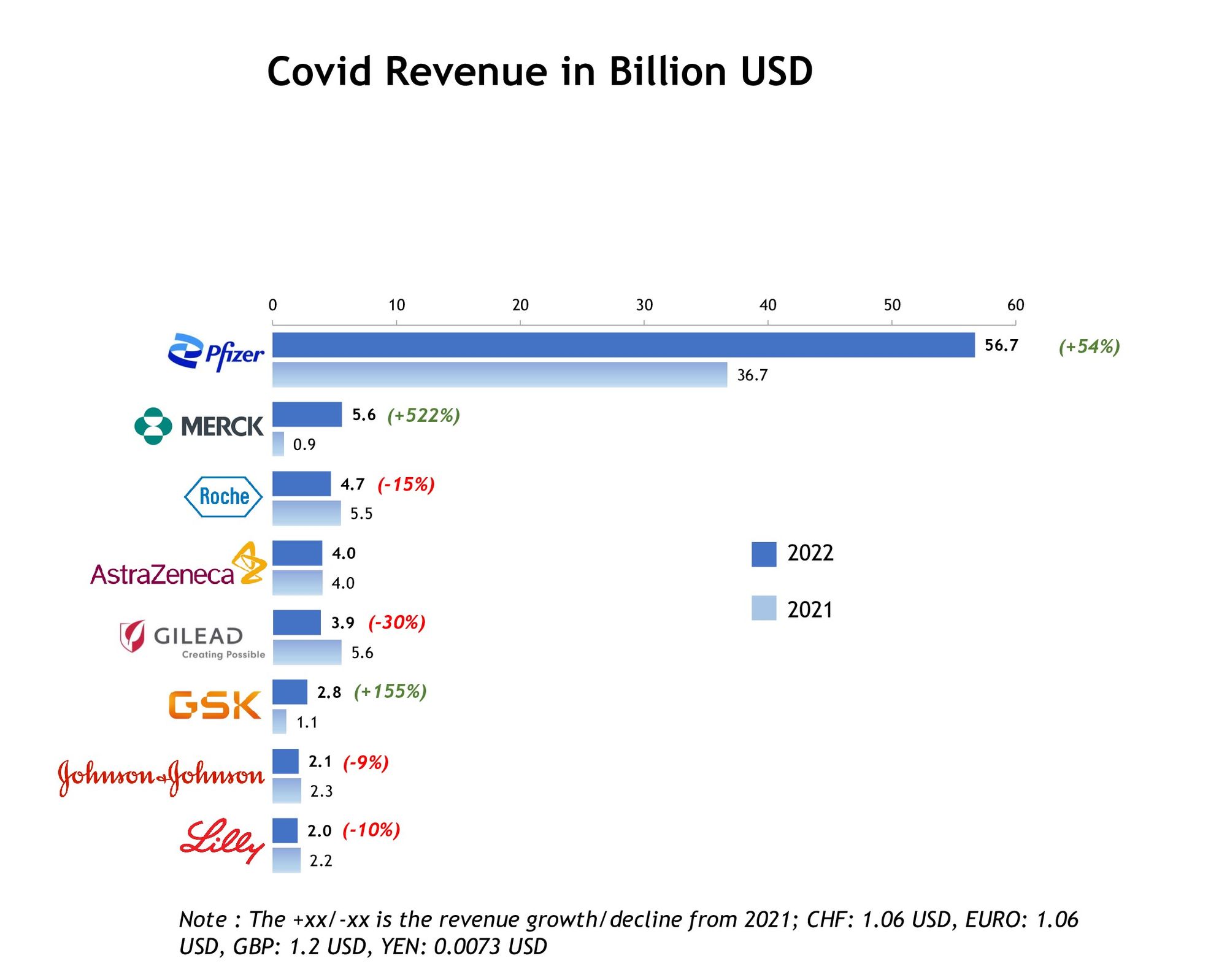 Pfizer's COVID-19 drugs and vaccines generated an impressive $56 billion of Pfizer's $100 billion total revenue, reflecting a significant increase in COVID-19 revenue from the previous year. Additionally, Merck and GSK also increased their COVID-19 revenue compared to the previous year. However, COVID-19 related sales of J&J, Eli Lilly, Gilead, and Roche declined in 2022.

The demand for COVID-19 drugs and vaccines is expected to decrease significantly in 2023. Pfizer has forecasted a decrease in revenue for Comirnaty and Paxlovid by 62% to $21.5 billion, while Merck's Lagevrio is expected to decline by 80% to $1 billion.

#2: Research & Development: Key Focus Areas
The top fifteen global pharmaceutical companies have maintained consistent Research and Development (R&D) investments in 2022, amounting to approximately $125 billion. Roche and Merck have emerged as the leading investors in R&D in 2022, allocating $15 billion and $13.5 billion respectively.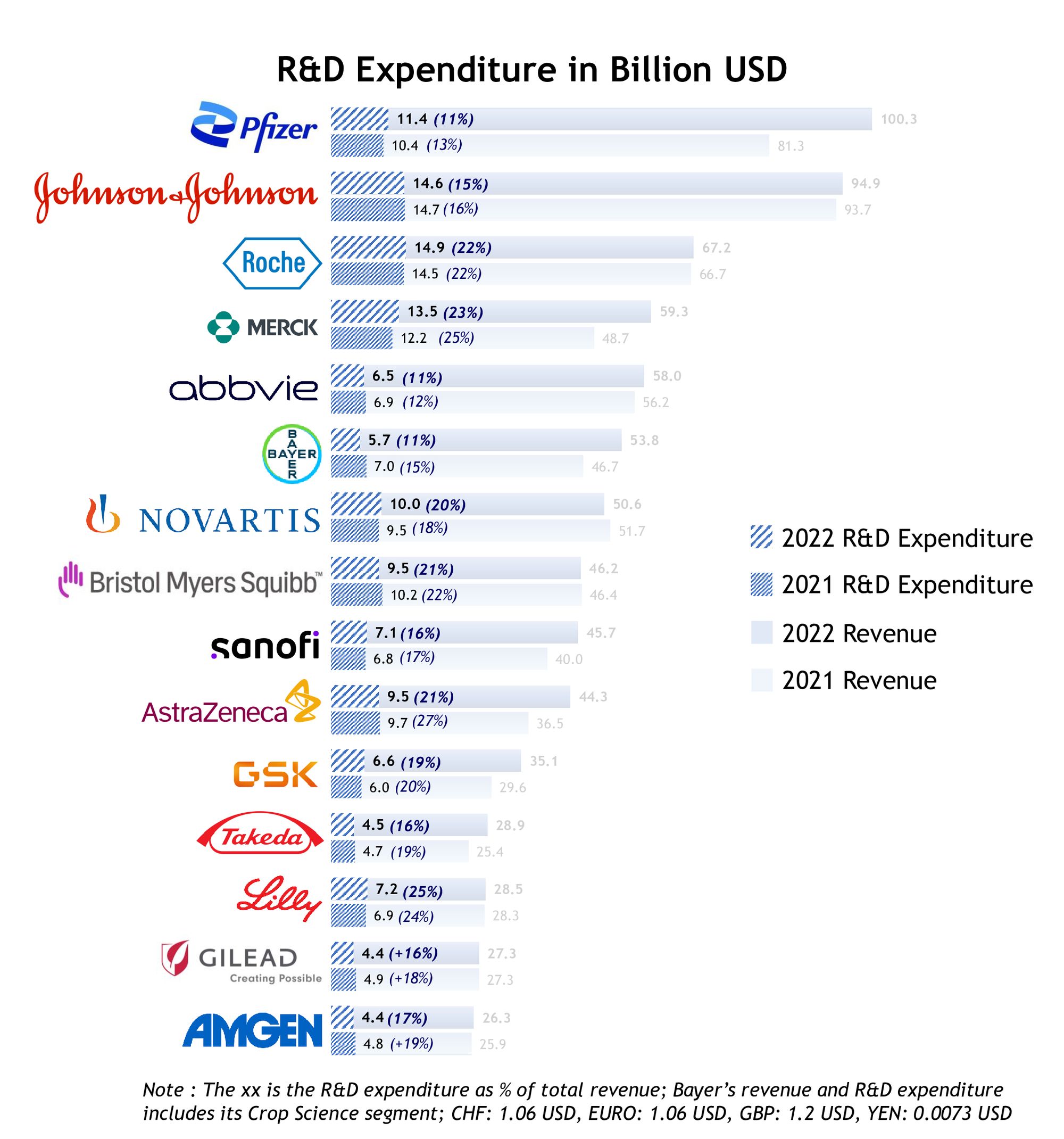 It comes as no surprise that companies are continually investing in research and development, as they seek to explore innovative approaches in the development of new therapies. Two areas that have come under the spotlight are RNA-based medicines and RSV vaccines.

The Limitless Potential of RNA Therapeutics:
The success of mRNA-based COVID-19 vaccines has ignited a rising interest in RNA therapeutics for many therapeutic areas such as immunology, cardiovascular disease, oncology, and hepatology. Although the majority of these advancements are in Phase I/II clinical trials, mRNA vaccines have the potential to become the standard for care across the industry.

Some of the key developments in RNA therapeutics among the top fifteen companies include:
Pfizer and BioNTech received Fast Track Designation from the US FDA in December 2022, for its mRNA-based vaccine candidate for Influenza and COVID-19.
GSK and Curevac have multiple early-stage assets (Phase-1) in the vaccine and oncology space. GSK also partnered with Arrowhead for treating NASH.
Merck has chosen the circular RNA route and partnered with Orna Therapeutics to develop vaccines and therapeutics in the areas of infectious disease and oncology.
Novartis is focusing on combination siRNAs, which can lower cholesterol and remove the need for oral tablets.
Eli Lilly has three siRNA assets in Phase I/II trials that have the potential to treat cardiovascular diseases.

RSV Vaccines: The Next Multi-Billion-Dollar Opportunity

Recent trends indicate an increase in the number of hospitalizations caused by the Respiratory Syncytial Virus (RSV). This has prompted pharmaceutical companies to reorient their research efforts toward developing effective RSV vaccines, which are perceived as the next significant challenge after COVID-19.

Both Pfizer and GSK are in a race to introduce the first-ever RSV vaccine, backed by encouraging results from advanced-stage clinical trials. They have high expectations that the RSV vaccine for older adults will receive regulatory approval by 2023 and drive significant growth for their respective organizations. Additionally, ongoing trials for the RSV vaccine by Moderna have yielded promising results, and they have already published Phase II data.

#3 Macroeconomic Climate: Restructuring to Optimize Portfolios
In light of macroeconomic challenges, the pharmaceutical and life science industry experienced a decline in M&A deals in 2022. The total number of deals amounted to approximately 2,500, indicating a 45% decrease compared to the previous year. Nevertheless, there were a handful of notable megadeals, such as Amgen's acquisition of Horizon for $28 billion and Johnson and Johnson's acquisition of Abiomed for $16.6 billion.

Firms are increasingly seeking to optimize their core portfolio through divestments and restructuring, particularly in the face of an uncertain macroeconomic environment.
GSK and Pfizer restructured their consumer health divisions, with Pfizer intending to sell its stake to transform into a focused innovative medicines and vaccines company.
J&J announced the spin-off of its consumer health division and expects to raise funding through an IPO in 2023.
Novartis also spun off its Sandoz generics division in 2022.
This trend of restructuring is expected to continue throughout 2023, with companies using the divestment proceeds to acquire businesses that align with their core strategies. In line with this trend, Pfizer announced its acquisition of Seagen for $43 billion in March 2023, to strengthen their position as a major manufacturer in Oncology.

Conclusion
The pharmaceutical industry has encountered significant challenges in 2022, but leading manufacturers have demonstrated adaptability in response to market changes. COVID-19 revenues have been a crucial growth driver in 2022. However, with revenues expected to decline considerably in 2023, there will be substantial pressure on top line growth.

Most companies are cautiously optimistic about non-COVID drugs and anticipate mid to high single-digit growth. RNA-based therapeutics are becoming increasingly prevalent and could establish themselves as the future standard of care for various therapeutic areas. Futhermore, the first RSV vaccine is expected to gain approval in 2023, presenting a lucrative opportunity in the near term.

Many companies focused on divesting their non-core businesses to optimize their portfolios in 2022, while the number of M&A deals decreased sharply vs. 2021. More restructuring can be expected in 2023 as companies plan to utilize the proceeds from divestments to acquire businesses that align with their core portfolios.

Hence, the success of leading global pharmaceutical companies will rely on their capacity to navigate macroeconomic challenges, maintain a strong focus on R&D, and strategically position themselves to capitalize on growth opportunities.

ZoomRx offers primary market research solutions and Pharmaceutical Manufacturer Perception Reports to help pharmaceutical manufacturers and brands maintain a competitive edge. The Manufacturer Perception Report by ZoomRx monitors the performance of more than 20 leading pharmaceutical manufacturers in the Oncology, Immunology, Cardiology, Neurology, and Vaccines sectors across six countries, including the United States.
Get in touch with us
ZoomRx uses the info you provide to fulfill your request and contact you about relevant insights, products, and services. You may unsubscribe from all communications at any time. For more information, view our full
privacy policy