Email marketing has become an essential tool for businesses across industries, and pharmaceutical companies are no exception. With the ability to personalize messages, provide relevant information, and extend their reach in a cost-effective method, email marketing has proven to be a great below-the-line marketing strategy for pharmaceutical companies to create brand awareness and nurture customer relationships.

Perxcept comprehensively tracks the sponsored emails promoted by various pharma brands through the data shared by its HCP panel. In this article, we look into four key aspects of email marketing in the Oncology space that Pharmaceutical companies should consider.

#1 : Email Marketing is the most effective online promotional channel in driving Brand Engagement
Sponsored email marketing has proven to be a highly powerful channel for pharmaceutical companies to improve HCPs' engagement with the brand. Data from Perxcept's panel of 122 Oncologists in 2022 has shown that there is a strong positive correlation (R=0.63) between the number of email campaigns sent by a brand and the time spent by HCPs reading brand relevant content in healthcare websites. On the other hand, there is a moderately positive correlation between the number of display ads seen by HCPs and time spent, and a weakly positive correlation between social media campaigns and time spent.

Emails are a more targeted communication channel, allowing pharma companies to provide HCPs with relevant information tailored to their prescribing areas. Pharma companies can showcase more topics in emails than in web ads or social media, allowing for more detailed information on their efficacy, clinical studies, and other updates that may interest HCPs. Additionally, emails include multimedia elements such as videos or infographics, which can be more engaging and informative than traditional text-based ads.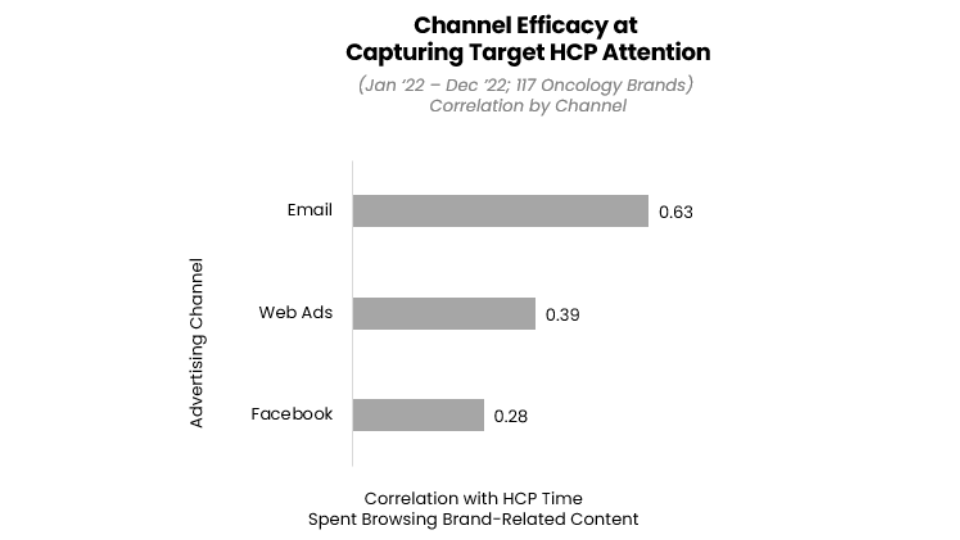 #2 : Leverage both Manufacturer and Third-Party Senders for Email promotions
Manufacturer-sent emails involve the pharma company's marketing team sending emails to HCPs, either directly or through sales representatives, while third-party senders are leveraged to handle email distribution on behalf of the brand. In a sample of 3,007 sponsored emails received by 53 oncologists in the Perxcept panel from Q1 2022 to Q1 2023, 59% of campaigns were sent directly by the Manufacturer while 41% were sent by Third-party senders. This split indicates that brands utilize both approaches, but marginally prefer directly sending emails.

Diving deeper, the Top 20 pharma manufacturers (by revenue) sent 75% of the total sponsored emails received by oncologists in the Perxcept panel, either directly or through third-party services. Furthermore, 43% of the emails sponsored by Top 20 manufacturers were sent using third-party senders, while 38% of the Emails from other Manufacturers used third-party services. Top Manufacturers are able to leverage a diverse set of third-party senders, using 157 unique third-party services, as opposed to 83 senders used by other manufacturers. This signifies their dominant influence in the email promotional channel.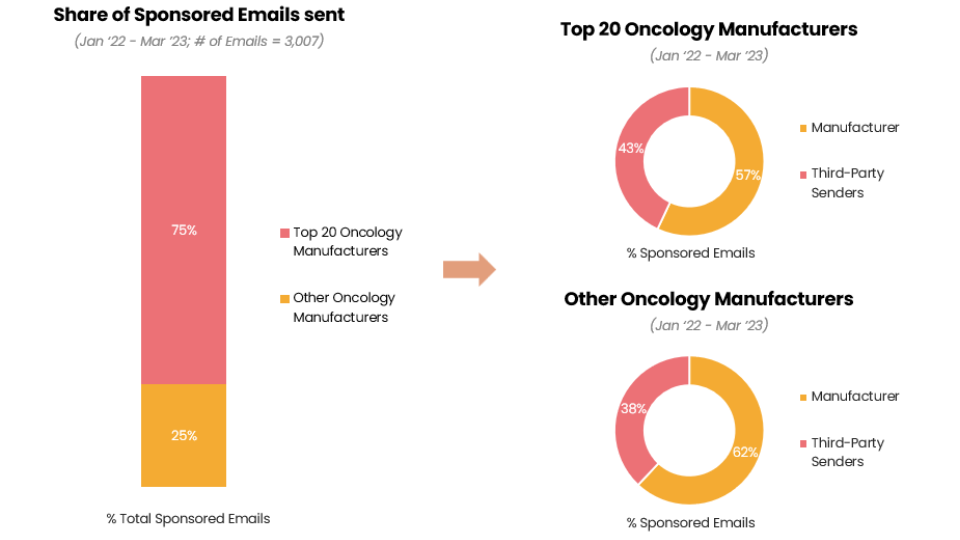 #3 : Focus on Email promotion through the lens of driving HCP traffic to Product websites
Perxcept's panel data revealed that 79% of the visits by oncologists to Product websites were redirected from paid search, while visits from Email promotions accounted for only 3% of the total visits. Furthermore, 50% of the visits to Product websites redirected from Emails did not result in further browsing of the website by the HCP. This implies that Email messaging does not effectively prompt the HCP to seek more information on the brand through the Product website, and has a high bounce rate within the visiting HCPs as well. There is a potential for growth in this channel to successfully create continued interest in HCPs, ultimately increasing their likelihood to prescribe the brand.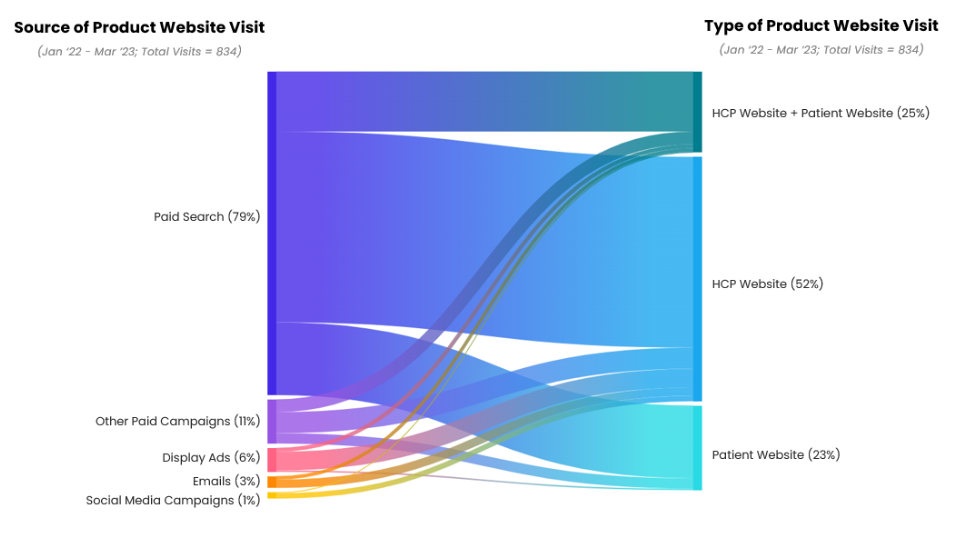 #4 : Improve Topic presentation in Emails directing HCPs to related Product Website pages

Most HCPs visiting product websites from email campaigns visited the Efficacy page, accounting for 38% of total visits, followed by the homepage/general product information page at 21% of total visits. This aligns with the fact that 82% of Email Campaigns have information related to the product's efficacy. Pharmaceutical companies should provide clear and detailed information that is most relevant to the therapy area, and ensure that the home-page is accessible, informative and aligned with what is shared in the email. Additionally, only 4% of HCPs visited pages related to Access, Support, and Resources, while 87% of Email campaigns have information related to these topics. Brands should prioritize improving the messaging that leads to these pages in their email campaigns.
ZoomRx uses the info you provide to fulfill your request and contact you about relevant insights, products, and services. You may unsubscribe from all communications at any time. For more information, view our full
privacy policy