Across multiple indications, physicians anticipate 2021 will be an exciting year for advancing treatments across autoimmune and auto-inflammatory conditions.
In a study conducted by ZoomRx late December 2020, 107 practicing U.S. rheumatologists and dermatologists were asked which treatments they were most excited to see advance in 2021.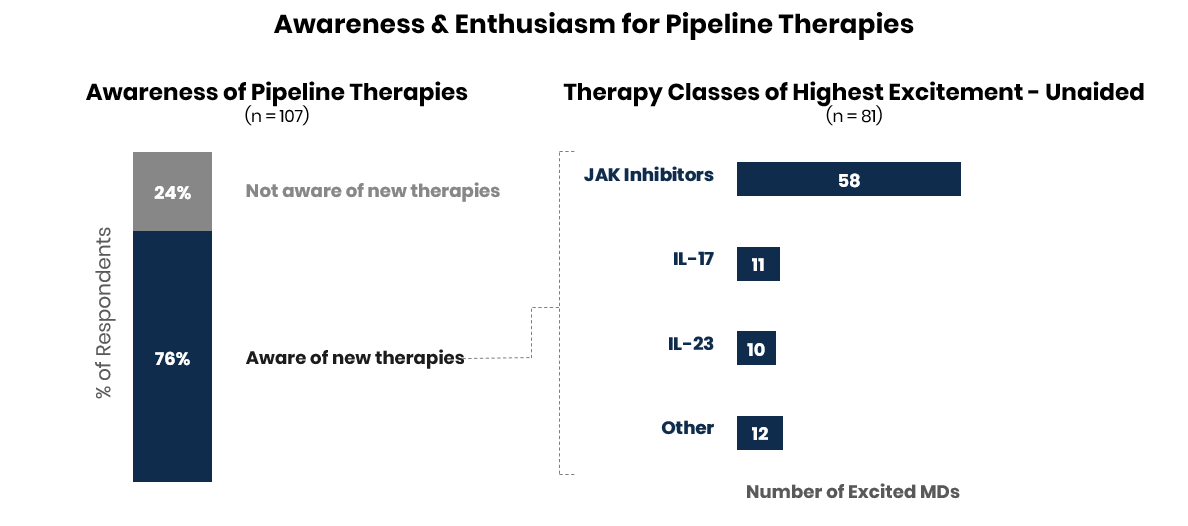 Enthusiasm for JAK inhibitors remains strong looking ahead through 2021; IL-17 and IL-23 also generated excitement.
For the 81 physicians who were aware of new therapies in the late-stage pipeline, over 65% mentioned they were excited about approvals for JAK inhibitors in the next year indicating strong enthusiasm despite regulatory hurdles in 2020. Physicians also mentioned excitement for new launches and indication expansions in IL-17 and IL-23.
Within the JAK family, physicians demonstrated particular interest in the potential expansion of AbbVie's Rinvoq (upadacitinib) into psoriatic arthritis, ankylosing spondylitis, and atopic dermatitis. Additionally, several physicians expressed enthusiasm for selective Tyk2 inhibitors such as BMS's deucravacitinib (BMS-986165) in the JAK family. Lastly, physicians still expressed persistent enthusiasm for filgotinib despite Gilead's December decision to no longer pursue U.S. development in rheumatoid arthritis and pause U.S. development in psoriatic arthritis and ankylosing spondylitis.
Within the IL-17 family, excitement centered on UCB's bimekizumab's superiority to Novartis' Cosentyx (secukinumab) in the treatment of psoriasis, fueling anticipation for a successful launch of bimekizumab in early Q2. Further, early promising Phase 2 studies of bimekizumab in psoriatic arthritis and ankylosing spondylitis indicate broad potential for this new IL-17a+f mAb. Roughly half of physicians reported familiarity with bimekizumab across its target indications.
Regarding excitement on the IL-23 side, Lilly's mirikizumab also showed superiority to Cosentyx (secukinumab) in psoriasis, driving dermatologists' enthusiasm for mirikizumab's approval. Additionally, physicians also showed enthusiasm for the expansion of AbbVie's Skyrizi (risankizumab-rzaa) and the potential expansion of Sun Pharma's Ilumya (tildrakizumab-asmn) into psoriatic arthritis.
AbbVie continues to be perceived as the immunology leader by physicians, but competition is heating up for second place.
Among manufacturers likely to continue to win in these markets AbbVie came out head-and-shoulders above the competition. With a leading net promoter score of +34pts, and serving as the top-of-mind manufacturer across all four indications shown, AbbVie continues to dominate the market with Humira (adalimumab), Skyrizi (risankizumab-rzaa), and Rinvoq (upadacitinib). Net Promoter Score is calculated by subtracting the percentage of physicians unlikely to recommend a discussion with a manufacturer (rating 1-6) from the percentage of physicians highly likely to recommend a discussion with a manufacturer (rating 9-10).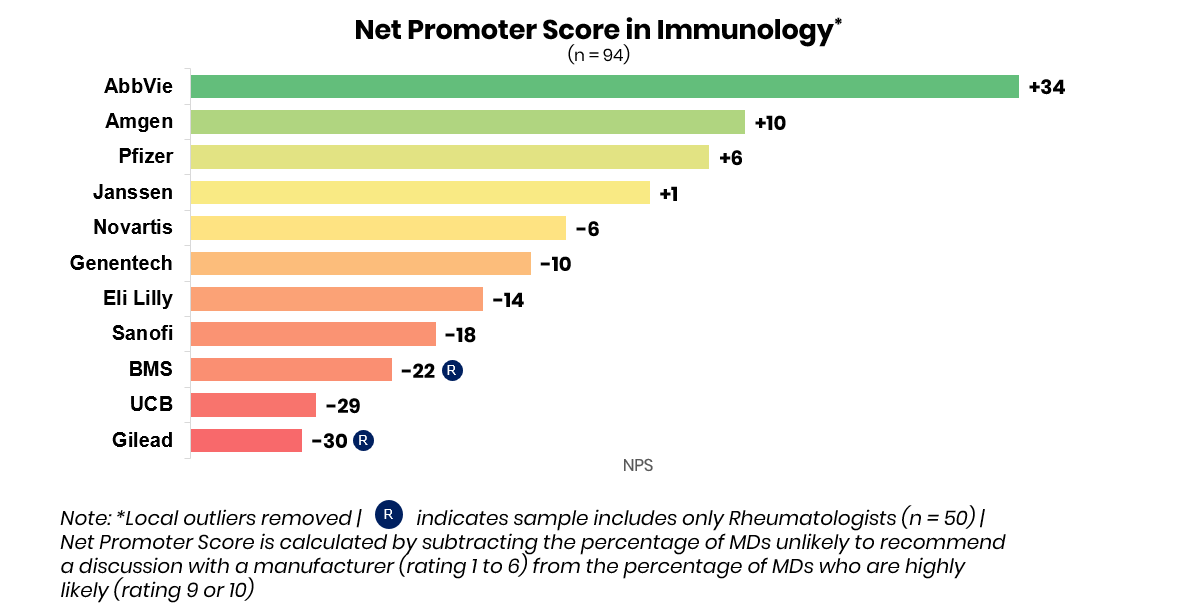 Amgen, which had retained a solid second-in-market position with Enbrel (etanercept) and Otezla (apremilast), is currently battling with Pfizer, Janssen, and Novartis for second place across key indications. This year, UCB and Lilly may capture greater share as perceived leaders in psoriasis and ankylosing spondylitis due to the potential launches of bimekizumab and mirikizumab.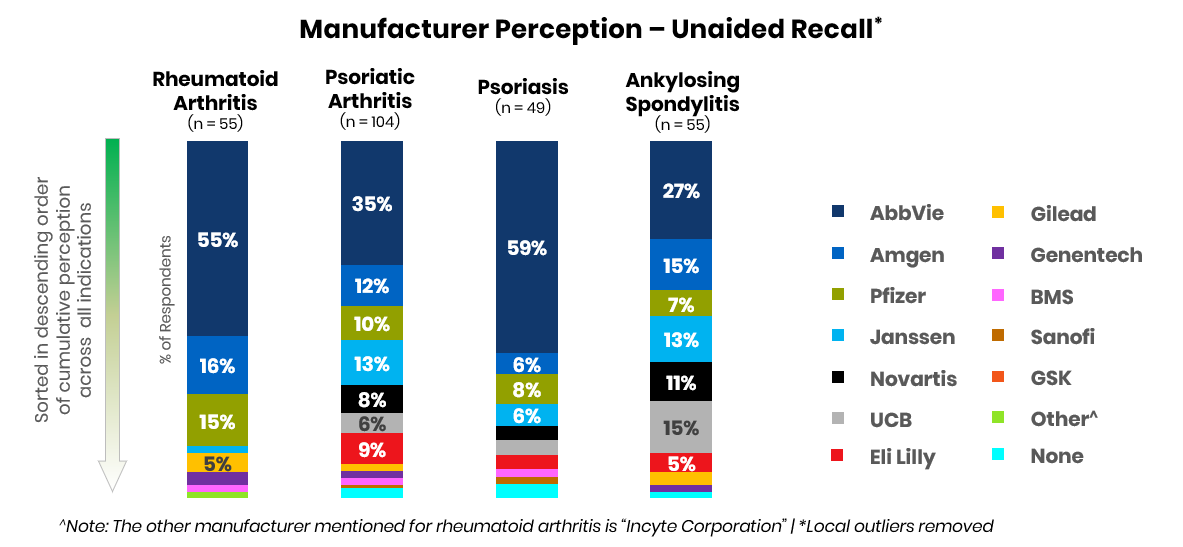 Physicians underscore the need for improved access / coverage support across all immunology indications in 2021.
In terms of unmet needs across all four autoimmune indications assessed, physicians reported that issues of patient access and cost are by far the most pressing issues in 2021. Biopharma companies can get ahead with customers by expanding support services to streamline prior authorizations, negotiating superior formulary status with fewer step edits, and providing expansive patient support services that enable medication access flexibility especially as COVID-19 upends the insurance coverage of many.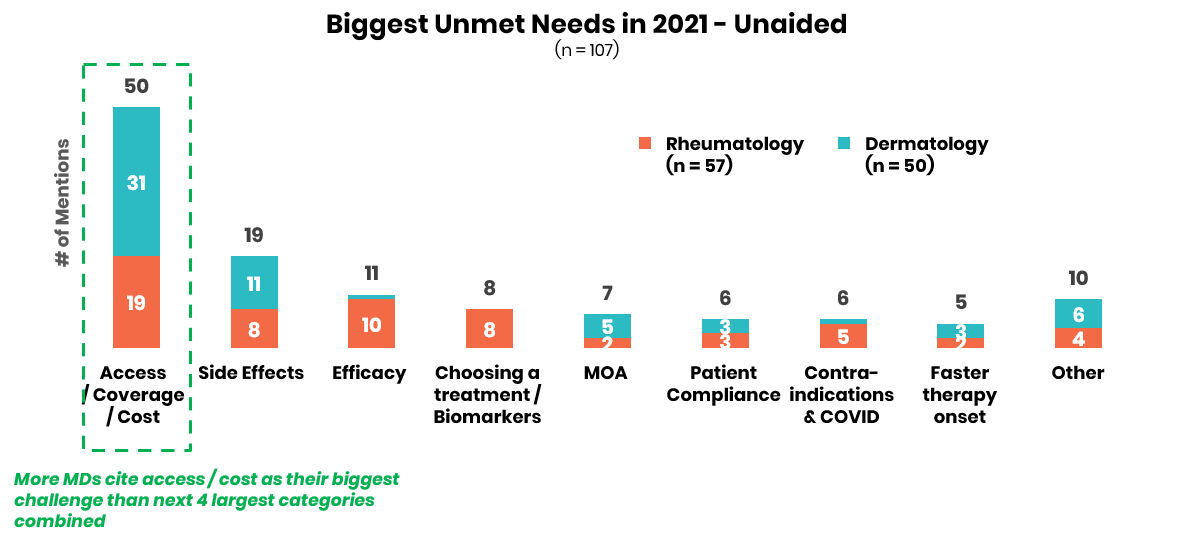 Across the indications studied, physicians reported ankylosing spondylitis as the disease area with the fewest efficacious treatment options available.
Many physicians reported themes such as "we haven't even scratched the surface [in AS]" and "there is a greater need in AS than RA or PsA." Comparatively, physicians perceive both rheumatoid arthritis and psoriasis as mature markets with a variety of efficacious treatment options already available. Physicians note that "treatments are excellent" and that they have "99+% [of] patients currently in remission." The most significant needs in these markets largely center on access and convenience, with physicians reporting "[I] would rather see improved access to existing options" and "it will be nice to have more ... oral options."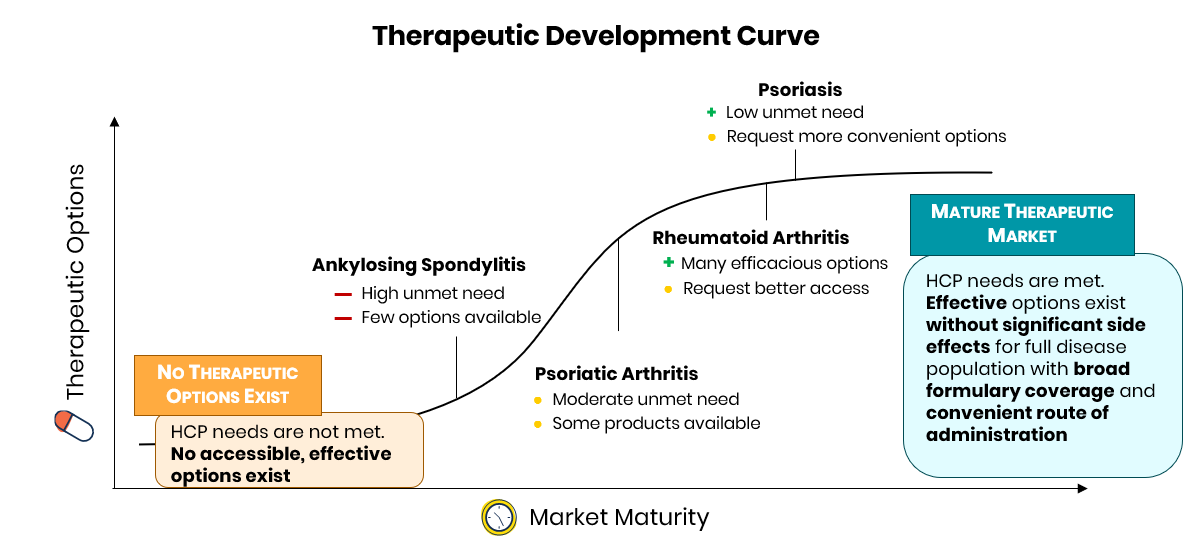 Overall, 2021 is shaping up to be an exciting and formative year for the leading anti-inflammatory indications.
AbbVie is set to retain a market leadership position with Rinvoq (upadacitinib) and Skyrizi (risankizumab-rzaa) expansions, but we may see UCB, BMS, and Lilly heat up the competition with new products in IL17, Tyk2, and IL23.
In our next study in this space, we look to expand our coverage to other indications with a glance at the evolving impact of biosimilars.
Leave your info below to receive the full report.

Receive additional data including levels of physician enthusiasm and familiarity with key immunology pipeline assets, as well as access to our ongoing coverage of the anti-inflammatory/immunology therapeutic area.
ZoomRx uses the info you provide to fulfill your request and contact you about relevant insights, products, and services. You may unsubscribe from all communications at any time. For more information, view our full
privacy policy