Early stage data showcasing the potential of both genome editing using CRISPR and gene therapy in non-malignant hematological disorders captured attention during this year's fully virtual ASH annual meeting.
A highlight of this year's American Society of Hematology (ASH) annual meeting, according to heme-oncs, was data for earlier stage treatment options that have the potential to be game-changers in the future. Excitement for these potential future options exceeded that for data in already approved or more near-term treatment options.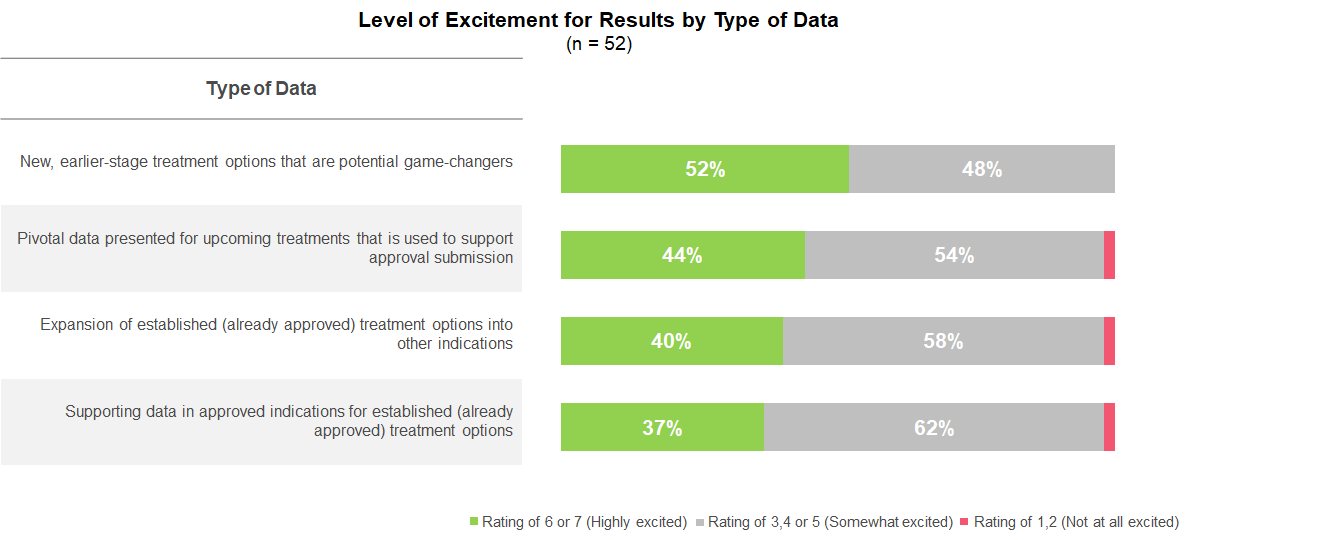 Among the early-stage options focused on non-malignant hematological disorders, presentations on genome editing using CRISPR and gene therapy stood out to heme-oncs for their potentially curative outcomes.
Data from the first-time clinical application of CRISPR/Cas9 (CTX001 from Vertex Pharmaceuticals) drew significant attention. The late-breaking session on UniQure's Hope-B trial in gene therapy for hemophilia B was also well attended.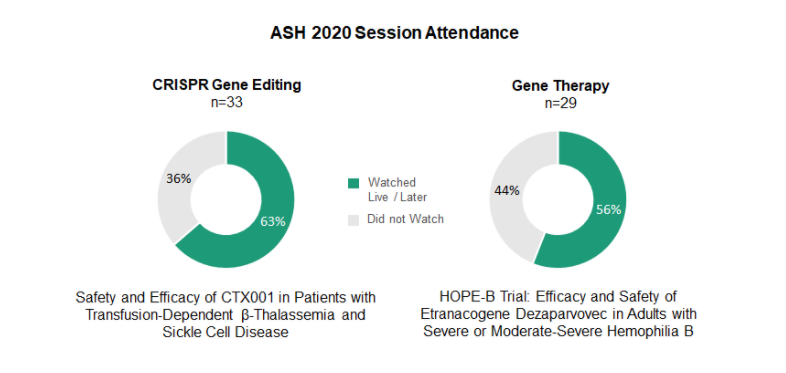 The results from Vertex's CTX001 demonstrating improvements in seven patients suffering from two blood disorders, beta thalassemia and sickle cell disease (SCD), were received with great excitement and anticipation for further validation with a greater patient pool in both indications. Heme-oncs sentiment reflected the treatment's potentially curative outcomes.
Although regulatory approval and market availability is still some time away, 33% of heme-oncs surveyed indicated that they are open to the idea of using this genome editing option immediately upon approval for appropriate patients, 39% indicated that they are open to the idea of using it as a later-line option for patients who have failed all other avenues.

Data from the Hope-B trial was similarly top of mind but drew a more divided reaction than the CRISPR/Cas9 results. The general sentiment after review was cautiously optimistic. About a third of heme-oncs indicated that they would reserve the therapy, if approved, for patients who had failed other available treatments. Another third reported that they would need a lot more long-term data to consider using UniQure's adeno-associated virus vector approach, even if it received FDA approval.

Highlights among already approved therapies included the expansion of Yescarta (axicabtagene ciloleucel) as a first-line therapy in high risk large B cell lymphoma (LBCL), BCMA-targeting approaches using bi-specific antibodies, and CAR-T in multiple myeloma.
Attendance was high for the presentation of data supporting the expansion of Gilead/Kite's Yescarta (axicabtagene ciloleucel) as a first-line therapy in high risk B cell lymphoma (LBCL). And, most (68% of survey respondents) felt that the trial largely met expectations (68%). Yet, respondents were divided in their level of excitement.

Like last year, multiple myeloma (MM) captured a large share of the attention at the annual congress. Sessions showcasing BCMA-targeting approaches using bi-specific antibodies and CAR-T received high levels of attention. 67% of respondents indicated having reviewed the presentation of updated results for BMS' phase 1 study for idecabtagene vicleucel (ide-cel, bb121). 65% indicated having reviewed Janssen's updated phase 1 results of bi-specific teclistamab.
Heme-oncs generally believe that both CAR-T and bi-specific antibody approaches have potential for targeting BCMA in MM patients and there does not yet seem to be a favored option.

Several sessions also highlighted efforts to go beyond what is becoming the crowded field of anti-BMCA in MM. Heme-oncs showed greater interest for Janssen's talquetamab (58% attended) than Roche's cevostamab (46% attended) but the response to both data presentations was similarly divided. Only half of respondents found the results very exciting for both presentations. There was also no big winner when comparing these alternative MM approaches to other high profile BCMA targeting bispecifics. In fact, Amgen's AMG 701 took the lead with 46% of respondents rating it highly in terms of efficacy.

Overall, ASH 2020 demonstrated that while COVID-19 certainly continues to impact patient management across blood disorders, it has not eroded progress in developing new treatment approaches. The challenges of a virtual format notwithstanding, nearly 60% of the 52 US-based practicing hematologists-oncologists who participated in our post-ASH survey were extremely satisfied with their experience. This positive reaction to ASH 2020 surpassed reactions to both ESMO 2020 and ASCO 2020.
And where the virtual format lacked in networking, a big draw for these annual meetings, the quality of the content made up the difference.
"I think that it worked for a better educational experience, nevertheless there was not much networking happening and that part is also I think a key component of any meeting."
Heme-oncs keep their eyes on the horizon for new and better, sometimes even potentially curative answers to their patients' unmet needs in the most challenging of diseases.
Leave your info below to receive additional complimentary data on responses to this year's meeting and for a look at a more in depth analysis of the trends discussed above.

ZoomRx uses the info you provide to fulfill your request and contact you about relevant insights, products, and services. You may unsubscribe from all communications at any time. For more information, view our full
privacy policy