Oncologists are growing accustomed to attending the field's major meetings virtually, with AACR, ASCO, and now ESMO 2020 having gone fully digital.
While the virtual format has undoubtedly impacted attendees' experiences and hindered their ability to network with colleagues, oncologists have indicated that the scientific advances delivered through these conferences have continued unabated. In fact despite the shift to a virtual format, 3 of 5 US-based oncologists who attended ESMO 2020 reported seeing either major progress or breakthrough advances in clinical oncology at this year's meeting, somewhat exceeding their perceptions from ESMO 2019 and ASCO 2020.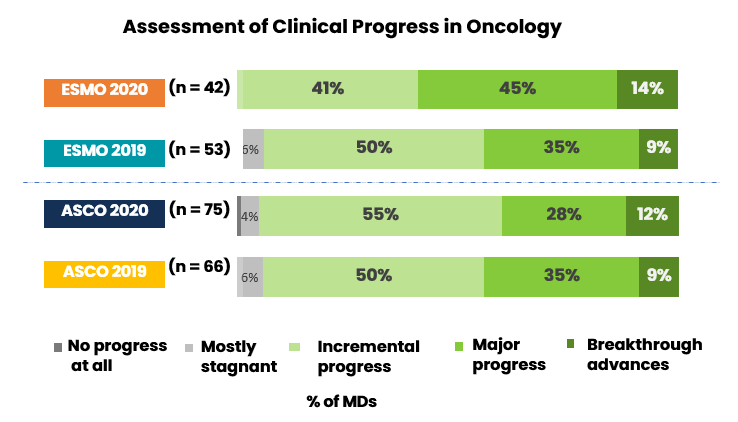 The excitement at this year's ESMO was driven both by data expanding current standard-of-care treatments to additional indications and by emerging treatments with a relatively near-term potential for practice-changing impact.
In addition to a positive outlook on clinical progress, oncologists seem to be growing more comfortable with the virtual format, as ESMO 2020 saw higher levels of reported live attendance, networking, and engagement with presenters compared to ASCO 2020.
Oncologists expressed excitement about treatments that are likely to offer a near-term, tangible impact for their patients and practices.
The highest levels of excitement were seen for data that will be used to support approval of upcoming treatments. In addition, the expansion of existing treatments to new indications and promising early-stage treatments also drew a share of attention.
Reported session attendance and social media buzz metrics captured reflect this sentiment. These results show the highest attendance for sessions that offer near-term practice-changing implications and new indications for treatments with which oncologists are already familiar, including Libtayo, Verzenio, Trodelvy, Tagrisso, as well as more established immunotherapies including Bavencio, Opdivo, Keytruda, and Imfinzi. AMG510 also received considerable attention and ranked among top sessions.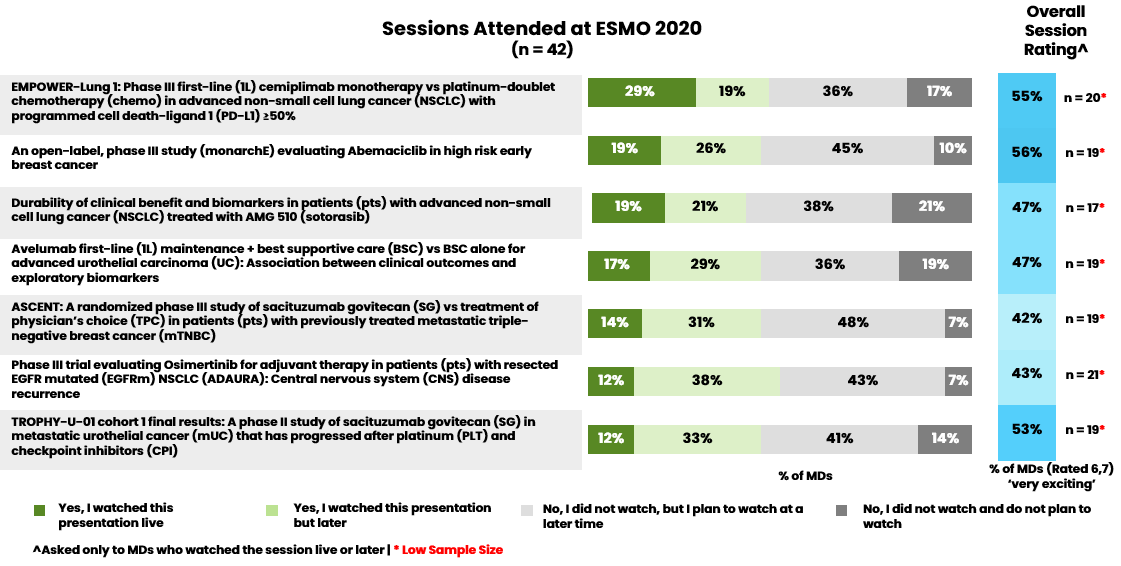 Measurement of activity and engagement via Twitter based on Ferma.AI buzz analysis reflected similar trends.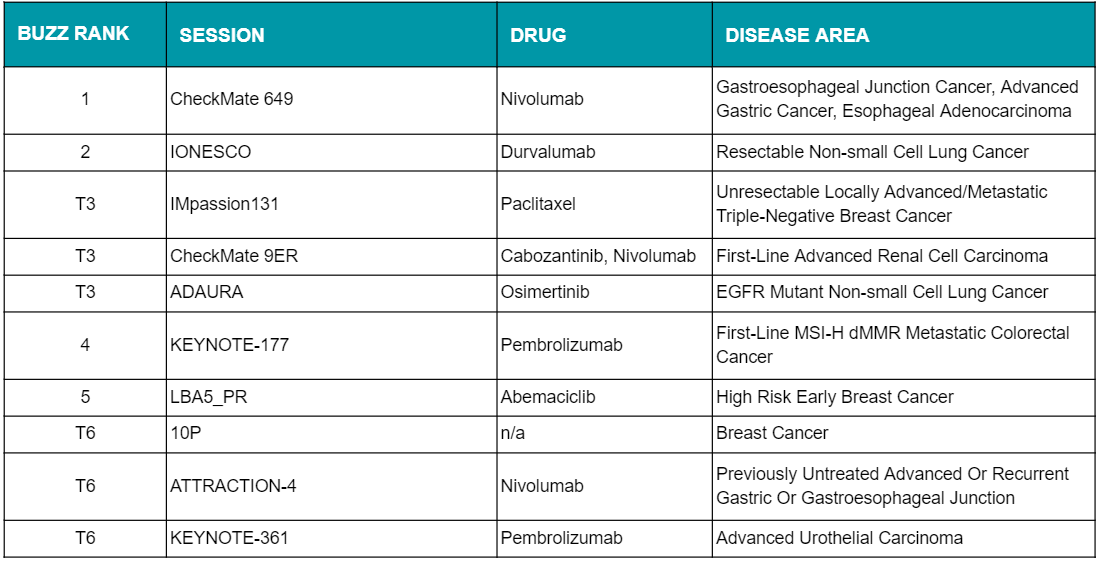 Several key themes emerged at ESMO 2020 as areas that captured oncologists' attention:
The continued expansion of immunotherapies and their combinations into additional indications captured attention, notably an Opdivo combination gaining momentum in RCC and Keytruda showing promise in esophageal cancer. We have also seen a good deal of attention for the newest PD-L1 entrant — Libtayo —  in NSCLC.
 "First line improvement in survival with immunotherapy in gastric  /esophageal cancer irrespective of CRS score"
 "Beigene Combo trial of a PD-L1 and PD-1 inhibitor"
Progress in early-stage cancers and curative settings also drew high level of interest and buzz across social media, with Tagrisso's additional data demonstrating CNS recurrence prevention in adjuvant settings for EGFR+ NSCLC, Verzenio's data for high-risk adjuvant patients, and neoadjuvant data for durvalumab in NSCLC.
 "Again I mention the presidential symposium as the most important [...        including] abemaciclib in adjuvant setting in breast cancer, update on         ADAURA trial using osimertinib in early EGFR mutated lung cancer..."
Among emerging treatments, the new generation of ADCs (antibody drug conjugates), with additional data from Immunomedics' Trodelvy and Mersana's proof of concept data, were particularly compelling.
  "ADCs were the main newsworthy developments in 2020"
  "Mersana news on the ADC front: response rates to XMT-1536"
Oncologists continued to express high-levels of satisfaction with the virtual framework, as ESMO 2020 delivered better attendee experience.
Oncologists are growing increasingly comfortable with a virtual format, with ~90% reporting satisfaction with the ESMO 2020 format (compared to 75% at ASCO 2020).
Ease of navigation, good organization of the event, and quality data being presented were commonly cited as reasons for the positive experience by oncologists.
"I think the meeting was well organized and the virtual format allowed for effective use of participant time."
"The virtual conference was very easy to access and the flexibility accommodates my busy practice schedule. The presentations are of high quality. Full online library was also very useful.
"The virtual format and availability of presentations was a great improvement."
Notably, ESMO 2020 saw significantly higher rates of engagement between oncologists and speakers/presenters with 62% (compared to just 39% at ASCO) reporting some degree of engagement either through ESMO Q&A sessions or social media. Better incorporation of Q&A directly into live presentations at ESMO likely contributed to this increase.
ESMO 2020 continues the trend of successful virtual conferences and provides a model for the widespread sharing of clinical progress in oncology. Elements of the virtual framework should likely continue to ensure global access to data even when a return to in-person meetings is feasible.
---
Interested in additional conference coverage?

Leave your information below to learn more about how ZoomRx can support your team by providing valuable insights prior to, during, and after a key conference.
ZoomRx uses the info you provide to fulfill your request and contact you about relevant insights, products, and services. You may unsubscribe from all communications at any time. For more information, view our full
privacy policy