Following this year's ESMO annual meeting we asked a group of oncologists practicing in the US to weigh in on Europe's biggest oncology conference. Oncologists expressed general excitement about the meeting, with a few (~10%) viewing the conference as representing "breakthrough advances" in the field.
While few considered ESMO as bringing "breakthrough advances," oncologists overwhelmingly saw some clinical progress in the data presented with one-third indicating the meeting represented "major progress" and over half (55%) reporting "incremental progress."
With various oncology conferences increasingly competing with ASCO's Annual Meeting for oncologists' attention, our research indicates that the ESMO meeting was seen as relatively comparable to ASCO as a source of clinical progress.
Among key themes emerging at ESMO, new immunotherapy data continued to be the main area of focus for oncologists who attended or monitored the conference. Other key themes that captured attention include PARP inhibitors in ovarian cancer as well as non-clinical topics such as the need for financial solutions from pharma companies.
"The main takeaway was continued progress on in the development of immuno-oncology and targeted therapies."
"The absolute need for drug companies to assist with patient financial solutions."  
Future competition among PARP inhibitors is expected to be fierce as oncologists see each of the options as offering potential improvements to the SOC in mOC.
Prior to the conference we were interested in a potential "showdown" between AZ's Lynparza and GSK's Zejula in 1L ovarian maintenance irrespective of BRCA status which was recently made even more compelling by a late-breaking data submission from Abbvie's veliparib. Following the meeting, we asked oncologists to weigh-in on these key trials and the impact the data would have on their practices.
All three trials (GSK's PRIMA, AZ's PAOLA-1, and Abbvie's VELIA) attracted a great deal of attention with more than 60% of oncologists in our survey reporting an awareness of the data from PRIMA and PAOLA-1 and just under half (48%) reporting an awareness of data from VELIA– reflecting continued interest in PARPs and building on Lynparza's success at this year's ASCO annual meeting.
The results resonated with oncologists and were generally seen as a positive development in SOC in 1L and 1L maintenance.
A substantial portion of oncologists see major potential impact on their future Rx behavior based on these initial presentations. Pending respective approvals and further education and experience, all three therapies show the potential to challenge current approach in the 1L space.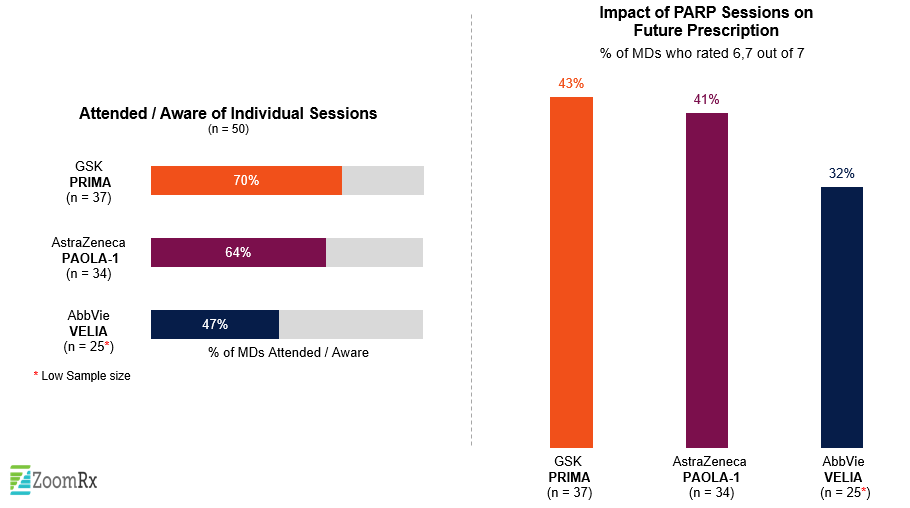 All sessions were seen as providing strong efficacy– PFS– for a range of patient subgroups.

The benefits that stood out about AZ/Merck's PAOLA-1 study focused on the impressive PFS as well as applicability across patients types including HR-deficient BRCA wild tumor patients.
"Very relevant clinical trial data looking at two maintenance treatments which potentially could be practice-changing."
"Improvement of PFS by 6 months for control arm, and among patients with mutations the pfs was even higher."
"It is a very good and relevant trial design, as Avastin is frequently used as maintenance Rx."
Very similar benefits were seen for the GSK's PRIMA study–with improved PFS over current SOC, as well as applicability across different patient subgroups including BRCA wild type status patients being the main points oncologists mentioned.
"Prolonged survival even with germline genetics."
"Significant PFS data gives an option for maintenance post front line."
"Use of maintenance PARPs are able to prolong disease control."
While some post-conference industry commentaries mentioned potential concerns around safety for the Lynparza plus Avastin combination, we have not seen this concern raised specifically among oncologists in our survey.
Oncologists are less familiar with Abbive's veliparib, and as such, the responses were slightly more muted, however, the data was seen as generally positive with a fairly substantial intent for the use in the future.
"As with PRIMA, benefit was seen across OC subtypes with very strong benefit in gBRCAmut patients. with acceptable toxicity."
We'll be continuing to cover and gather MD-reaction on key conferences in oncology and other therapeutic areas throughout the year.
Sign-up below and we'll be sure to send along our analysis of future conferences.
Leave your info below.
Thanks!
Your message has been successfully submitted.
ZoomRx uses the info you provide to fulfill your request and contact you about relevant insights, products, and services. You may unsubscribe from all communications at any time. For more information, view our full
privacy policy