The data shared at this year's ASCO Annual Meeting moved the field of clinical oncology forward.

Our survey with over 60 oncologists who attended the conference shows that ASCO 2019 did not disappoint.
Despite somewhat muted investor and analyst reviews, most oncologists who attended the annual meeting say it either somewhat (44%) or greatly (11%) exceeded their expectations. Over a third (38%) say it met their expectations.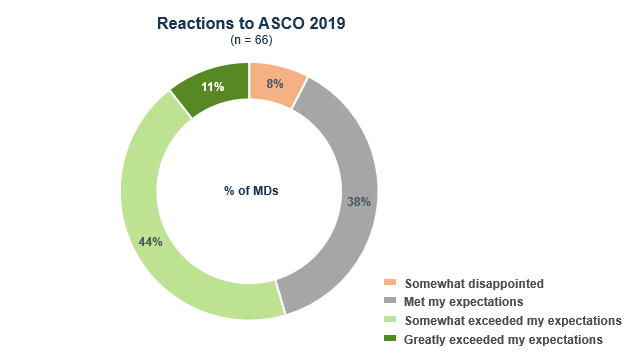 Virtually all oncologists who attended agree that new data shared at the conference represent progress to oncology as a whole, with about half saying that the data represent major progress (35%) or even breakthrough progress (9%), and the other half reporting it represents incremental progress (50%).

Data with immediate implications for improving clinical practice captured greatest interest: AZ Lynparza in pancreatic cancer and Novartis Kisqali data for premenopausal women with HR+/HER2- mBC top the list of most attended sessions.
"I found the expanding use of PARP for maintenance in BRCA mutated metastatic pancreatic cancer promising. I will use Lynparza in this setting and I'm completely onboard with mandatory BRCA testing for my non-resectable patients moving forward. Testing will not be a barrier."
"Kisqali conclusively showed OS benefit for use in premenopausal women. My guess is that the other competitors would have the same results as this if tested, but, I do plan on using Kisqali for my premenopausal patients moving forward."
AZ Lynparza pancreatic and Novartis Kisqali premenopausal breast cancer data presentations were closely followed by sessions featuring other "big" existing brands including Pfizer/Astellas mHSPC enzalutamide, Abbvie/Genentech venetoclax plus obinutuzumab (VenG) in 1L CLL, Merck/Pfizer Avelumab RCC Javelin biomarker analysis and Merck Keytruda HCC 2L data.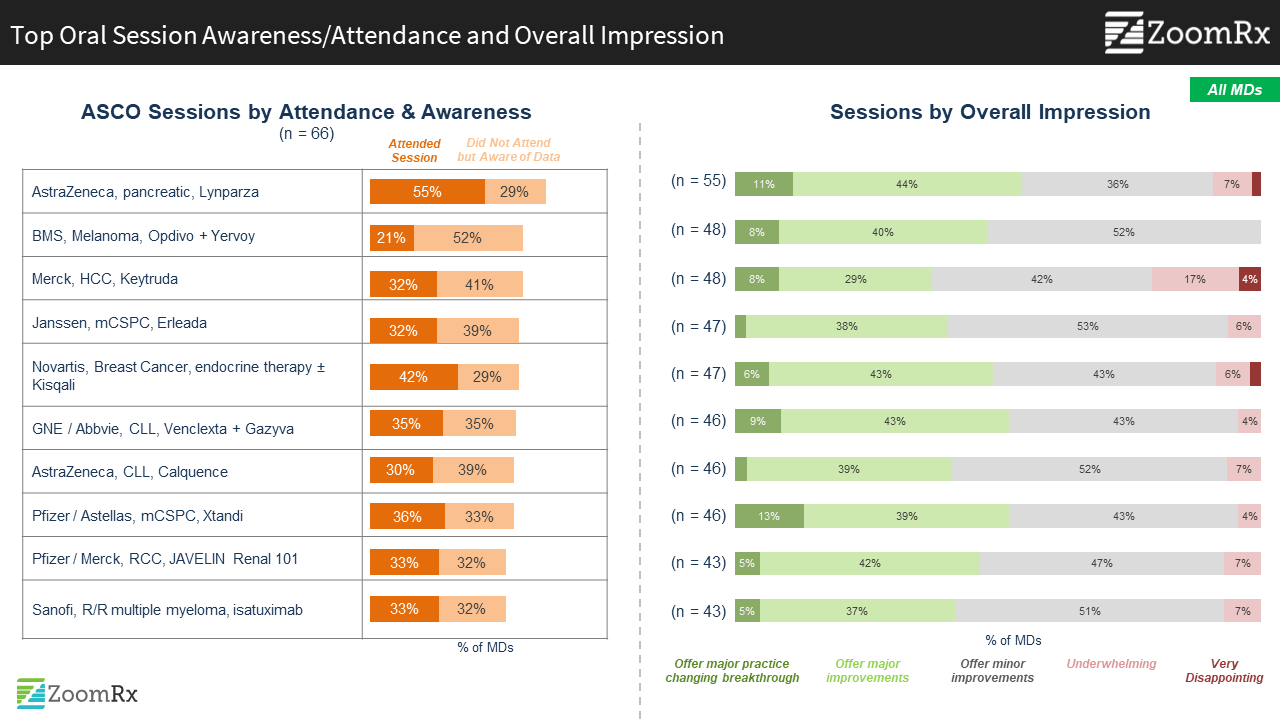 Among less broadly attended sessions, several generated excitement as potentially practice changing.  These include Blueprint's BLU-667, Amgen's AMG420, and Astellas / Seattle Genetics' enfortumab vedotin.
These sessions highlighted new MOAs or extension of MOAs to new indications such as BLU-667 RET inhibitor in NSCLC, Amgen's AMG420 BiTE immunotherapy in R/R MM, and Astellas/Seattle Genetics enfortumab vedotin data in urothelial cancer.
"It was interesting to see data for new emerging immunotherapies aswell as data on CAR-T cells. Also, RET inhibitor clinical trial with BLU-667.  Sometimes you get data that's "me-too". Blueprint, however, is not a 'me-too" therapy. This is a new category for treatment."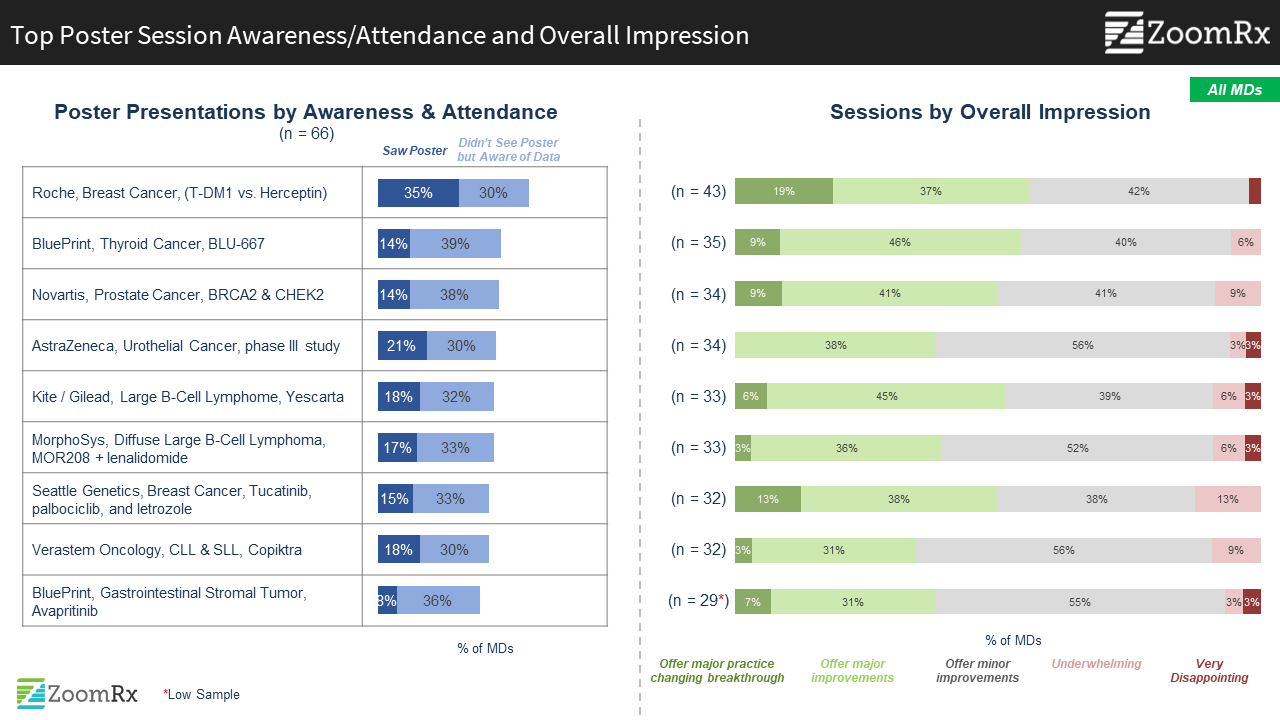 Among emerging MOAs, new immunotherapy options captured attention as having the potential to transform current SOC.

We asked oncologists about their awareness and perceptions of emerging MOAs featured at ASCO.  Newer immunotherapy options, CAR-T and BiTE, top the list of most attention-grabbing and promising, beyond the "1st generation" IOs of PD-L1, CTLA4.  Also, NTRK mutation specific targeted treatments (from Genentech and Loxo) attracted a good deal of interest.
"BiTE is an interesting alternative for R/R after BCMA and CAR T. This treatment shows promise, but testing is still early."  
Other MOAs generating excitement include the use of antibody drug conjugates (ADC) in new indications (bladder cancer) and the targeting of KRAS in NSCLC and other solid tumors.  Other MOAs that were seen as exciting by analysts will need more time/education to raise awareness.
"The highlights to me were the recommendations for increased use of molecular testing and NGS, the likelihood of future treatments including combination immunotherapy with chemotherapy in advanced cancers & new biomarkers to test because of targeted drugs on the horizon."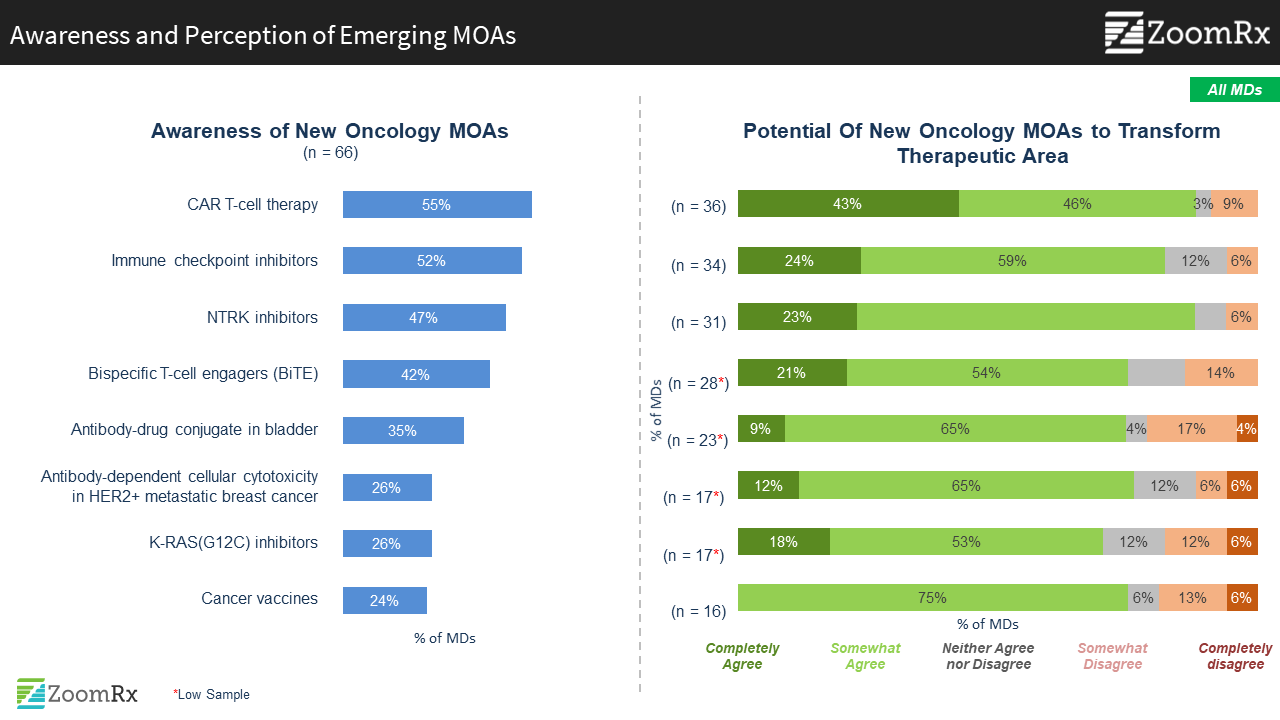 Get our full-report for more in-depth insight from oncologists.
Our full report provides deepdives into oncologists' reactions to some of these key events and broader themes present at this year's meeting.  If you are interested, please leave your info below or reach out directly (kinga.zapert@zoomrx.com) to receive the full report.
Get the complimentary full post-conference report.
Leave your info to receive our free full post-ASCO report.
Thanks!
Your message has been successfully submitted.
ZoomRx uses the info you provide to fulfill your request and contact you about relevant insights, products, and services. You may unsubscribe from all communications at any time. For more information, view our full
privacy policy