ASCO Annual Meeting 2023 led with the theme of Improving Patients' Lives Through Collaboration, Research, and Innovation, creating positive experiences among those who attended and generating excitement about practice-changing data.
The ZoomRx survey of over 85+ practicing oncologists who attended ASCO 2023 in person revealed remarkable satisfaction with the conference, with three-fourths of the oncologists stating that the conference exceeded their expectations. Attendees praised the event's organization, technological resources, and the opportunity to (re)connect with colleagues, thought leaders and company representatives, fostering valuable networking opportunities.
I ran into a lot of colleagues from my past, and I learned a lot, and I made some really good connections overall.
Enjoyed the ability to use a virtual platform and review/stream content either I missed or didn't absorb the first time. Also, the post-COVID environment was very enjoyable to be able to network.  Appreciated the childcare, lactation centers and trying to create a more modern experience.
At the heart of ASCO 2023 were the transformative data presented, with oncologists appreciating the comprehensive range of topics covering all aspects of patient care and research. Key themes recalled were advancements in immunotherapy, targeted therapy, and especially combination therapies, alongside a strong focus on patient-centered care and precision medicine. Oncologists also noted the focus on adjuvant/neoadjuvant options, highlighting the evolving landscape of early stage treatments especially in NSCLC and breast cancer.
ASCO is […] generally all-inclusive with regards to all of the tumor types as well as research from varying areas that is presented.  
Partnering with patients is important and making the experience as seamless as possible is meaningful. We need to understand what quality care means to them.
I believe the main thing was really talking about targeted therapies and its role in pivotal treatment of malignancies.
Aiming towards improved outcomes using combinations of immunotherapy, small molecules and cellular therapy. ​

Oncologists expect that the data presented at ASCO 2023 will move the clinical practice in a meaningful way. Nearly 60% of oncologists considered the conference a major leap forward in clinical oncology practice, making it the most impactful from a scientific progress perspective since we started to track it in 2019. Classes such as CAR-Ts, Antibody-Drug Conjugates (ADCs), and combinations/novel PD-L1/PD-1 checkpoint inhibitors were seen as drivers of progress.  Additionally, cancer vaccines gained increased attention as practice-changing therapies.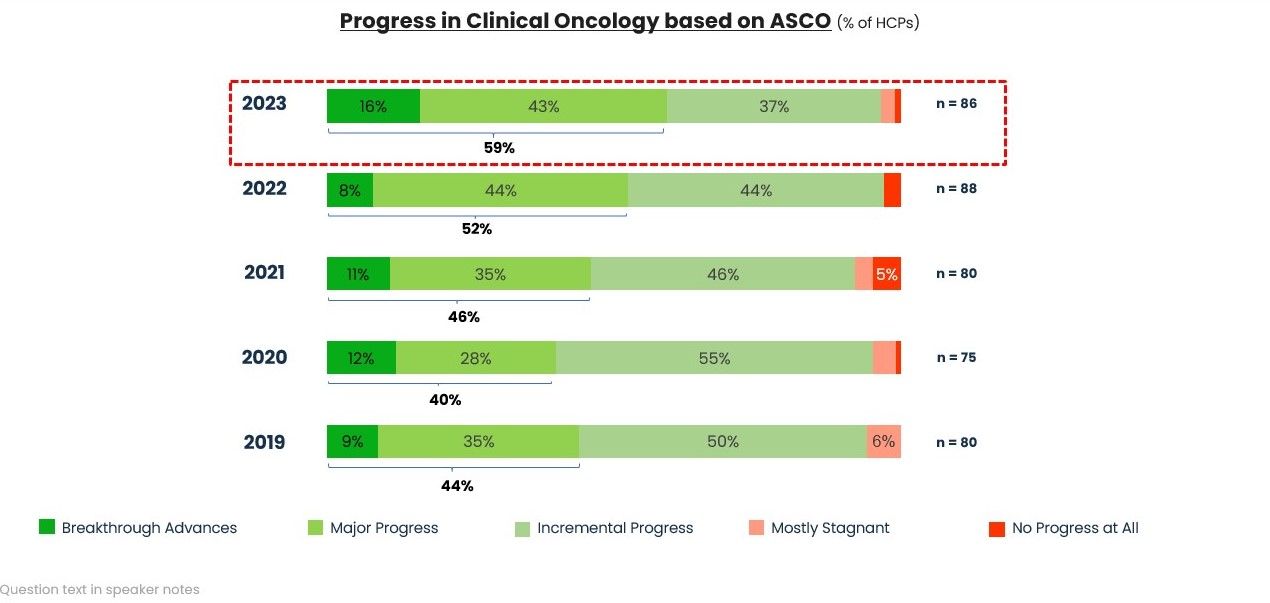 Several key sessions stood out as game-changers for oncologists attending ASCO 2023, including the Plenary Sessions ADAURA and PROSPECT, along with the NATALEE session on Kisqali (ribociclib) as adjuvant therapy for early-stage HER2-/HR+ BC. The results presented in these sessions are expected to have an immediate impact on treatment approaches.
I will do more EGFR testing in my early stage lung cancer patients to qualify for EGFR inhibitor in the adjuvant setting. [ADAURA]
I'll probably stop referring most of my patients for neoadjuvant radiation. They'll just get new ads for Folfox.   [PROSPECT]
Impact on using Ribociclib in possibly the adjuvant setting, but certainly more use in the metastatic setting.  [NATALEE]
Adjuvant immunotherapy and [adjuvant] Tagrisso for non small cell lung cancer
New treatment options and how to treat adjuvant patients after surgery.
The plenary sessions ADAURA and PROSPECT, along with NATALEE and KEYNOTE-671 generally delivered on the pre-conference buzz that ZoomRx measured prior to ASCO 2023.

Standout Session : Data Read-out on ADAURA Trial
The updated ADAURA results with the significant and meaningful OS data captured oncologists' attention. This is not surprising since oncologists generally consider the OS as the gold standard for adoption of any adjuvant therapies in NSCLC. And while most oncologists are willing to adopt treatments based on the meaningful Disease-Free Survival data (median DFS in osimertinib arm was 65.8 months vs 28.1 months in the placebo arm), there is a sizable segment of oncologists who would hold off until they see the OS data. Oncologists were impressed with the strength of evidence for ADAURA's updated data, generally rating it as extremely compelling, and directionally better than the data for other adjuvant therapies in NSCLC.
Based on the new ADAURA OS data (88% in osimertinib vs. 78% in placebo), a reduction in risk by 51%, oncologists also expect to increase their EGFR testing and ultimate use of Tagrisso in the adjuvant settings.

As oncologists now have both the all-comer immunotherapy option (Keytruda) and the EGFR targeted option (Tagrisso) in the adjuvant settings, we asked how they will use their options for patients with EGFR+ early stage NSCLC based on the updated ADAURA data. Half of oncologists would prioritize the use of Tagrisso for their EGFR+ patients over Keytruda, with about a quarter of oncologists expressing preference for Keytruda.
Reach out to us for a deep dive of other sessions including NATALEE, KEYNOTE, REdirecT-1
Overall, ASCO 2023 moved the field of clinical oncology forward again, and delivered practice-changing data to practicing oncologists as they strive to provide the best possible care to all of their patients.
ZoomRx uses the info you provide to fulfill your request and contact you about relevant insights, products, and services. You may unsubscribe from all communications at any time. For more information, view our full
privacy policy