The COVID-19 pandemic presents a challenging contradiction for pharmaceutical marketers: in-person healthcare professional-representative interactions are limited by social distancing measures, but physicians across specialties are still seeking to engage with field forces.
Given this demand for continued engagement, virtual interactions have become commonplace. Around 90% of the approximately 13,000 oncology-focused brand interactions between physicians and manufacturers tracked over the last four months took place virtually.
In order to ensure virtual engagements have the desired impact, pharmaceutical manufacturers must optimize their strategy, considering not only ease of access and convenience, but also what ultimately drives changes in perception and prescribing behavior.
A key part of this strategic optimization is deciding whether to prioritize phone calls or video conferences as a channel for sales interactions.
While video conferences require greater coordination and increased investment in infrastructure and training, the data available thus far indicates this investment is warranted, as interactions held via this channel are resulting in longer and more impactful engagements.
To weigh the benefits of these two different channels, it is useful to look at a number of variables including:
Physician preference
Duration of engagements
Content of interactions
Ultimate effectiveness
Physician preferences
Throughout the COVID-19 pandemic, demand for some degree of rep-based contact with pharma manufacturers has remained high among physicians across specialties: 76% reported wanting some amount of rep-based contact during the pandemic. Thirty-five percent of physicians expressed interest in contact via video conference, while 26% expressed interest in contact via telephone (70% were interested in email contact) (ZoomRx, June 2020).
Duration of engagements
Examining oncology interactions between sales reps and physicians showed that video-conference engagements are significantly longer (11.7 min average) than those held via telephone (9.1 min average). This 11.7 minute average for video conferences is consistent with the average reported engagement duration for 2019 where the vast majority of interactions took place in person.
Content of interactions
With the benefit of longer engagements and the ability to utilize visualize aids, sales reps have been able to cover a similar number of messages, counter-detail with higher frequency, and close more often when connecting with physicians over video conferences compared to telephone.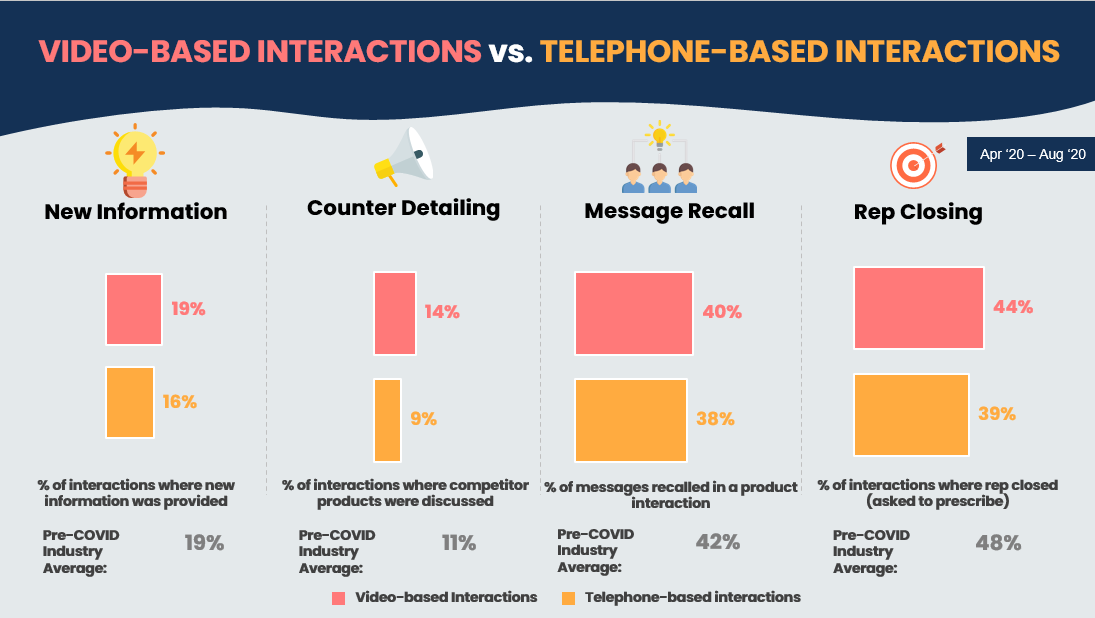 Ultimate effectiveness
Along with the increased duration of interactions and the additional information covered, video conference-based interactions have seen incremental advantages in overall call quality, product perception, and likelihood to prescribe when compared to phone-based interactions. In fact, metrics for overall call quality, increase in product perception, and likelihood to prescribe for video-conference interactions largely reflect 2019 benchmarks.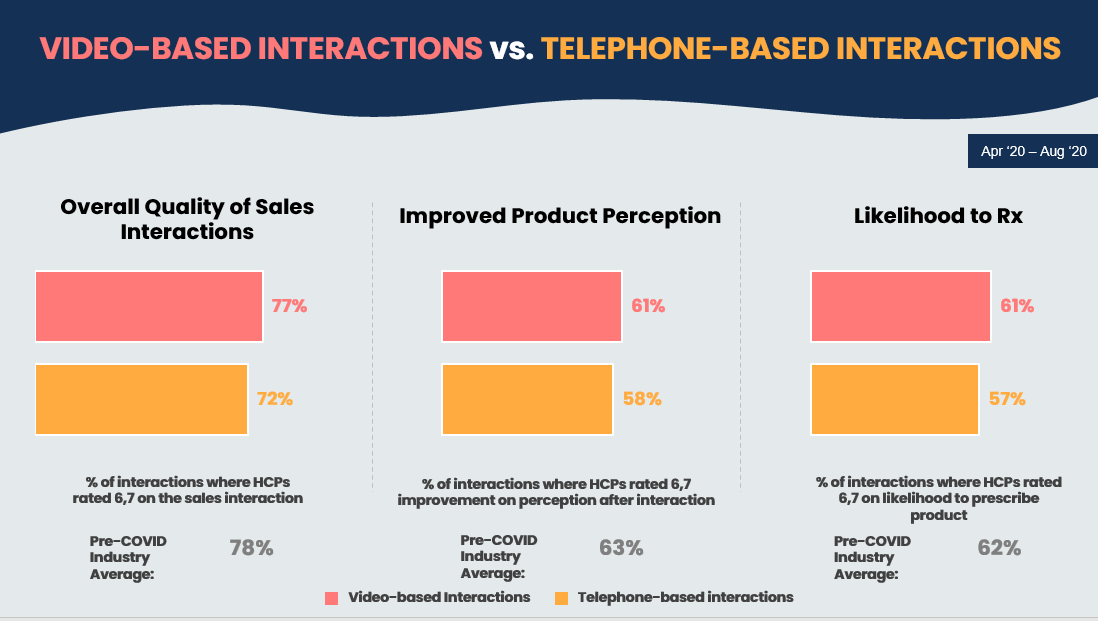 Planning ahead and expanding video-conference interactions
Early data suggests video-conference interactions are worth the investment in training and infrastructure. Whenever possible, sales reps should try to work with physicians and hospitals to set up video-conference interactions. Emphasizing virtual lunches or other interactions where the sales rep is engaging with multiple HCPs simultaneously and adopting other such strategies can help overcome some of the logistical challenges associated with video conferencing.
---
At ZoomRx, we're continuing to explore open questions related to the future of promotional engagement with physicians.
Leave your information below to receive more information and data from our research into this evolving landscape.
Learn more.
Leave your info below and a member of our team will follow-up shortly.
Thanks!
Your message has been successfully submitted.
ZoomRx uses the info you provide to fulfill your request and contact you about relevant insights, products, and services. You may unsubscribe from all communications at any time. For more information, view our full
privacy policy