Have you ever wondered which oncology brands truly dominate and capture the mindshare oncologists in the ever-evolving field of oncology?
With a staggering 100+ new molecular entities approved by the FDA (Fed­er­al Drug Ad­min­is­tra­tion) in the past decade alone, the competition for prominence is fierce. In this landscape of information overload, oncologists find themselves constantly bombarded with choices. We delved into the realm of oncology to uncover the brands that have successfully captured the attention and trust of oncologists.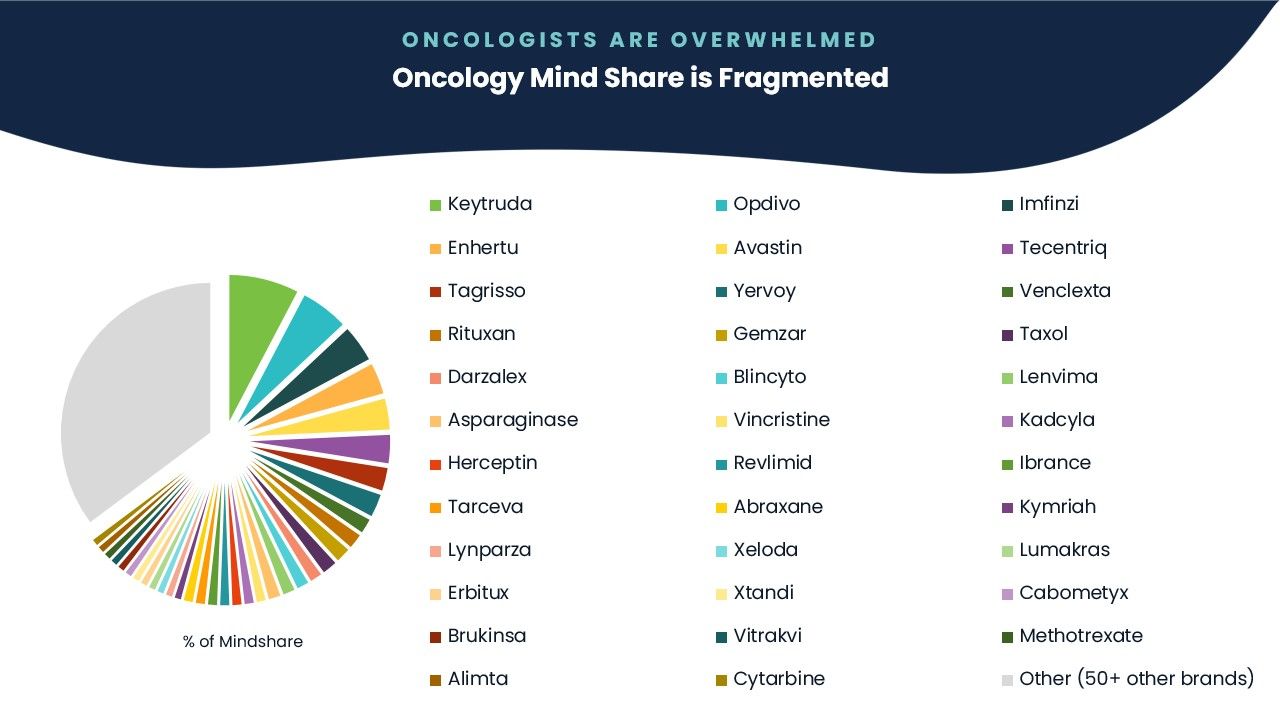 Before we delve deeper into the world of oncology brands, it is important to recognize the significance of mindshare. Being at the forefront of an oncologist's mind is not just desirable, but essential for a brand to surpass its competitors. To gain a profound understanding of the brands that truly capture their attention, we conducted a study involving 40 oncologists. They were asked unaidedly, to list their top 10 cancer drugs, enabling us to uncover the genuine mindshare of key oncology brands.
Prior to unveiling the top 5 oncology brands, let's examine a few noteworthy trends that we have observed through this research
Trend#1: Dominance of immunotherapies.
The competition for mindshare among top oncology brands is intensifying, with one clear trend emerging, the increasing dominance of immunotherapies. The key to their rising prominence is:
Ability to treat multiple indications
Effectiveness in combination with other therapies.
Trend#2: Enduring value of the brand 
Few brands have kept their position and mind share among oncologists, even after the loss of exclusivity. Despite the presence of generic alternatives and increased competition, these brands manage to sustain a prominent presence and a strong foothold within the minds of oncologists.
Trend#3: The perception of manufacturers is significantly influenced by the mindshare garnered by their individual brands. Oncologists regard manufacturers with a diverse portfolio of treatment options as industry leaders. Individual brand leadership synergistically drive the manufacturer's perception higher.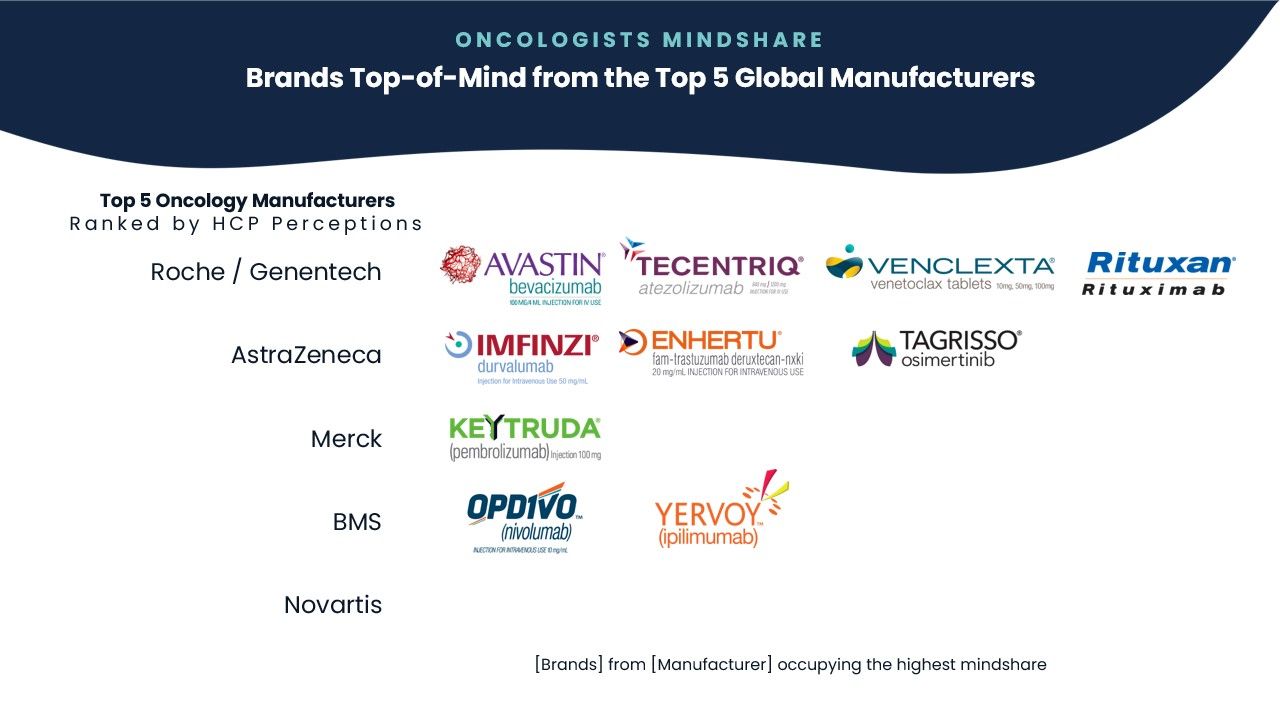 With the above trends discussed, it is crucial to address the question at hand: "Which oncology brands are truly dominating and capturing the mindshare of oncologists?"
Without further ado, here are the top 5 oncology brands that have successfully captured the highest mindshare among healthcare professionals.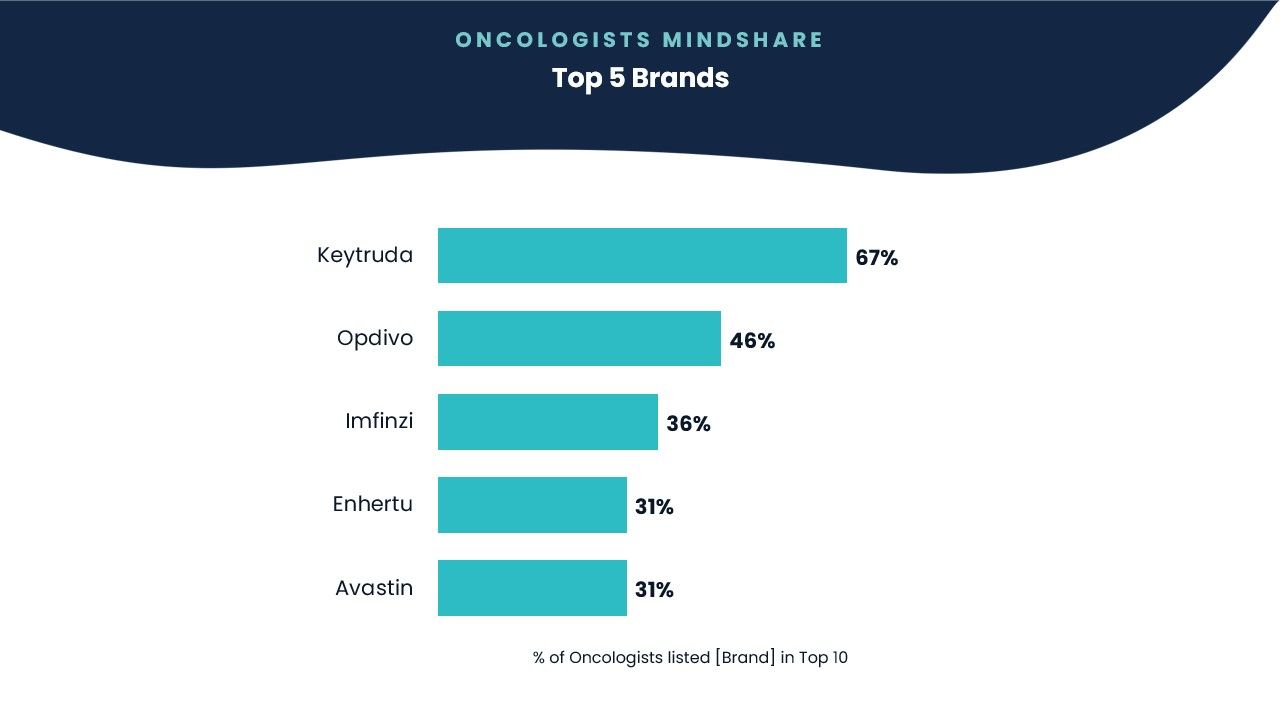 KEYTRUDA: It's no surprise that Keytruda with 17+ indications and counting came on top of the list. The groundbreaking immunotherapy from Merck was on the top 10 list of two-thirds of the oncologists.
"I use it possibly every day and there is a lot of advertising."
2.  OPDIVO: Opdivo, the immuno-oncology competitor, came in second. Opdivo's remarkable success extends beyond its broad spectrum of approvals; it has consistently delivered tangible results for patients, often improving survival rates and providing a renewed quality of life.
"Revolutionary role of immunotherapy in treatment of tumours."
3.  IMFINZI: Another popular blockbuster with multi-indication approvals. AstraZeneca gets a high score on their portfolio perception ratings due to the presence of these type of drugs in its current profile.
"Recent approval in 1st line makes it a top choice."
4.  ENHERTU: AstraZeneca and Daiichi-Sankyo's co-promote drug Enhertu became a blockbuster within the first 2 years of its approval. The positive results from the DESTINY-Pan Tumor02 study show that Enhertu has the potential to become a tumor agnostic therapy, targeting any HER2 cancer.
"Very familiar with the medication. It is a feel-good drug."
5.  AVASTIN: A success story for Roche. Though it had multiple biosimilars come through, Avastin is still top of mind for oncologists. Despite its loss of exclusivity, Avastin stays in the top 5 with more than 30% of oncologists listing it in their top 10.
To learn more about Awareness, Perceptions of your brands in US or Globally, reach out to ZoomRx
ZoomRx uses the info you provide to fulfill your request and contact you about relevant insights, products, and services. You may unsubscribe from all communications at any time. For more information, view our full
privacy policy