The oncology field is rapidly evolving, with groundbreaking CAR-T cell therapies and accessible biosimilars providing new hope for patients. However, these changes also bring new challenges in understanding and effectively utilizing these treatments. This is where Medical Science Liaisons (MSLs) play a crucial role.

MSLs provide critical scientific and clinical information to healthcare professionals (HCPs), key opinion leaders (KOLs), and others. They educate HCPs on the latest research developments, gather insights on emerging trends, and provide feedback to their organizations on the medical community's needs.

Pharmaceutical manufacturers often struggle to understand and measure the value of the MSL role, relying on qualitative assessments rather than quantitative ones. However, measuring MSL effectiveness can help unlock hidden value.

At ZoomRx, our field force effectiveness study continuously tracks MSL visits across 200+ brands from 60+ manufacturers. In 2022, we examined the top 5 oncology manufacturers and their products with the most MSL activity.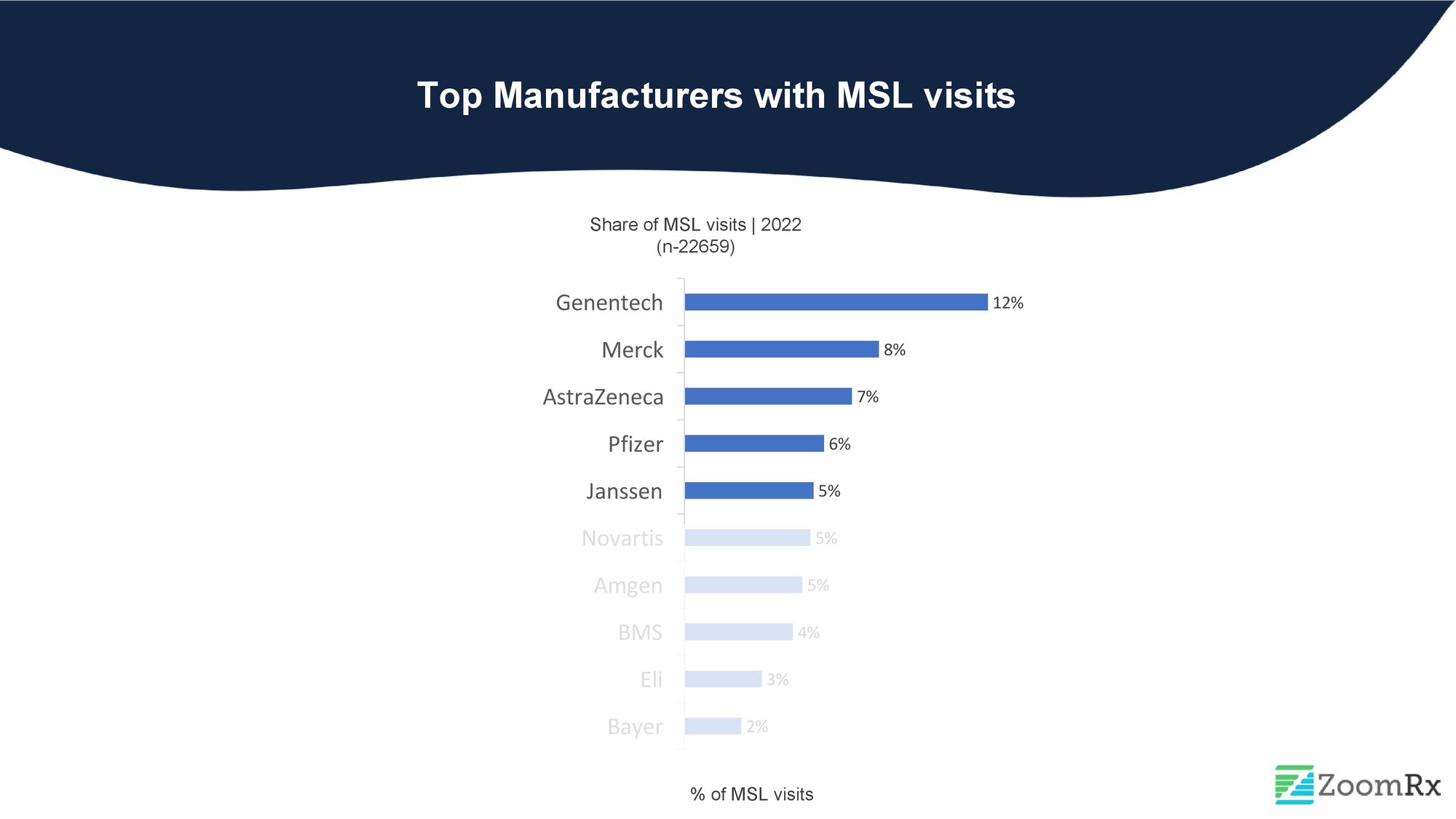 #1 Genentech:

Genentech leads all oncology manufacturers in MSL activity, with over 15 oncology products and over 12% of MSL visit share in 2022. Despite not having recent approvals, Genentech's MSLs remain highly engaged with HCPs, driving conversations and keeping providers informed of the latest developments in oncology.

Tecentriq, Genentech's immunotherapy product, accounts for almost one-fifth of all interactions, likely due to its multiple indications and combination therapies with other products such as Cabometyx for HCC, Zelboraf & Cotellic for Melanoma, and various NSCLC options. Tecentriq's extensive range of applications and combinations make it a key player in Genentech's product portfolio.

It's worth noting that Genentech engages in MSL visits not only with newer drugs like Phesgo and Gavreto (approved in 2020) but also with legacy drugs like Avastin, Kadcyla, and Herceptin, which have already passed their primary patent expiration dates. This pattern of MSL visits across the company's product portfolio reflects Genentech's revenue breakdown in 2022.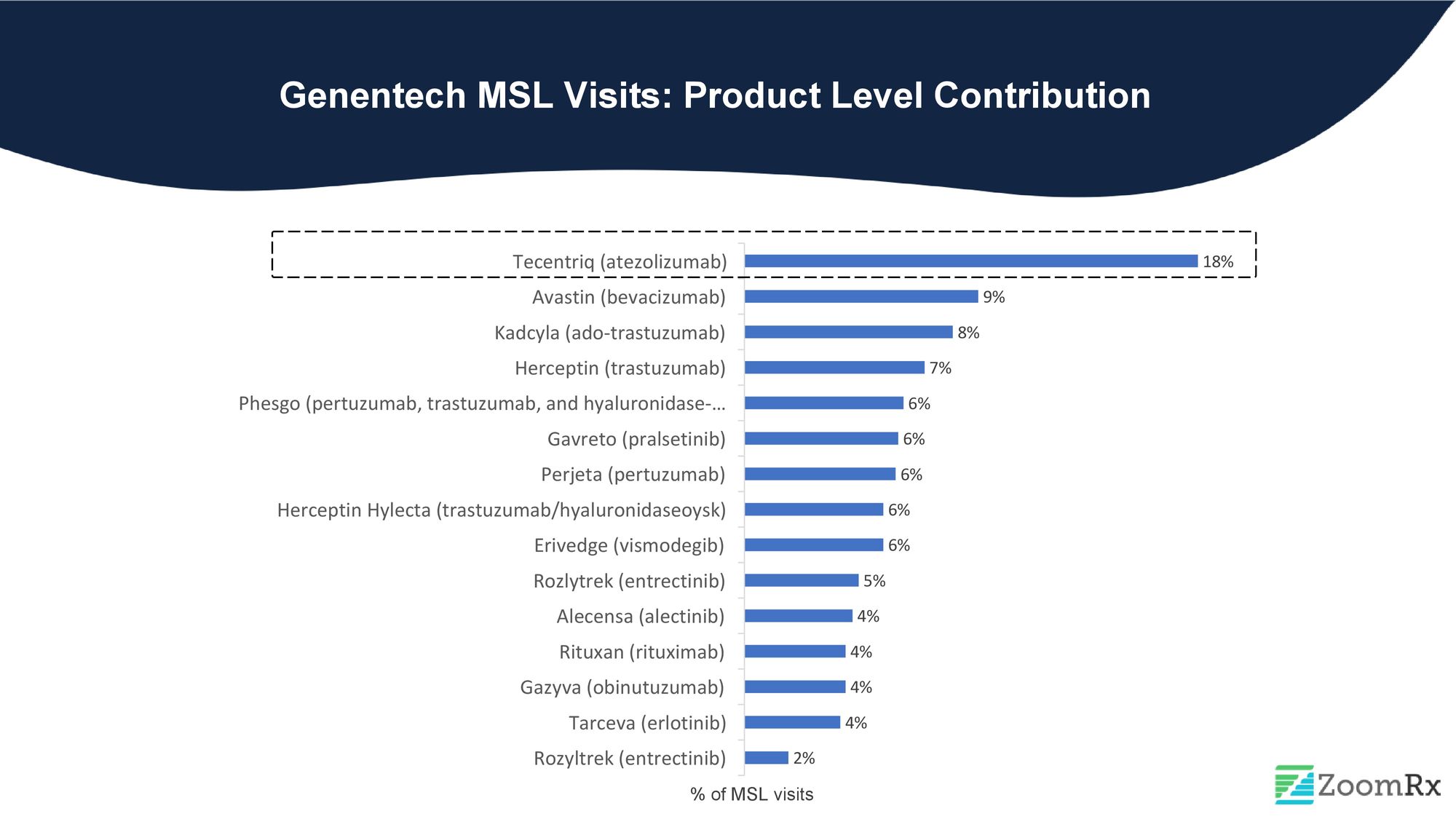 #2 Merck:

Merck, an emerging leader in the oncology space, holds the second position in deploying MSLs with an 8% share. Merck's oncology products, including Keytruda and Lynparza (co-promoted), have received significant recent approvals.

Keytruda, a widely recognized and successful drug, consistently maintains its position as one of the highest-selling drugs in the pharmaceutical industry. With 17 indications and counting, Keytruda contributes significantly to Merck's MSL visits, making up 62% of their MSL Visits. Over 130 Keytruda abstracts were presented at ASCO 2022, indicating the high level of advancements and ongoing research focused on Keytruda.

Lynparza, the most prominent product in the PARP inhibitor category, is extensively employed as a targeted therapy for solid tumors and commands a substantial share of Merck's MSL at around 26%. MSLs play a crucial role in educating HCPs on Lynparza's risk-benefit profile, especially given the safety concerns associated with the PARP drug class, including Zejula and Rubraca.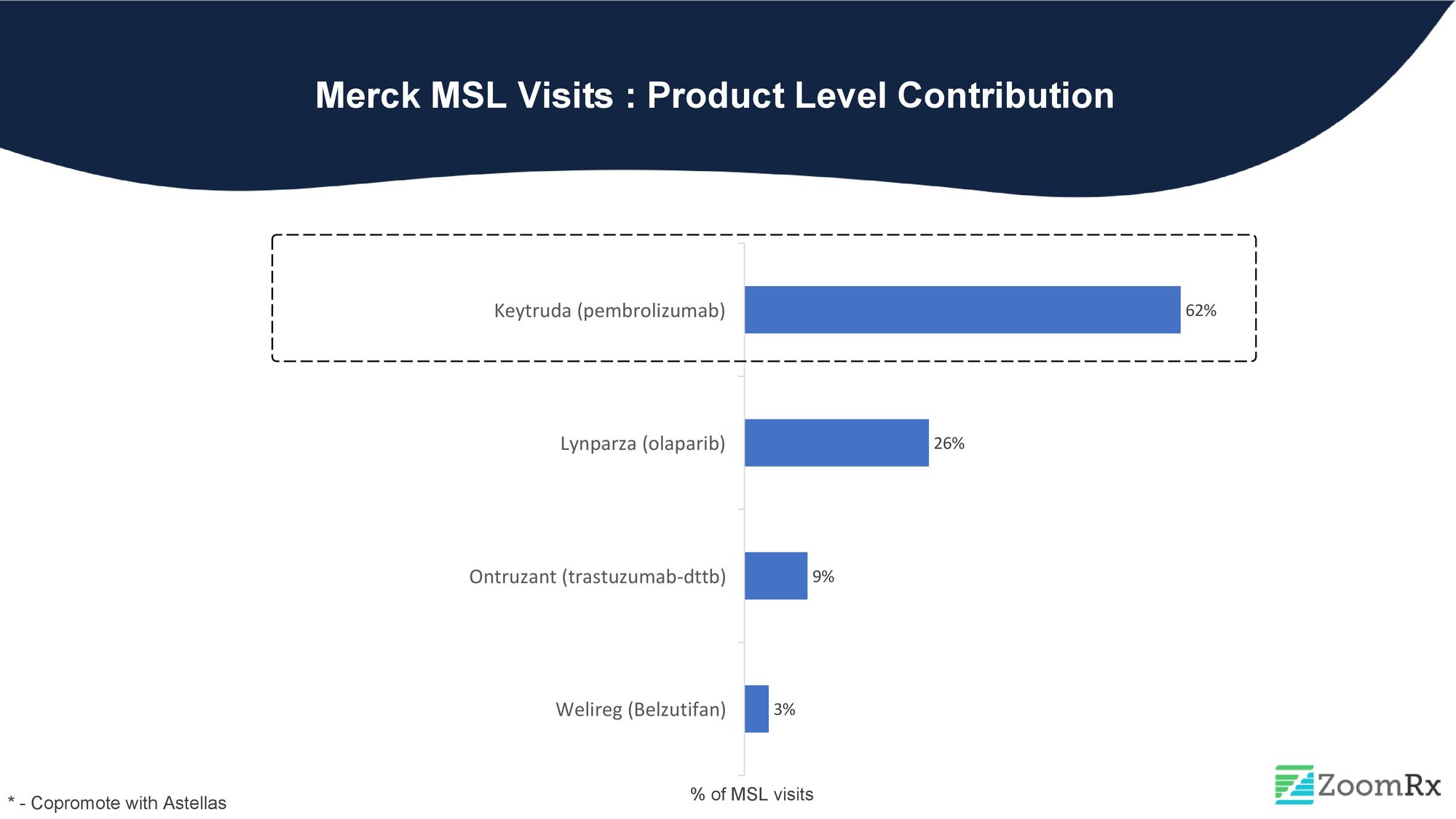 #3 AstraZeneca

AstraZeneca has secured the bronze medal in our ranking, with around 7% share of MSL visits. AstraZeneca's MSLs primarily focus on driving conversations around the company's multiple drug approvals, such as Enhertu and Imfinzi.

Enhertu, with its approvals in significant tumors like breast, gastric, and lung cancer, was responsible for more than one-third of AstraZeneca's MSL visits. The DESTINY trial, which led to the first approved therapy targeted to patients with the HER2-low breast cancer subtype, generated a lot of attention post-ASCO. This newly defined subset of HER2 is significant.

Imfinzi, an immunotherapy, is a close second to Enhertu in terms of MSL visits. In late September, Imfinzi received approval as the first immunotherapy for advanced biliary tract cancer. Additionally, Imfinzi received approvals for mNSCLC and HCC with Imjudo towards the latter half of the year.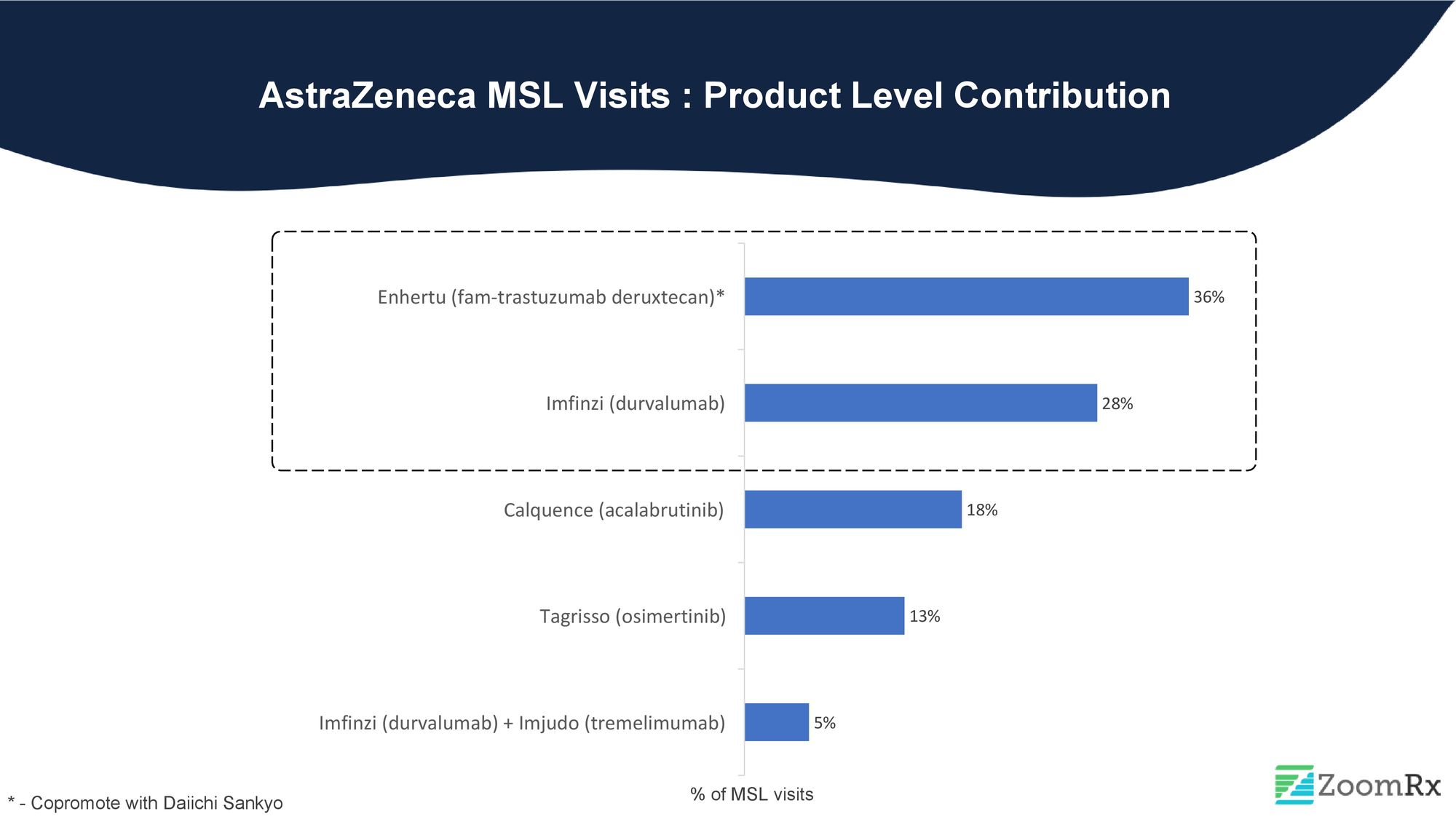 #4. Pfizer

Pfizer ranks fourth on our list with over 10 oncology products in its portfolio. During MSL visits, their focus was primarily on Bavencio (avelumab), Ibrance (Palbociclib), and Trazimera (trastuzumab-qyyp), the Herceptin-biosimilar.

Bavencio is an immunotherapy drug with multiple indication approvals, making it a complex drug with varied sets of clinical data that require the attention of MSLs. On the other hand, Trazimera is the fourth FDA-approved Herceptin biosimilar. As with any biosimilar, it is imperative for MSLs to establish bioequivalence and address inquiries related to similar efficacy and safety.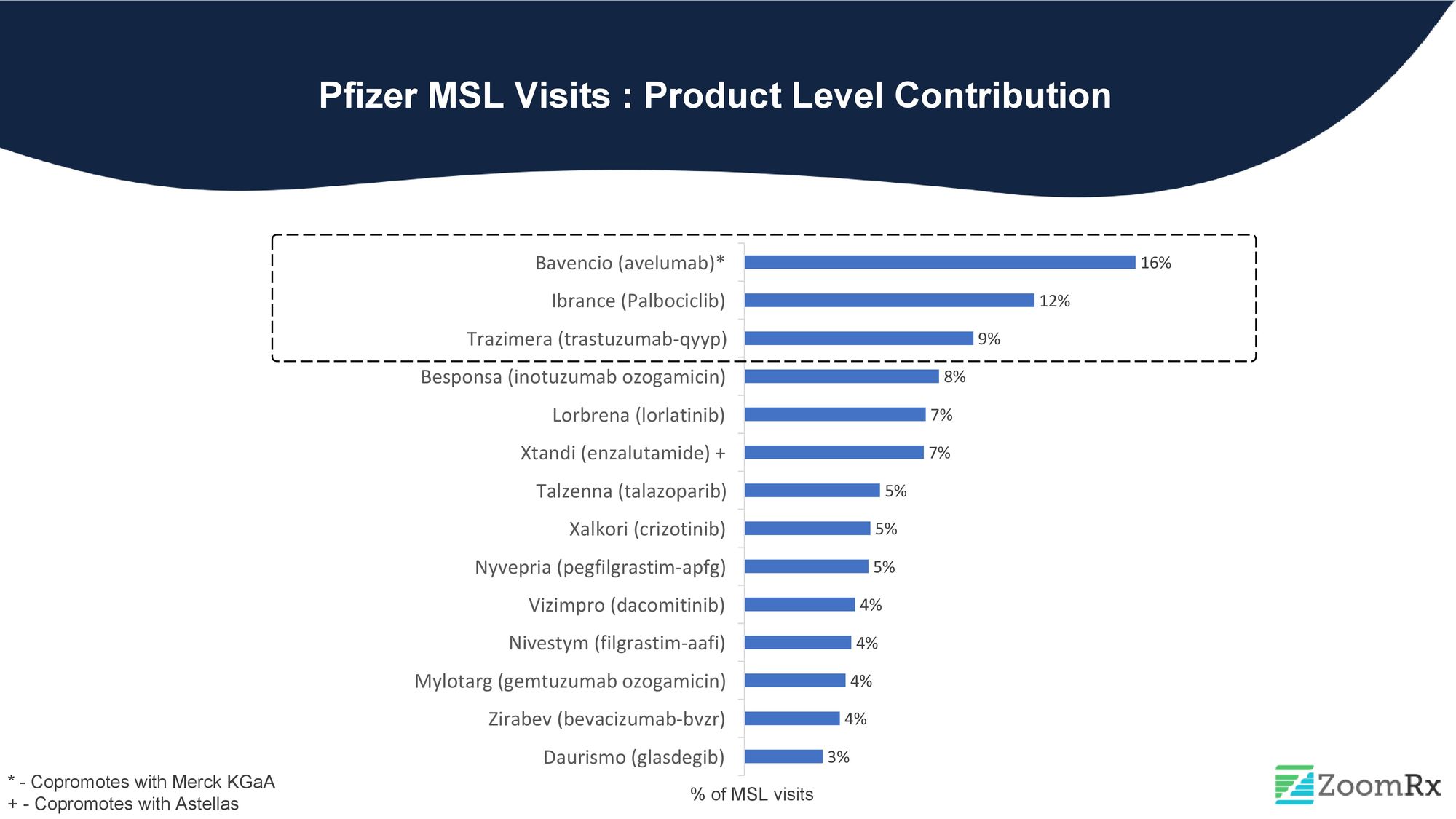 #5. Janssen
Janssen, ranked fifth among the top pharmaceutical companies for MSL interactions, has a significant focus on Imbruvica, a Bruton's tyrosine kinase inhibitor (BTKi) with over ten approvals, accounting for 37% of Janssen's MSL visits.

Darzalex, a multiple myeloma treatment option offering both intravenous and subcutaneous dosing and a variety of combinations for both newly diagnosed and relapsed patients, is a complex product to use. However, Janssen has done well, with approximately 20% of interactions focused on Darzalex with HCPs in 2022.

Despite recent approvals, CAR-T therapy Cavyriti for multiple myeloma in 2022 and Rybrevant, approved in 2021 for EGFR-positive non-small cell lung cancer (mNSCLC), have received less MSL activity than their more established counterparts in the market.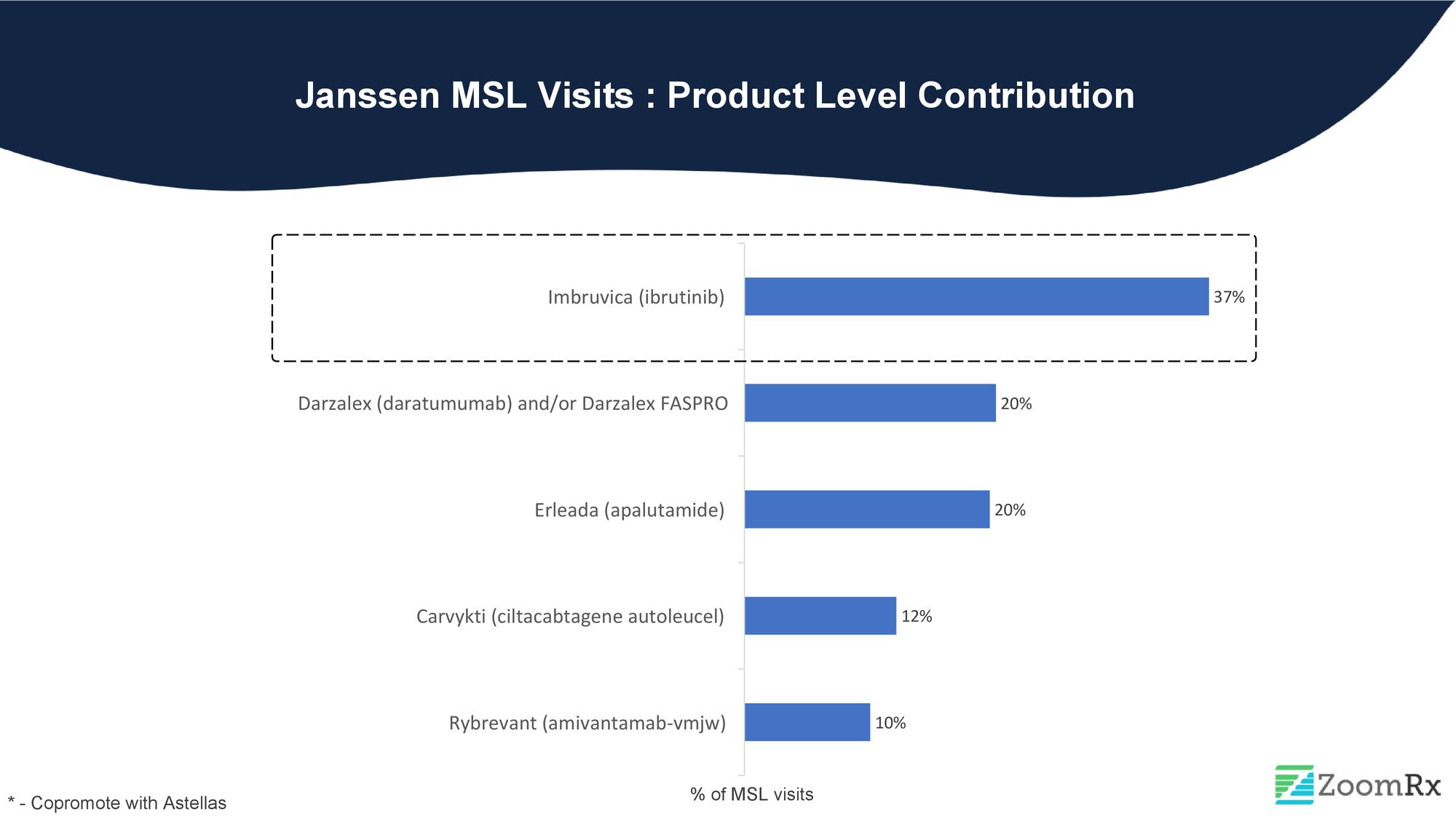 MSL activity is a critical part of medical affairs for pharmaceutical companies, especially in the oncology field where products are complex and rapidly evolving. MSLs play an important role in supporting healthcare professionals and launching new therapies. To ensure that medical affairs teams provide the best support and drive product success, it's crucial to measure MSL effectiveness.

ZoomRx's MSL Effectiveness Tracking is a valuable tool that helps life sciences brands stay competitive and achieve success. By using this tool, companies can track MSL activity and effectiveness and make data-driven decisions to optimize their medical affairs strategy.

To learn more about ZoomRx's MSL Effectiveness Tracking and how it can benefit your company, contact our field force experts.
ZoomRx uses the info you provide to fulfill your request and contact you about relevant insights, products, and services. You may unsubscribe from all communications at any time. For more information, view our full
privacy policy