With the ASCO 2020 Annual Meeting just days away, oncologists are nearly universally planning to "attend" this year's virtual meeting. However, their participation in the meeting will be less in real-time and present fewer opportunities for engagement with peers, presenters, and manufacturers than previous in-person meetings. This set of circumstances is creating some challenges, but also providing new opportunities for pharmaceutical manufacturers.
More oncologists plan to attend this year's ASCO virtual meeting than last year, though their reasons for attending are evolving
Almost all oncologists in our pre-ASCO survey conducted with US-based practicing oncologists report that they have either already registered or intend to register, potentially representing an unprecedented rate of ASCO attendance. Higher rates of attendance are most likely driven by free registration for all ASCO members and fewer logistical barriers.
As ASCO has shifted its annual meeting to a virtual format, the key reasons for attending the conference are also evolving. Ability to network with colleagues and interest in manufacturers' exhibits/booths are both down considerably compared to ZoomRx 2019 research. However, a number of last year's top attendance drivers—exposure to new clinical trial data, research presentations, and medical education opportunities—continue to motivate oncologist attendance.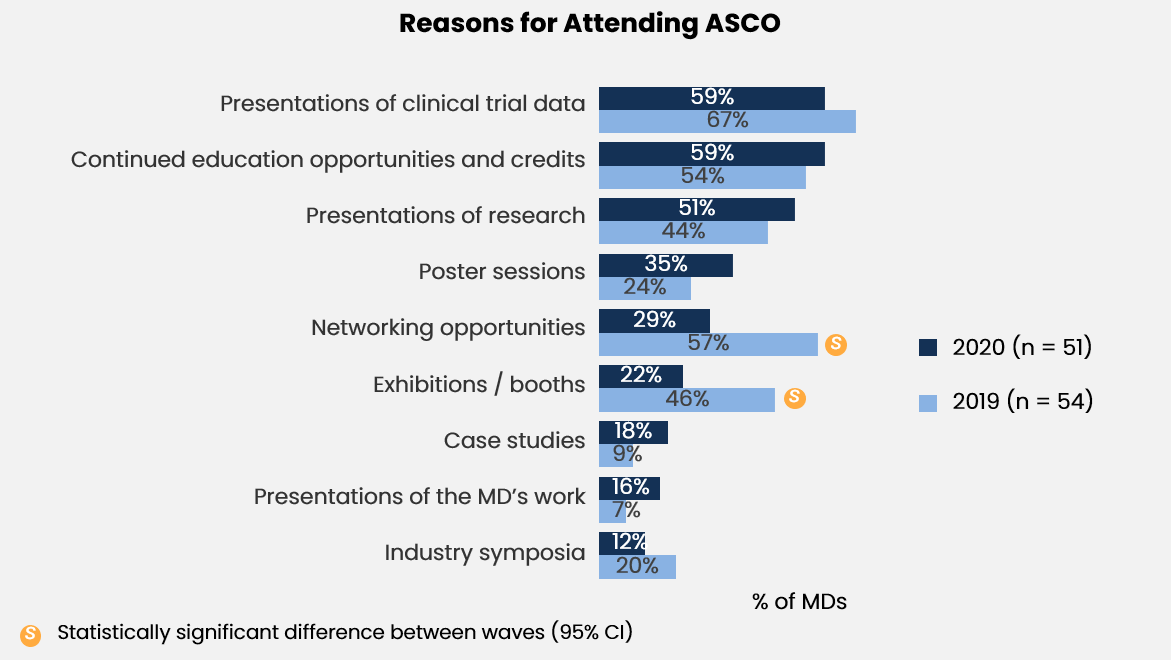 Despite high levels of interest in attending, pre-conference preparation among oncologists is modest
Only about 50% of oncologists have reviewed publications and media coverage of key sessions to inform their selection of sessions ahead of the meeting.  The rest have not reviewed pre-conference coverage yet. This potentially reflects a lack of necessity to determine the specific 'must-see' sessions—an exercise that was a necessity given the multi-track program and the expansive McCormick Center venue.
Among those who reviewed some coverage, a range of topics including CAR-T cell therapy and immunotherapy captured attention.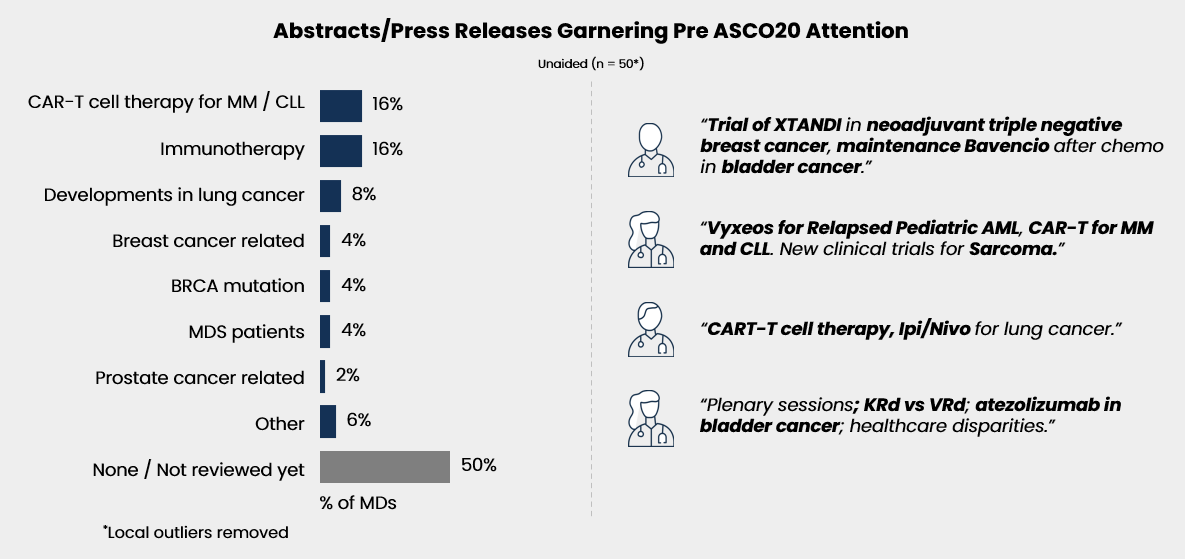 Oncologists plan to engage with ASCO both in real-time and post-ASCO
Oncologist engagement with the conference will occur at their own pace, with a mix of live and post-ASCO engagement with plenary sessions, poster presentations, and more.
Some (16%) oncologists are planning on engaging with ASCO through social media, primarily via ASCO Connection, followed by LinkedIn and Twitter. While this is not a large percent in absolute terms, it shows the potential for virtual engagement to help replace in-person interaction with session presenters and peers.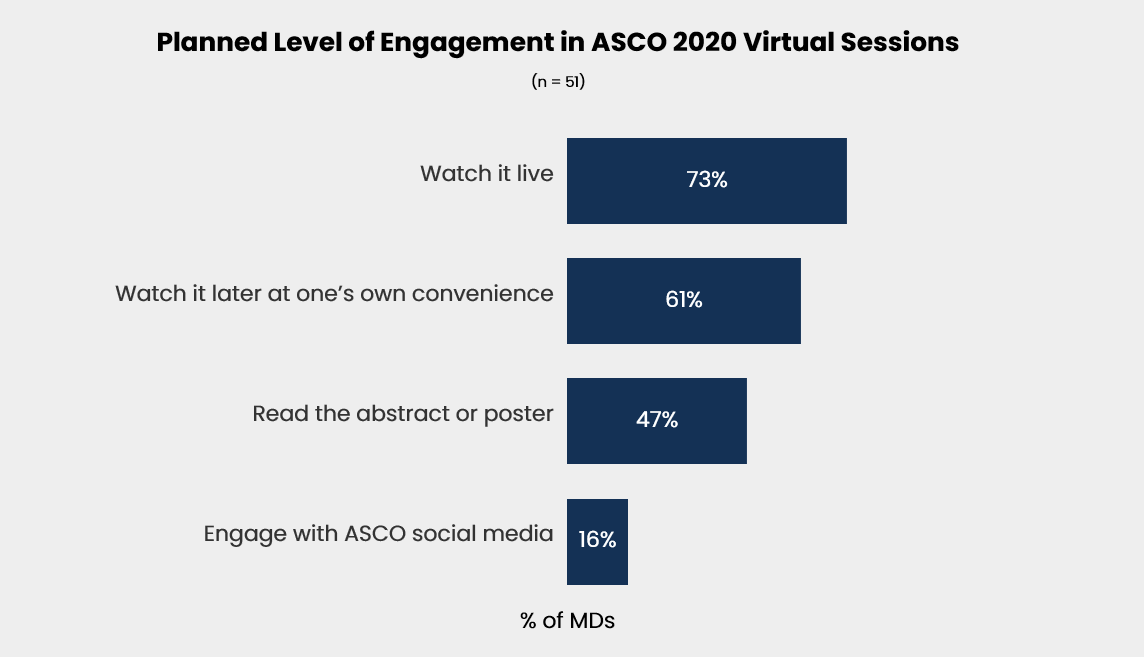 Oncologists plan to attend virtual booths, but only a minority have decided which ones
While most oncologists plan on visiting virtual booths, only a few have decided which specific manufacturers they will visit. Oncologists who reported plans to visit specific booths were often driven primarily by interest in mode of action (e.g., immunotherapy or targeted therapy). Oncologists have a potentially daunting task of sorting through a long list of exhibitors over the weekend.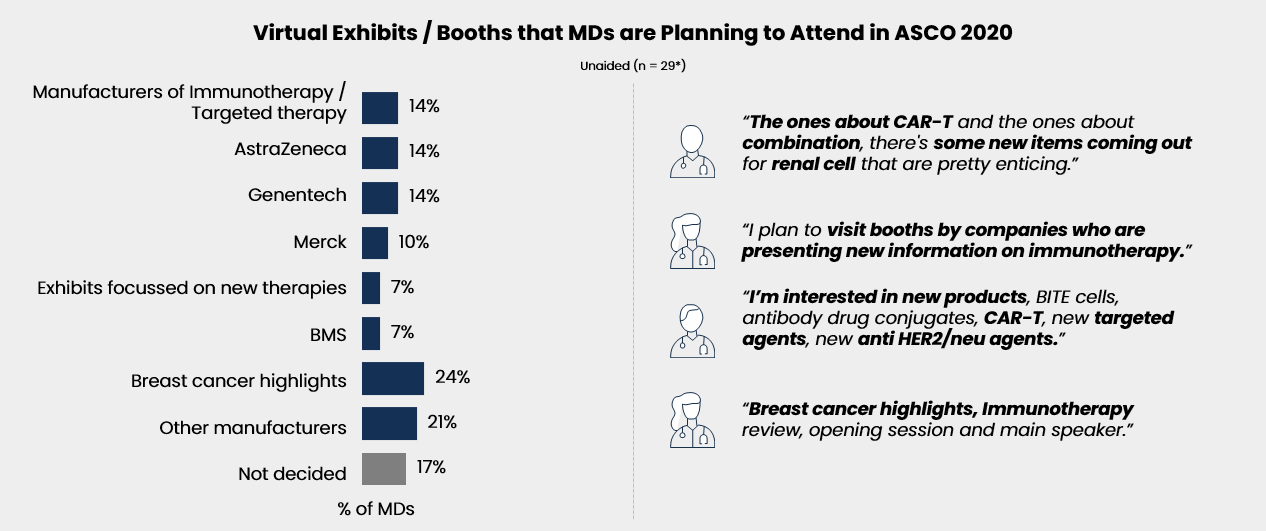 Preliminary activity on Twitter highlights a range of attention-generating sessions
Twitter pre-conference buzz (as measured by ZoomRx's Ferma.AI), before plenary and late breaking data has been released, may be an indicator of where oncologists will direct their attention. Both BMS's Opdivo CheckMate9LA and AstraZeneca's Tagrisso ADAURA in NSCLC are generating a high volume of buzz. Several novel agents including BMS's CC-92480 and ide-cel and Roche's TIGIT are also attracting attention.
Post-conference Twitter activity around key sessions is set to be high, as ASCO has asked presenters to add their Twitter handle to their slides. This is intended to enable attendees to ask questions of investigators.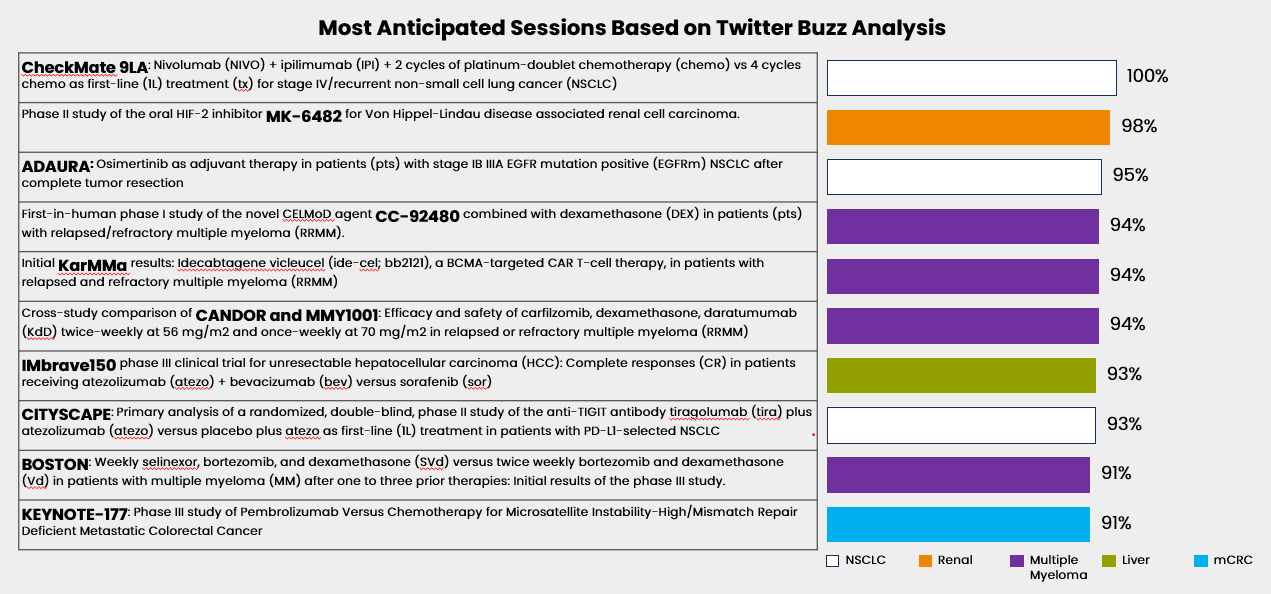 Oncologists' plans for ASCO 2020 shed light on the virtual conference format and present manufacturers with opportunities for digital engagement
Given its scale, ASCO 2020 will likely provide the industry with key insights about engaging with oncologists in a virtual conference format. One early takeaway is that digital conferences may require more concerted effort prior to the conference to create buzz. Without advance influence, attendees may struggle to differentiate among presentations as well as manufacturers' virtual exhibits and booths. On the other hand, oncologists indicate plans to engage beyond the weekend of the conference—creating opportunities for medical science liaisons' ASCO summaries and especially peer-to-peer events to help facilitate networking and continued immersion in data and practice implications.
What's next?
ZoomRx will be attending the virtual ASCO meeting and following key themes and high-impact presentations.
Following the conference, we'll be conducting additional research with practicing oncologists, collecting major takeaways, observations, and perspectives on how this year's virtual meeting may change practices.
Leave your info below to get the full post-ASCO report delivered to you once our research has concluded.
Get the report.
Leave your info below to receive our post-ASCO report.
Thanks!
Your message has been successfully submitted.
ZoomRx uses the info you provide to fulfill your request and contact you about relevant insights, products, and services. You may unsubscribe from all communications at any time. For more information, view our full
privacy policy