COVID-19 has served as a catalyst for the rapid uptake of telemedicine across a range of therapeutic categories. Initially, physicians adopted telemedicine, despite uncertainty surrounding reimbursement, in order to ensure the safety of patients and staff while continuing to provide care.

However, payers have since responded and offered broad coverage of telemedicine—driving further adoption and potentially reshaping the future of patient care.

Oncology is no exception to the rapid adoption of telemedicine
As part of our ongoing research on the impact of COVID-19, we surveyed approximately 100 medical oncologists treating patients with breast cancer on how their practices are evolving.
Over 90% of oncologists are currently using telemedicine to treat some of their patients, and the majority of those oncologists expect to increase their use of telemedicine over time.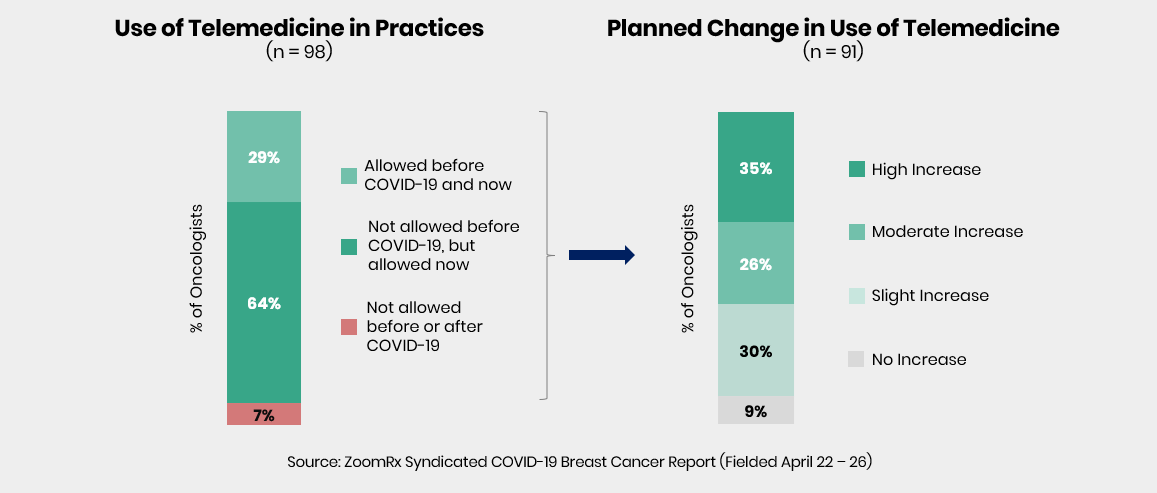 A closer look at the impact this shift has had on the treatment of patients with breast cancer reveals the complexity of the issue, confirming many of the benefits of telemedicine as well as highlighting a set of unique challenges.
The benefits
Many oncologists reiterate the advantages of telemedicine in avoiding exposure to COVID-19, both for themselves and for their breast cancer patients susceptible to infection. Telemedicine provides a safe and consistent setting for routine monitoring and for prescribing non-infusion therapies for lower risk patients with well-managed disease.
Oncologists specifically feel more comfortable using telemedicine for early stage and certain subsets of breast cancer patients, citing a less complex decision-making process.
"It is easier to treat [patients] in this stage, as we are not typically administering chemotherapy."
"Many HR+ breast cancer patients are on oral treatment and changing the treatment is relatively straightforward via telemedicine."
The limitations
In advanced settings, breast cancer remains a disease requiring close monitoring via blood work and imaging which must be done in person. Additionally, treatments for advanced patients with certain types of mutations typically involve infusions at sites of care and in-person triaging, meaning patients are unable to receive a full course of treatment from home.
"Advanced cases need in-person visits for bloodwork and imaging."
"Would need personal assessment. I do not feel comfortable with telemedicine for high acuity/severity patients."
Beyond these clinical limitations, telemedicine may not be ideal for building strong relationships between oncologists and their patients. Oncologists emphasize open communication as an essential component in building trust-based relationships with their patients. Raising sensitive topics via videoconferences or telephone calls may feel less empathetic and supportive. Oncologists cite a preference for making treatment decisions and talking about a patient's prognosis in person.
"The treatment decision is more nuanced here and better done in-person after discussion with the patient."
"I prefer to make treatment decisions face-to-face."
Medical practices are rapidly adapting to the new normal of COVID-19, but breast cancer is a complex disease with a range of treatment requirements and patient needs.
Telemedicine may become a standard method of communication for symptom management, routine monitoring, and even for adverse event-related treatment adjustments. However, more thought leadership is needed to set standards for virtual consultations with breast cancer patients that are attuned to the complexities of the care and importance of the patient-oncologist relationship.
Reach out if you are interested in learning more about our ongoing COVID-19 research, including:
Impact of COVID-19 on HCP Practices (fielded biweekly)
Impact of COVID-19 on Breast Cancer Treatment
Impact of COVID-19 on Rheumatoid Arthritis
Perspective from Payers on COVID-19
Learn more.
Leave your info below and we will follow-up shortly.
Thanks!
Your message has been successfully submitted.
ZoomRx uses the info you provide to fulfill your request and contact you about relevant insights, products, and services. You may unsubscribe from all communications at any time. For more information, view our full
privacy policy