The COVID-19 pandemic has led to a dramatic loss of human life worldwide and has caused devastating economic disruption. When the second wave of COVID-19 peaked, India was reporting over 400,000 cases and 4,300 deaths daily. The devastating impact was felt more than ever by people across the country, including the ZoomRx team.
Seeing an unprecedented threat to public health and the livelihood of millions, we wanted to get directly involved and do our part in aiding the country's recovery. To achieve this, ZoomRx pledged a relief fund of $100,000 dedicated solely toward COVID-19 response and recovery.
Purpose of the COVID-19 relief fund
The COVID-19 relief fund was dedicated to making a difference in communities hardest hit by the pandemic. ZoomRx partnered with NGOs across the country to take immediate and purposeful action. To ensure that our efforts were directed toward those most in need, the Volunesia team, an employee-led service initiative within the the organization, was given the responsibility of leading the COVID-19 relief initiatives.
"When ZoomRx announced a COVID-19 relief fund, the team jumped right to it. We came up with a framework to shortlist causes. While doing so, we realized that healthcare and education emerged as the clear areas of need, and those most impacted by COVID-19. The team then selected the causes that we thought would have the most impact on our community."                                                                                                                                                                       - Volunesia Team
As a company dedicated to improving health care, it was important to extend support to address the difficulties faced by hospitals overflowing with patients. With millions in immediate need of essential services, the team prioritized providing healthcare professionals with the resources required to better serve patients during the prevailing crisis.
In addition to supporting health care-related causes, ZoomRx has always sought to increase access to quality education within the local community. The pandemic has deeply impacted the educational opportunity available to students from marginalized communities. Seeing this, the team committed to empowering such students with access to the education necessary for a brighter tomorrow.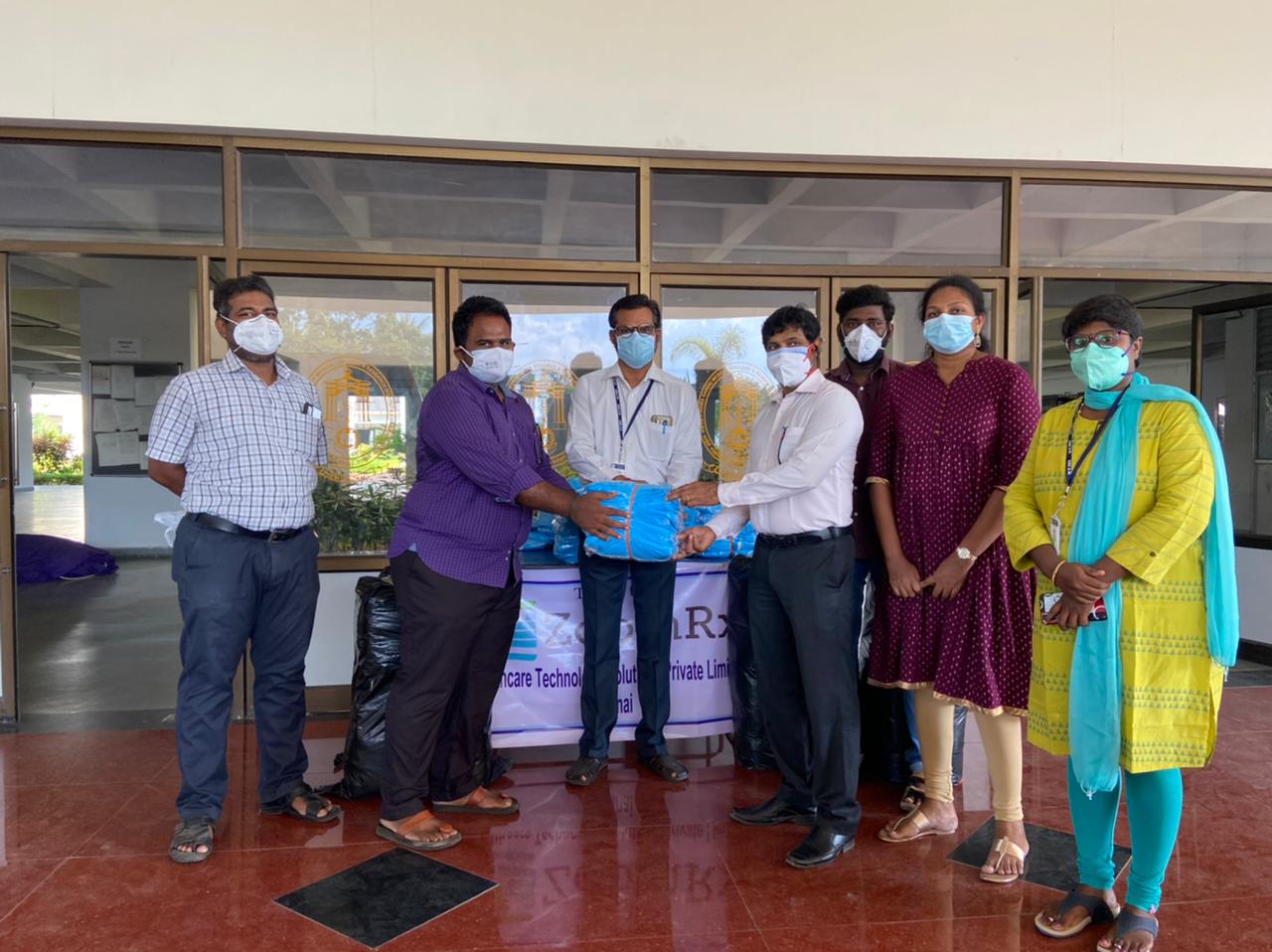 Bridging the medical resource gap
Among the tremendous difficulties faced by hospitals and healthcare professionals during the COVID-19 pandemic was a shortage of the medical resources necessary to meet the demands of the public. We realized that we could save lives by helping hospitals address the medical resource gap.
By partnering with Bhumi, ZoomRx supplied critical medical equipment to Pediatric wards in hospitals, enabling them to effectively accommodate more patients in need. The team also collaborated with the EARAM Education and Rural Development Society to supply high-quality PPE kits to frontline workers, which enabled them to provide care without having to put themselves and their families at risk.
In addition to contributions from the COVID relief fund, ZoomRxers, in association with the EKAM Foundation, supplied a children's hospital in Chennai with oxygen supply systems which helped treat complications in kids and pregnant women with COVID-19.
Ensuring academic continuity for students
Due to the economic crisis caused by the pandemic, students from under-resourced communities were forced to quit school, widening the gap in access to education. As a company that believes in educational equity and inclusivity, ZoomRx sought out to address the needs of vulnerable students and empower them with undisrupted access to education amid the pandemic.
By associating with a rural K-12 school that strives to provide quality education to children from the surrounding rural areas and Mahaveer Illam, a home for people with intellectual disabilities, ZoomRx contributed towards the academic fees of students being raised by single mothers and students who have suffered the loss of a family member due to COVID-19.
The distinctive rise of e-learning in schools also posed a huge challenge to academic continuity among many students. To address this issue, the team partnered with Maatram and helped deserving students acquire the technological resources required to continue receiving education digitally. ZoomRx hopes that small contributions like ours pave the way for equitable education to students from all backgrounds.
Giving back
Like other community engagement initiatives at the organization, the COVID-19 relief activities were employee-driven. ZoomRxers brought important causes to our attention and the Volunesia team then helped direct the collective resources to maximize the positive impact. ZoomRxers also stepped up during this time of need to support other team members in handling COVID-related emergencies. We are proud that so many members of the team contributed towards COVID relief in whatever capacity possible.
"Volunesia started off as an idea that stemmed from a conversation between a few colleagues who wanted to give back to society. As an organization that has always been interested in societal welfare, ZoomRx supported this employee-driven initiative wholeheartedly. Having an initiative like this at the workplace makes it even more wholesome."                                                                                                                                                                                               - Volunesia Team
Finally, the impact that ZoomRx was able to create was only possible thanks to the support and dedication of all the organizations that partnered with us. We express heartfelt gratitude to all these organizations for enabling us to make a difference in the community.
ZoomRx will continue to provide support to communities affected by the pandemic by guiding the available resources. If you are aware of a cause that deserves help, please bring it to our attention by dropping a mail at volunesia@zoomrx.com.
ZoomRx uses the info you provide to fulfill your request and contact you about relevant insights, products, and services. You may unsubscribe from all communications at any time. For more information, view our full
privacy policy