Recent developments across three subtypes of advanced breast cancer – HER2+, TNBC, and HR+/HER2- have generated enthusiasm among oncologists in the United States. While oncologists are stopping short of calling advanced breast cancer a curative setting based on recent data, there is agreement that cures may be possible in the near future.
Oncologists report high-levels of engagement with and positive perceptions of recent breast cancer data (ESMO21)
Oncologists were very engaged with the breast cancer sessions presented at this year's ESMO annual meeting (held virtually September 16-21, 2021), though the majority reviewed data/presentations independently instead of attending the sessions live.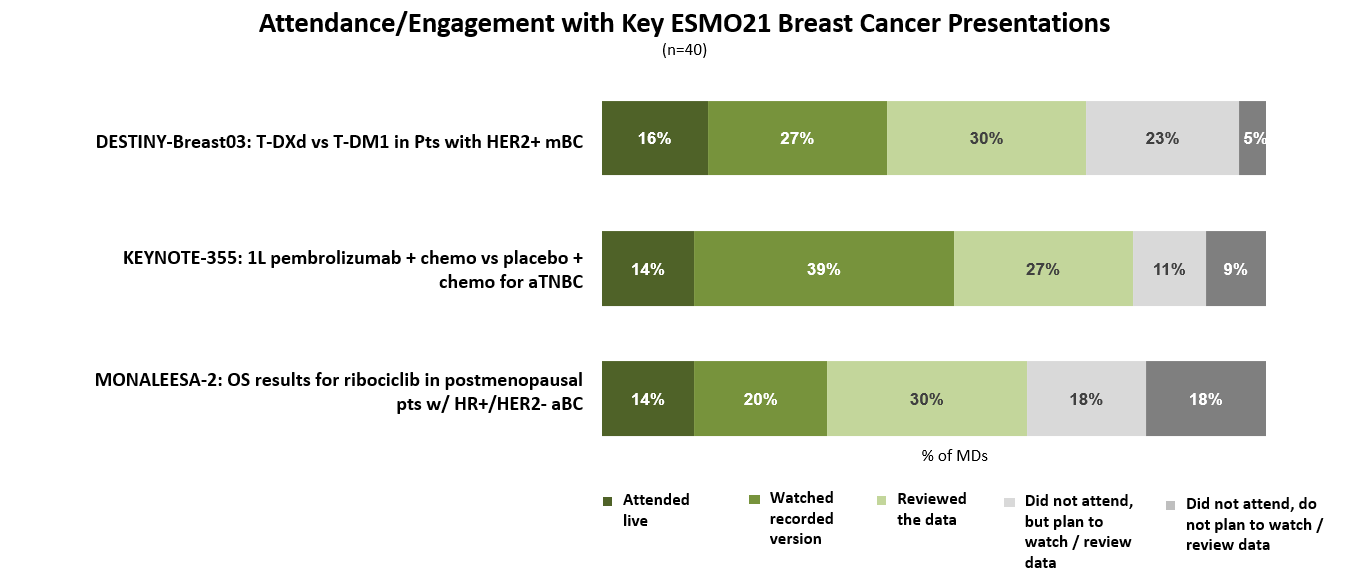 For oncologists who attended, watched, or reviewed data, the advanced breast cancer presentations were seen as providing interesting – and even practice-changing – results. Half note that the results from the DESTINY-Breast03 and KEYNOTE-355 clinical trials may profoundly change the treatments they prescribe for HER2+ mBC and advanced TNBC patients respectively.
"Enhertu will [now] likely be my 2L choice in the near future in Stage IV HER2 + breast cancer."

Considering the data presented at these sessions, most oncologists believe that these advancements indicate that cures for advanced breast cancer patients may be possible at some point, but not in the immediate future.
"There have been more promising advances which give us the option of turning mBC into a chronic disease instead of a death sentence."
"I am feeling even more encouraged about the treatment of breast cancer going forward. I have many breast cancer patients that I believe will benefit from the results of these trials."

DESTINY-Breast03 shows unprecedented efficacy in HER2+ mBC
"The results of the DESTINY-03 trial will bring about a change in the standard of care that has drastically altered second line metastatic HER2+ breast cancer."
The results from the randomized phase 3 DESTINY-Breast03 clinical trial investigating Enhertu (T-DXd) versus Kadcyla (T-DM1) in patients with HER2+ mBC are widely considered impressive and practice-changing. Oncologists are encouraged by Enhertu's 12-month PFS rate and median PFS. Most expect that the novel Enhertu will displace and even 'marginalize' Kadcyla, the established standard of care in 2L. In addition to the impressive efficacy results, oncologists were encouraged by the low rates of interstitial lung disease (ILD) in the 2L settings.
"PFS, survival rates and ORR were very impressive – I think this will change our current standard of second line therapy away from Kadcyla."
"It is very exciting to see the new novel drug for HER2+ breast cancer with great response and new data available. Enhertu, the new ADC drug, showed great PFS and prolonged life expectancy after progression."
Nearly two-thirds of oncologists indicate that the results from the DESTINY-Breast03 clinical trial are very compelling and will increase their confidence to prescribe Enhertu for patients with HER2+ mBC.
"An ADC champion has been announced ⁠— Enhertu has consolidated its presence in the space."

Data show progress toward addressing urgent unmet needs in mTNBC
"There is slow but steady improvement in TNBC treatment with hope that new agents will be developed for further improvements."
In August of this year, the indication for Tecentriq (atezolizumab) in combination with Abraxane (nab-paclitaxel) as first-line treatment for PD-L1+ advanced TNBC was withdrawn after the regimen failed to demonstrate a significant PFS benefit vs. chemotherapy. This development left oncologists and their advanced TNBC patients with no treatment options aside from chemotherapy.
In light of this withdrawal, oncologists were pleased to review the positive results from the randomized, phase 3 KEYNOTE-355 clinical trial investigating Keytruda (pembrolizumab) + chemotherapy versus chemotherapy alone in patients with previously untreated locally recurrent inoperable or metastatic TNBC. The KEYNOTE-355 results demonstrated that Keytruda + chemotherapy offers a significant improvement in median PFS for a subset of PD-L1+ patients with CPS ≥ 10.
Even though Keytruda + chemotherapy will be approved for a smaller subset of advanced TNBC patients than the former indication for Tecentriq + Abraxane, oncologists consider the data meaningful and are enthusiastic about having another treatment option for this difficult to treat patient population.
"I'm excited because there's been so little in recent years for triple negative breast cancer but now there's more and it obviously responds to immunotherapy."
"Pembrolizumab contributed to significantly better survival than chemotherapy alone in these triple negative BC patients... I believe the data showed something like 1 year vs 7 months progression free survival, which is clinically quite significant."
When prompted, roughly half of oncologists are 'neutral' and more than one-third are 'not at all concerned' that the withdrawal of Tecentriq's TNBC indication will impact the future of the KEYNOTE-355 clinical trial results indicating that, in the absence of new data, Keytruda + chemotherapy will become (and remain) the standard of care for all eligible advanced TNBC patients.
Solidifying the standard of care in HR+/HER2- aBC
Since 2015, CDK4/6 inhibitors in combination with aromatase inhibitors have been well established as the first-line standard of care for postmenopausal women diagnosed with HR+/HER2- aBC. With the presentation of OS data from the phase 3 MONALEESA-2 clinical trial, Kisqali (ribociclib) became the first CDK4/6 inhibitor to demonstrate a significant improvement in OS.
While this data impressed, it does not come as a surprise to oncologists, and a meaningful proportion do not expect this data to impact current treatment preferences since CDK4/6 inhibitors are already considered the standard of care in these settings.
"Patients with hormone receptor positive cancer continue to do well with viable treatment options to control their disease."
"Maturing OS data from ribociclib establishes this drug as the standard of care for first line therapy."

While many oncologists anticipated the Kisqali OS benefit based on prior clinical experience with CDK4/6 inhibitors, more than two-thirds disagree that this data represents a class effect that can be generalized to Ibrance (palbociclib) and Verzenio (abemaciclib).
Moving Forward
As the 2021 San Antonio Breast Cancer Symposium approaches, oncologists remain hopeful that cures for HER2+ mBC, advanced TNBC, and HR+/HER2- aBC are within reach in the not-so-distant future.
---
ZoomRx uses the info you provide to fulfill your request and contact you about relevant insights, products, and services. You may unsubscribe from all communications at any time. For more information, view our full
privacy policy