During Q4 earnings calls, biopharmaceutical companies reflected on the cumulative impact of the COVID-19 pandemic and presented their outlook for the future within the US market.
As in previous quarters, persistent challenges in the form of decreased patient loads and the necessity of taking a more virtual-first approach to healthcare professional (HCP) engagement were key concerns. An assessment of US-based physician sentiment (n=62) provides a useful 'on-the-ground' perspective to further examine these issues.
Continued impact on in-person patient visits and treatment initiation was a recurring theme throughout Q4 earnings calls. Both industry and physicians see a successful vaccine rollout as key to a return to pre-pandemic levels.
Incyte, Takeda, and Novartis were among others who referenced the ongoing impact of lower in-person patient visits. Industry expressed particular concern around the continued impact on certain types of treatment—particular areas mentioned were non-COVID-19/non-influenza vaccines (Merck, Sanofi, GSK), antiviral therapies (Gilead), and oncological therapies (AstraZeneca, Clovis). Among the specific reasons cited for the decline in new therapy starts were concerns about resistance to switching patients to a new treatment virtually. In-person administration requirements for certain therapies were also cited as factors contributing to this decline.
These concerns were reflected by a majority (65%) of surveyed physicians who stated that their current in-person patient appointments are either lower or significantly lower than pre-pandemic levels.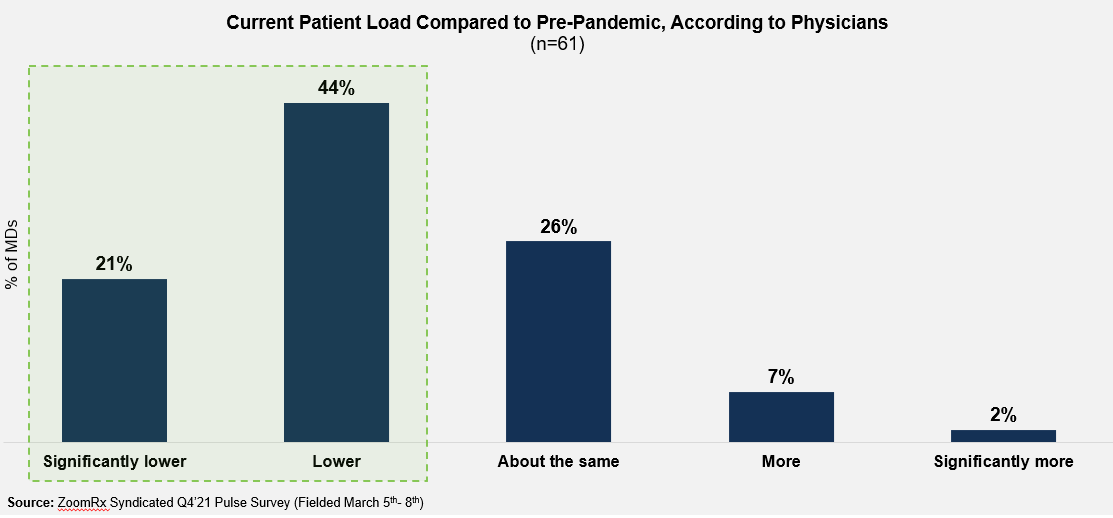 Both companies and physicians saw a successful vaccine rollout as a key to success in 2021. Notably, Amgen and Incyte discussed how select product success later in 2021 is contingent on the vaccine rollout.

Physician sentiment reflected a similar outlook on the return of in-person patient visits. However, while a portion of physicians anticipated patient loads would return in late 2021, a sizable portion did not anticipate in-person patient appointments would return to pre-pandemic levels until 2022. A small portion of physicians feel in-person patient appointments will never return to pre-pandemic levels, with telemedicine appointments permanently replacing a portion of previously in-person activity.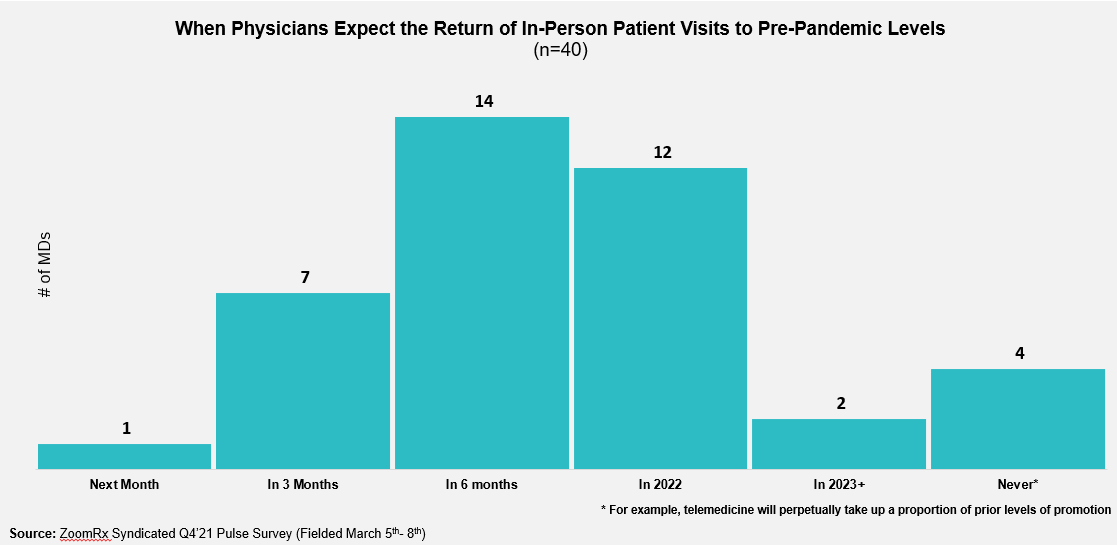 Meanwhile, some companies expect a lasting impact on long-term treatments for their persistent users. For example, Roche projects continued effects on multiple sclerosis patients given disruptions to Ocrevus's 6-month administration schedule.
Companies reaffirmed their commitment to digital customer engagement approaches, while physicians seem, by and large, to be expecting a return to mostly in-person promotional interactions.
In January and February '21, 85% of interactions between physicians and sales reps were conducted via remote channels—video-conference and telephone. This high level of remote interaction has held since the beginning of the COVID-19 pandemic when teams began rapidly adapting to restrictions on in-person activity.
Companies largely spoke positively about their experiences operating within this hybrid remote/in-person promotional model—citing their ability to deploy more targeted/personalized approaches (Alkermes, Clovis Oncology, Sanofi, Novartis), as well as the ability to operate with a decreased sales force (Amgen).
"We developed a hybrid promotional model, tailored to each territory, combining in person and digital interactions and we expect these adaptations to endure." - Alkermes
"COVID-19 is leading to some lasting changes in how we do business. For example, we expect to continue leveraging digital capabilities, call on customers and run clinical trials around the world with improved speed, efficiency and effectiveness." - Amgen
The majority of physicians surveyed (58%) expect a return to primarily in-person sales rep interactions within the 2021 calendar year. However despite this expectation, many physicians expressed preference for virtual channels of engagement with sales reps, such as email or video conferencing.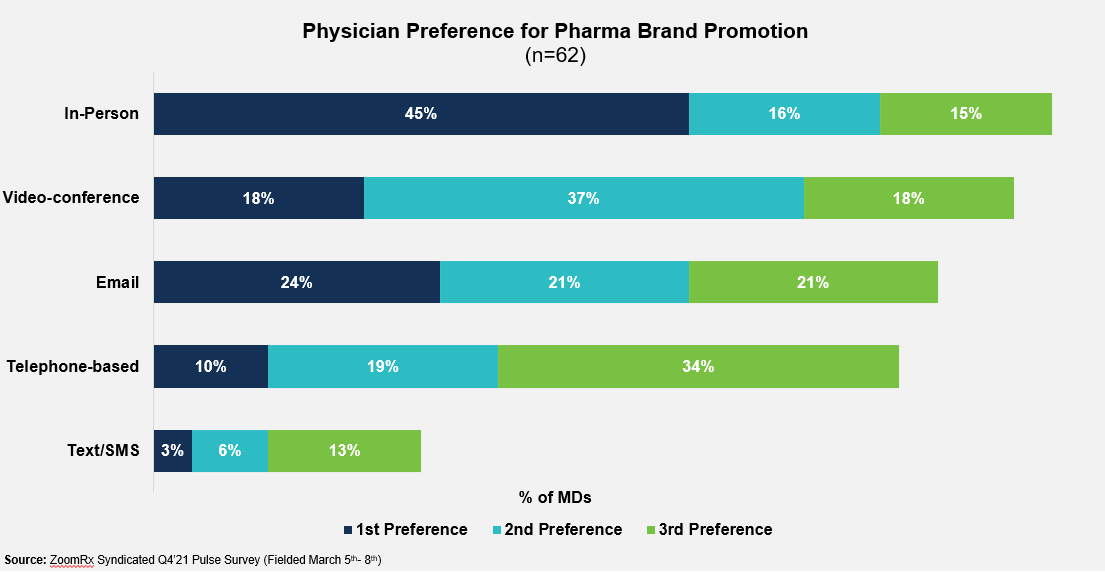 This suggests that while most physicians may expect in-person sales rep visits to return to pre-pandemic levels, they would likely be receptive to continued virtual engagement. However, industry statements and investment indicate that the virtual channels are here to stay.
---
Leave your information below if you are interested in learning more about our ongoing research into the impact of COVID-19 on promotional activity.
ZoomRx uses the info you provide to fulfill your request and contact you about relevant insights, products, and services. You may unsubscribe from all communications at any time. For more information, view our full
privacy policy