Attendees expressed excitement for new data in the field during the American Academy of Allergy, Asthma, and Immunology (AAAAI 2021) annual meeting held virtually earlier this month.
Among the specific topics commanding healthcare professionals' (HCP) attention were the potential for Sanofi's Dupixent in eosinophilic esophagitis, Amgen's tezepelumab in uncontrolled asthma, and Lilly's Olumiant in atopic dermatitis. Many attendees indicated broad interest in JAK inhibitor-based approaches and several attendees were impressed by new options in hereditary angioedema and nasal polyps.
---
For this survey, ZoomRx asked 51 U.S. HCPs to react to the latest topics presented during AAAAI's 2021 virtual conference. Key specialists represented in the survey include allergy and immunology (35%), primary care (25%), and pulmonology (14%). Additional specialties represented include rheumatologists, dermatologists, nurse practitioners, and physician assistants.
Of all AAAAI 2021 topics presented, the vast majority (85%-95%) of respondents were interested in and attended discussions of biologics, especially those related to allergy, asthma, and atopic dermatitis. Many respondents (60-75%) were also interested in less prevalent conditions such as nasal polyps, hereditary angioedema (HAE), and eosinophilic esophagitis.
HCP enthusiasm and impact for atopic dermatitis sessions was high overall. Of particular impact was Sanofi / Regeneron's session Disease with Underlying Inflammation and Visible Burden. Roughly half of those surveyed attended this session and over 85% found it to be impactful to their practice.
In asthma, GSK sponsored two sessions that were very well received with over 70% of respondents indicating considerable excitement and one HCP calling it a "game-changer." Many respondents also considered Amgen's recently released tezepelumab data to have major impact potential, suggesting "a very innovative approach" to targeting the airway epithelium.
Competition heats up as brand expansions in nasal polyps and eosinophilic esophagitis seek to make use of early mover advantage through AAAAI presentations.
Riding the heels of Genentech and Novartis' Xolair approval in December 2020 for nasal polyps, Fasenra and Nucala are anticipated to achieve analogous approvals later this year. Novartis utilized its recent approval to get ahead with the session Impact of Omalizumab Therapy on Sleep in Patients With Nasal Polyps which was well-attended and perceived as quite impactful.

Similarly, the first-to-market leader in nasal polyps, Dupixent, anticipates expansion to eosinophilic esophagitis in 2022. The session led by Sanofi, ​Improving Outcomes Through Earlier Diagnosis and Treatment [in eosinophilic esophagitis], was also popular and considered exciting and impactful, helping pave the road for a smooth early mover advantage.
AstraZeneca was perceived as the clear market leader in the allergy & immunology market among HCPs.
Coming out of AAAAI, 61% of respondents selected AstraZeneca as the perceived market leader in allergy and immunology despite only moderate enthusiasm for their sessions. Regeneron and GSK tied for second place at 39% each, followed by Pfizer and Sanofi.
In addition to continued enthusiasm for well-established brands, many respondents highlighted buzz for novel approaches to current diseases — specifically JAK inhibitors.

JAK inhibitors are becoming more prominent in inflammatory conditions treated by allergists & immunologists, especially atopic dermatitis. One surveyed nurse practitioner believed the JAK/STAT pathway is "an attractive target", suggesting she "will use this as a first approach for atopic dermatitis" moving forward.
Although many HCPs cited familiarity with recent data, ~70% of HCPs indicated learning more about the JAK-STAT pathway and JAK inhibitors in atopic dermatitis through sessions at AAAAI, including a highly impactful session led by Pfizer titled Cytokine Signalling and the JAK/STAT Pathway in Atopic Dermatitis.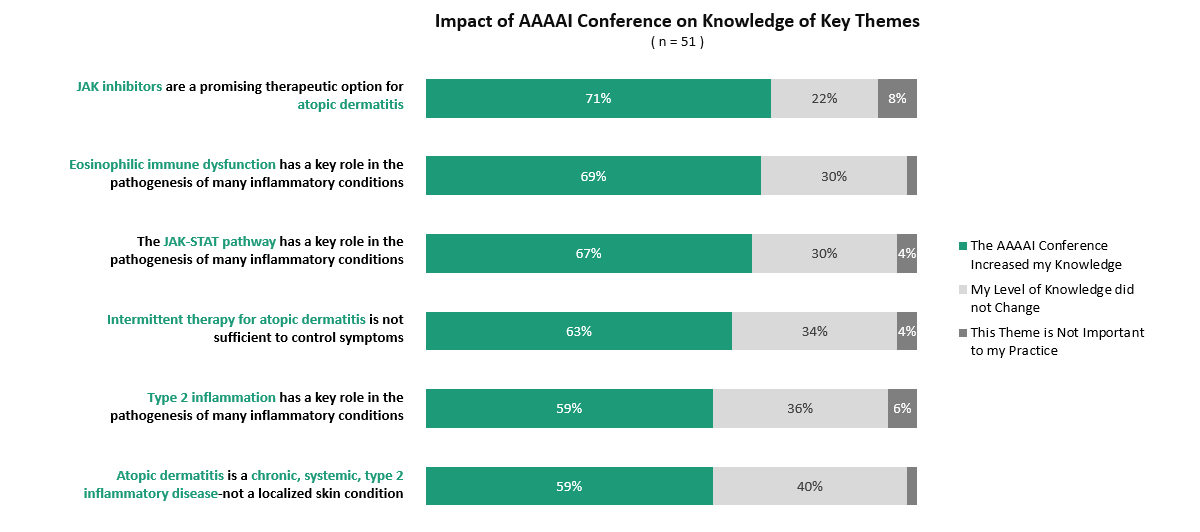 New approvals in HAE are being noticed by the broader community

Outside of nasal polyps, asthma, atopic dermatitis and the potential of JAK inhibitors, several respondents highlighted enthusiasm for new therapies to treat HAE, a disease area with significant historical unmet need.

Building off of Takeda's 2018 Takhzyro approval, BioCryst showcased data from its recently approved Orladeyo in AAAAI this year to moderate enthusiasm and impact. Sessions on both therapies, coupled with early chatter on the potential for future gene therapies, cemented HAE as an active disease area with therapeutic promise, a message particularly resonant among respondents with significant patient volumes.
AAAAI 2021 lays the foundation for new allergy and immunology therapies arriving this next year

This year's conference highlighted the continued heating of the allergy and immunology market, fueled by the rapid pace of new data and therapeutic offerings. Indications with few options just 10-20 years ago are now buttressed by several approved therapies and bolstered by an exciting pipeline ahead.

AAAAI 2021 has set the stage for JAK inhibitor approvals in atopic dermatitis, additional options in nasal polyps & eosinophilic esophagitis, and novel mechanisms for managing severe asthma, all in this upcoming year. We look forward to watching these events unfold as the field marches along towards the promising horizon ahead.
---
Leave your information below for the full report.

Receive additional information on AAAAI 2021 and the impact of specific sessions.
ZoomRx uses the info you provide to fulfill your request and contact you about relevant insights, products, and services. You may unsubscribe from all communications at any time. For more information, view our full
privacy policy