Pharmaceutical manufacturers, from diversified, multinational firms to focused, growth-stage companies are adapting to the reality of COVID-19. Recent Q1 investor calls provide insight into both the impact of the pandemic thus far on commercial success and R&D activities, and how companies are planning for the future.
Looking ahead, pharma generally forecasts that Q2 will see the worst of COVID-19's impact to their bottom lines, but there is less agreement on timing of a turnaround. Pharma companies are evenly split between those that predict some degree of rebound in H2 2020 and those that see too much uncertainty to offer any prediction.
A return to HCP-directed promotional detailing activity is a key aspect of the potential industry rebound. During Q1, the vast majority of HCP interactions with pharmaceutical manufacturers in the United States and European markets transitioned from in-person to virtual channels. Given the speed and scale of this transition, significant ambiguity exists regarding pharma's forecasts for sales reps' return to the field, as well as how reps can best align with healthcare professionals' (HCPs) expectations and preferences.
When will HCP-directed in-office promotional activity resume according to pharma?
The majority of the 30+ pharma companies reviewed indicated in their Q1 earnings presentations that the COVID-19 situation is too uncertain to make an accurate prediction on resuming in-office brand promotion. However, despite this uncertainty, some companies—including Alnylam, Gilead, and Pfizer—provided timelines in their Q1 presentations for potentially reinstating in-person promotional detailing late in 2H 2020, likely at reduced levels compared to pre-pandemic.
Do HCP preferences align with pharma's plans for in-office promotional activity?
Recent ZoomRx research indicates that HCPs largely align with pharma in their expectations regarding a return to in-office promotional interactions. The majority of HCPs (various specialties, n = 259) expect a return to pre-COVID-19 levels of in-person promotional activity by August/September of this year, while approximately 16% believe the more reasonable assumption is 2021 or later.
As virtual interactions continue, what role will in-office details have moving forward?
Every one of the 30+ pharma companies whose Q1 earnings presentations we reviewed has shifted aggressively into virtual HCP detailing to maintain a market presence. As an example, Mylan indicated that they conducted over 200,000 virtual interactions globally over 8 weeks. While virtual interactions are useful, launching a new product in this new environment is challenging. Several companies with recent or impending 2020 U.S. launches—including Blueprint Medicine and Morphosys—are actively training their salesforces for virtual product launches, per their Q1 2020 investor call presentations.
The virtual shift has largely maintained promotional effectiveness for pharma. Video and telephone-based sales rep interactions have resulted in similar levels of message recall and sales rep perception metrics as pre-COVID-19 in-person interactions. Some HCPs even show a preference towards virtual detailing, asking pharma to "continue to be accessible by telephone and video conferencing."
HCP opinion is split on the need for in-person interactions: nearly one-fifth of HCPs believe that there are no reasons to warrant an in-person interaction after the COVID-19 pandemic subsides; approximately two-fifths of HCPs indicate that either receiving samples or discussing new products warrant in-person interactions. HCPs are becoming more discerning with regard to their time and potential safety concerns, which may cause a larger scale movement away from entertaining in-person sales-rep interactions.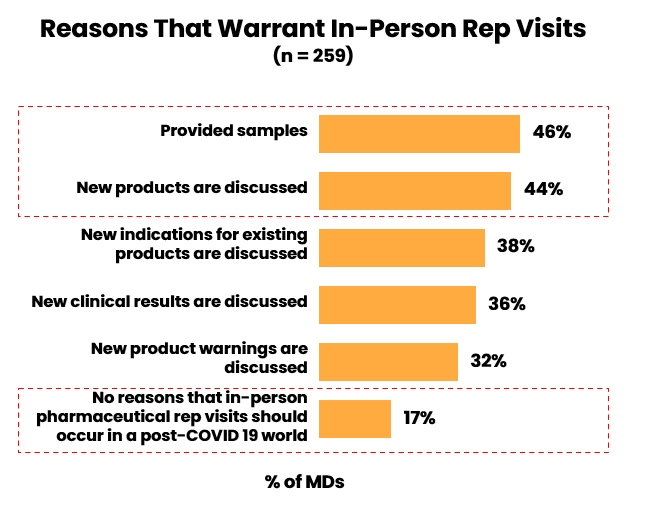 The impact of COVID-19 on promotional detailing in pharma will be long-lasting. COVID-19 has shown that video and telephone-based interactions are a feasible alternative to in-person sales-rep interactions. As HCPs become more accustomed to these virtual modes of engagement, pharma will need to adapt to a new normal after COVID-19 that combines essential in-person interactions with robust virtual and non-personal promotional offerings.
Leave your information below if you are interested in learning more about our ongoing research into the impact of COVID-19 on promotional activity.
Learn more.
Leave your info below and a member of our team will follow-up shortly.
Thanks!
Your message has been successfully submitted.
ZoomRx uses the info you provide to fulfill your request and contact you about relevant insights, products, and services. You may unsubscribe from all communications at any time. For more information, view our full
privacy policy