"Once the genie is out of the bottle, you can't put it back in."
It's a well-worn cliché (a way of noting that once an important change has occurred, it's often impossible to reverse the tide), but highly relevant to the current state of professional conferences.
For years, conferences have been an important element of professional development for healthcare providers – as they provide an opportunity for knowledge exchange through both formal (presentations) and informal (networking) platforms.  For years, attendees would travel to a conference where they would take in presentations and posters and personally connect with others in their field.    
All this changed, however, with the advent of the COVID pandemic in early 2020. Out of necessity, conference organizers had to rethink their approach to conference execution. Some conferences were cancelled; however many were restructured so that they were entirely virtual.  Presentations were made using Zoom technology. Event sponsors set up virtual "booths" where attendees could obtain information about a particular company or get answers to questions they might have. "Online happy hours" were scheduled so that conference attendees could socialize in much the same way they would have if they were attending in-person.
During this time, a number of us at ZoomRx participated in these virtual conferences – both as presenters and as attendees. Our perceptions of these conferences align with much of what has been written about virtual conferences. On the positive side – they promoted greater access. The combination of no need to travel, more efficient use of time, and reduced cost enabled a broader array of individuals to attend. Furthermore, the educational experience, at least in theory, was comparable to an in-person conference. There were, however, a number of considerable downsides – the most prominent of which was the inability to network and connect in-person with others in the field. While the aforementioned "happy hours" were technically supposed to serve that purpose, they did not permit spontaneous, serendipitous, more informal connections and discussions that often arise at in-person conferences and that many perceive to be among the more valuable reasons to go to a conference in-person.
Moving from in-person to virtual to something in-between
The question becomes - now, as we move back to a place where face-to-face conferences are possible from a public health perspective, how should these conferences be structured with respect to in-person vs virtual engagement? This is an important question as the recent shift from in-person conferences to virtual ones has impacted the expectations of conference attendees. While going back to a face-to-face format is preferable for some, others have become accustomed to the convenience and the flexibility of a virtual format. Ultimately, the most successful conferences moving forward will be those that can somehow integrate the benefits of each format…and to that end, many seem to be moving towards a hybrid approach which integrates both in-person and virtual elements.
What do attendees want?
At ZoomRx, our team of healthcare consultants has kept our fingers on the pulse of healthcare professionals over the past 12 years – using our proprietary physician panel to obtain insights on the healthcare ecosystem that helps answer business questions for our clients in the pharmaceutical industry. We attempt to shed some light on this question by combining insights from data we recently obtained from physicians attending ASCO 2022 as well as comprehensively reviewing other research and perspectives on this topic.  
In a survey of 88 HCPs that attended ASCO 2022, 23% report attending in-person only and 41% report attending virtually-only. This is a similar trend to a recent report that referenced two European medical conferences (e.g., European Academy of Allergy and Clinical Immunology – EAACI) where attendance was skewed towards virtual attendance. Further, the ZoomRx survey also highlighted attendee receptiveness to having engagement choices -- 36% of ASCO attendees adopted a mixed engagement approach -- attending some sessions in-person and others virtually.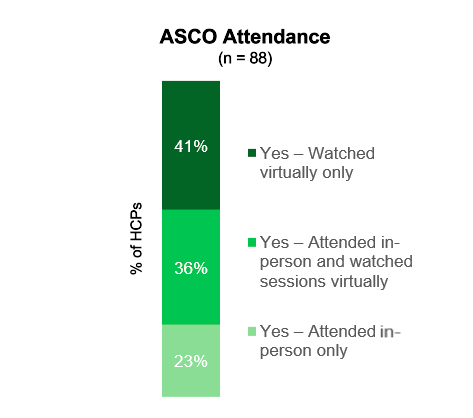 Other studies are more mixed on conference attendee preferences. For example, a survey from late 2021 of over 1,200 physicians across multiple specialties and countries indicated that 4 of 10 prefer attending conferences in-person, one-third prefer a straight virtual format and one-quarter prefer a hybrid approach. A separate survey conducted with pharma and biopharma executives yielded similar results – 52% preferring in-person, 17% preferring virtual, and 31% preferring a hybrid approach.  It is important to note that, compared to ZoomRx's survey of ASCO 2022 attendees, the other surveys on conference attendance captured attitudes and not actual conference attendance. Additionally, these preferences were collected prior to the return of in-person conferences.
Which format creates the best experience?
Perhaps the best way of addressing the question of how to structure post-COVID conferences is by reframing it slightly. Specifically, what approach – in-person, virtual, or hybrid (an approach in which the attendee leverages a mix of in-person and online participation) – creates the best experience for attendees?
Part of the difficulty in going back to a completely in-person conference experience is that conference organizers, when confronted with the need to plan conferences during the pandemic, were forced to explore other ways of engaging attendees and making sessions more valuable to attendees. To illustrate, for years, conferences revolved around lectures and presentations that did little to promote interaction and engagement among those attending.  Now, many hybrid formats attempt to address this shortcoming by leveraging asynchronous multi-stage presentations in which a pre-recorded presentation is made available online for a period of time and is then followed by either an in-person discussion / Q&A session with the speakers or by an actual in-person or virtual work session. ASCO 2022 was no exception, providing conference attendees with engagement choices for most presentations and other options for enhancing their conference experience.
Our survey of physicians who attended ASCO 2022 suggests that being able to choose how to engage in the conference contributed to a more positive overall experience for attendees. In-person and hybrid attendees were both highly likely to assert that the conference exceeded their expectations. Additionally, it impacted how they interpreted the results presented - fewer in-person and hybrid attendees reported that the results presented at ASCO 2022 will be "practice-changing" compared to virtual-only attendees.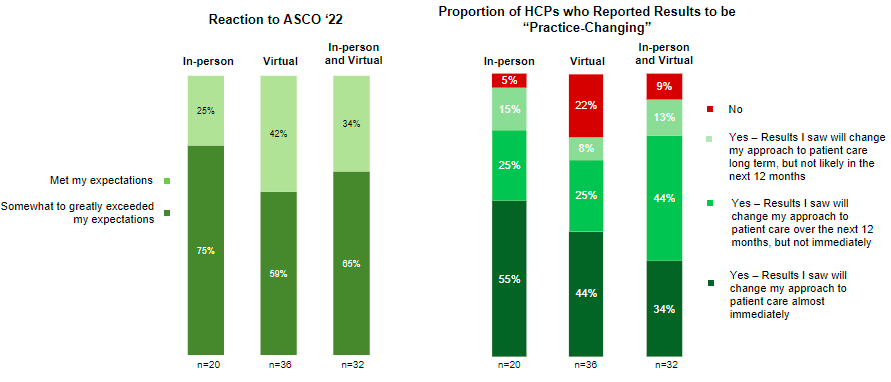 Furthermore, when we examine other metrics of engagement, we see that hybrid attendees are actually more engaged than those who participate either only in-person or only virtually. For example, at ASCO 2022, hybrid participants were more likely than either in-person only or virtual only attendees to attend breast cancer specific session (53% of all hybrid participants attended at least one breast cancer session vs 44% of all virtual only participants and 25% of in-person only participants). Similar trends were observed for lung cancer and other hematologic / solid tumor sessions.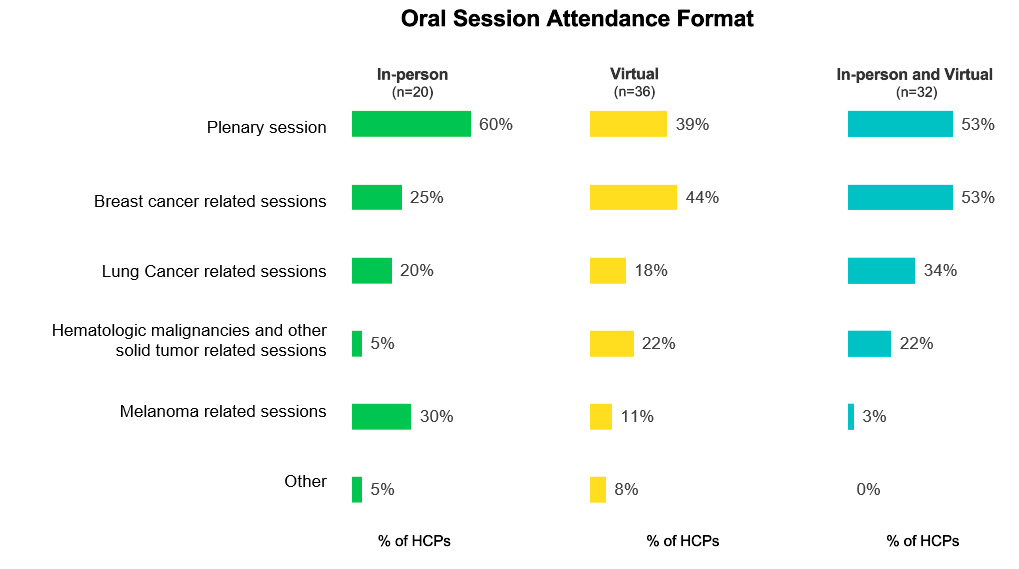 Similarly (and of particular interest to pharmaceutical manufacturer sponsors), over half (59%) of all hybrid participants attended at least one booth or exhibit sponsored by a pharma company. This compares favorably with in-person only participants (35%) and virtual only (11%).
In addition to increased engagement during the conference, attendees experienced with all formats of ASCO, report the hybrid format of ASCO 2022 has the best value compared to in-person only formats from 2019 and earlier or the virtual-only format from 2021.

Where do we go from here?
As we note above, there's no going back with respect to how conferences are structured. Now that most conference-goers have experienced conferences from both sides (in-person and virtual), it will be extremely difficult if not impossible to plan an in-person-only conference and meet expectations with respect to conference registration / attendance.
And while this makes life more difficult for conference organizers, it ultimately makes the conferences more valuable for both participants and attendees. Those attendees who have choices about how they engage are more likely to attend sessions, attend sponsor exhibits / booths, and have a positive experience.
Lastly, with change comes opportunity. This fundamental shift in how conferences are organized and executed has created a more open mind-set for ways of enhancing the conference experience. So, from the perspective of pharmaceutical and other types of sponsors, it not only gives them the opportunity to reach a broader array of physicians, it also enables them to connect with these physicians in more impactful ways. This can be more standard marketing approaches – like sponsoring breakout sessions that might follow an asynchronous presentation. Or it could be working with conference organizers to develop and sponsor a new way of giving virtual participants access to poster sessions, which are more difficult to make available to virtual conference-goers.
Manufacturers also have an opportunity to optimize their non-personal promotion activities before, during, and after conferences – particularly those where substantial numbers of attendees are virtual in some capacity (either virtual- only or hybrid). Using ZoomRx's PERxCEPT (a breakthrough tool for assessing the impact of digital marketing), we observed increased conference-related web activity throughout the month of the ASCO 2022 conference including prior to and following the actual conference dates.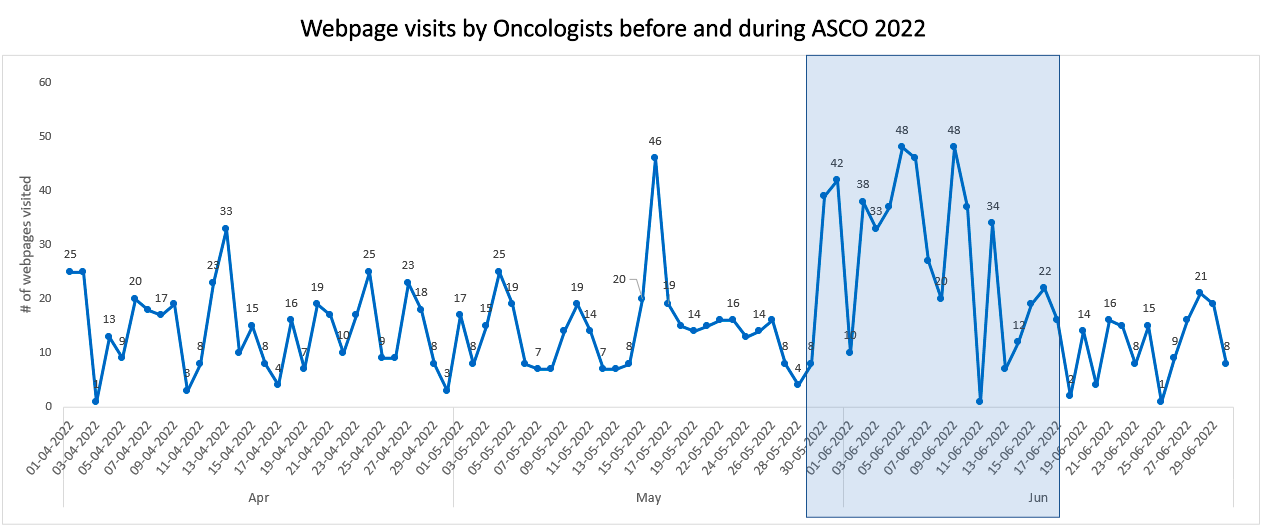 This suggests that healthcare marketers have an opportunity to adjust their placement strategy for paid non-personal promotional content to account for a broader window of conference-related digital activity that physicians engage in.
Taken together, we contend that the evolution of conference formats will ultimately benefit both attendees and sponsors. Attendees will benefit from a better conference-going experience, and sponsors, if they take the time and resources to understand how attendees are engaging, can develop more efficient and effective ways of reaching and communicating with attendees.
Interested in learning more about how to optimize your non-personal promotion strategy?
Get in Touch With Our Omnichannel Experts
ZoomRx uses the info you provide to fulfill your request and contact you about relevant insights, products, and services. You may unsubscribe from all communications at any time. For more information, view our full
privacy policy