Healthcare marketers have long sought after ways to reach their customers with timely and relevant information. However, despite utilizing life-changing messages, pharma companies are forced to compete amongst one another for a limited and finite resource: customer attention. With so much competitive jockeying at play, it is insightful to look at which brands have been most effective in the fight for digital real estate.
ZoomRx's new omnichannel intelligence tool, PERxCEPT, elucidates new insights on the full breadth of digital promotion that customers receive. Leveraging this next-generation technology, ZoomRx has ranked the leading oncology brands by their Q2'22 digital activity by collecting banner ad impressions across the entire digital landscape.
The list below shows the top 10 most digitally active oncology brands in the past quarter.
1. Keytruda
In its quest to dominate the immuno-oncology space, Merck's Keytruda leads all oncology brands in terms of online banner ad activity in Q2'22. With a full prescribing list that covers 19 total indications, and more in the pipeline, Keytruda features a wide range of digital activity, including a mix of both clinical and non-clinical ads.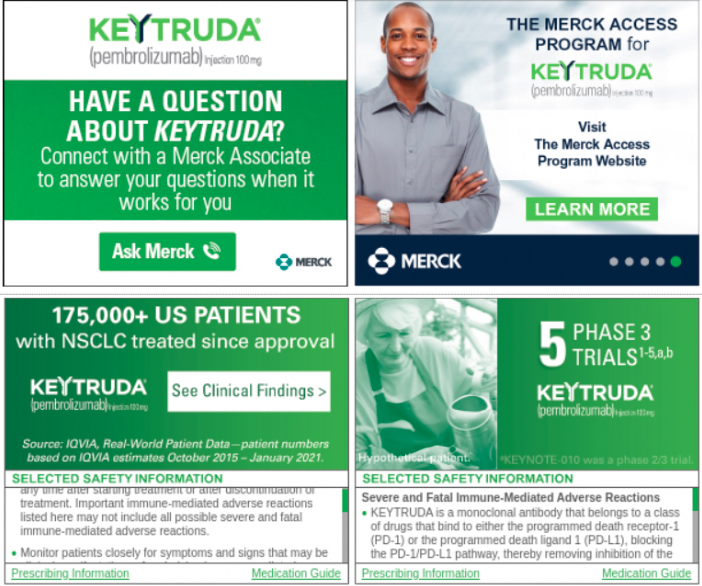 2. Lumakras
Following the presentation of its long-term efficacy and safety data at the 2022 American Association for Cancer Research (AACR) Annual Meeting, Amgen's Lumakras has been primarily focused on campaigning its clinical data from the CodeBreaK 100 trial. As the brand prepares to fend off competition from Mirati's adagrasib, Lumakras' most featured campaigns include a link where viewers can read more about its two-year follow-up data.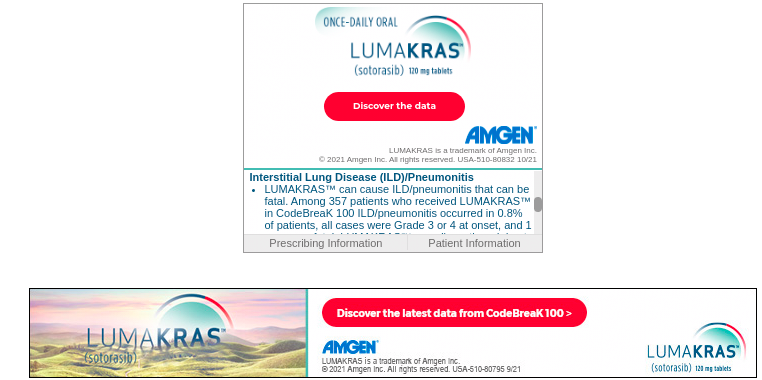 3. Xalkori
Pfizer's Xalkori, an older medication clinically surpassed by subsequent offerings, has been actively campaigning its value-based program called Pfizer Pledge. Launched late last year in an effort to stay relevant amongst a crowded NSCLC space, Xalkori's program promises to refund the entire cost of Xalkori if a patient stops treatment within the first three months.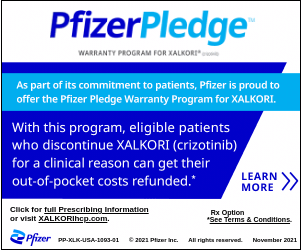 4. Lorbrena
Earlier this year, the FDA expanded Lorbrena's use in front-line NSCLC, where it will compete with Roche's Alecensa, Takeda's Alunbrig, and Novartis' Zykadia. Looking to raise subsequent awareness, the banner ads from Pfizer's third-generation tyrosine kinase inhibitor have primarily focused on its recent approval announcement.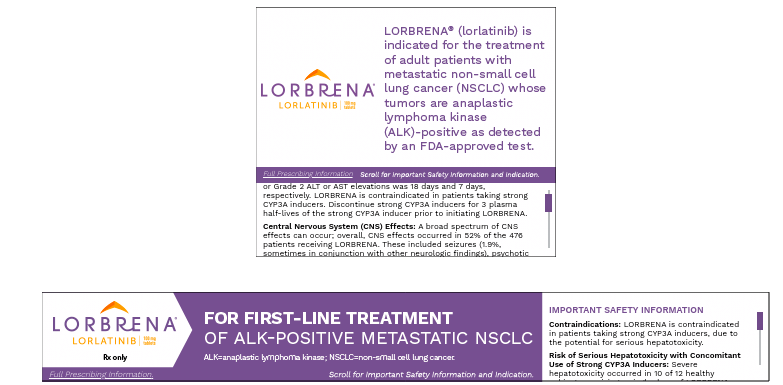 5. Ibrance
Although most believed that Ibrance failed to improve the life span of patients with newly diagnosed HR-positive, HER2-negative breast cancer, the Pfizer CDK 4/6 inhibitor has continued to campaign its clinical data in metastatic breast cancer. Facing increased pressure from Novartis' Kisqali and Eli Lilly's Verzenio, the rival Ibrance has turned to real-world data for support.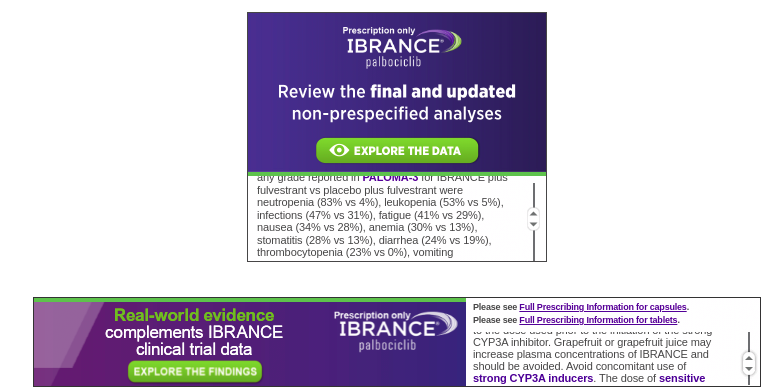 6. Yescarta
April was a monumental month for Gilead Sciences' Yescarta. Not only did the CAR-T therapy pick up an approval in second-line large B-cell lymphoma, but the National Comprehensive Cancer Network (NCCN) also updated its guidelines to include Yescarta as a Category 1 recommendation in R/R DLBCL. Both announcements have been actively marketed in Yescarta's banner campaigns.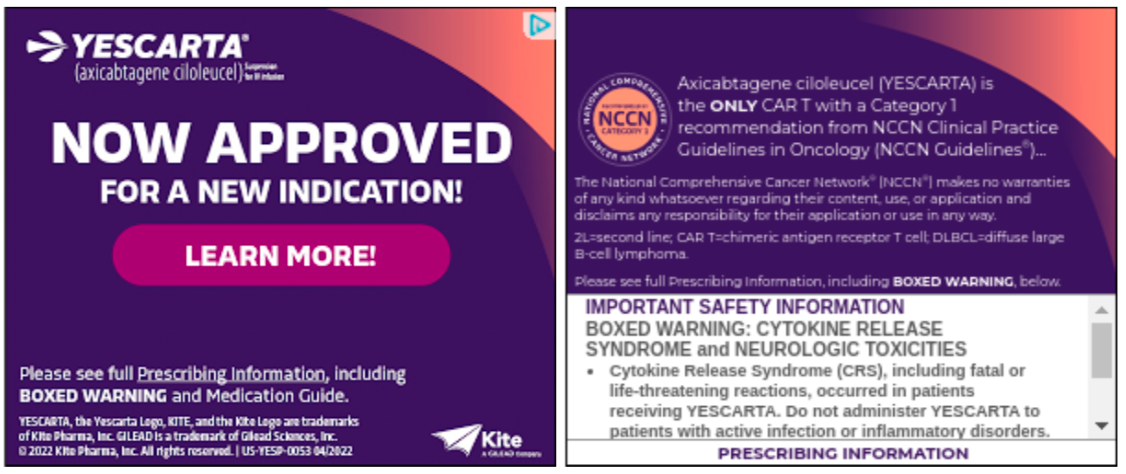 7. Inlyta
In one of the longer running campaigns captured, Pfizer's Inlyta has been actively messaging its use in combination with Keytruda. In June 2021, the combination regimen was the first to significantly improve overall survival (OS), progression-free survival (PFS) and objective response rate (ORR) compared to sunitinib in treatment-naive advanced RCC.

8. Kyprolis
Following an FDA approval in combination with Darzalex Faspro, Amgen's Kyprolis has focused on its dosing regimen in its active banner campaigns. Although there are two recommended dosage options of Kyprolis when administered in combination with Darzalex Faspro, once weekly and twice weekly, recent Kyprolis ads detail how the once-weekly regimen is more convenient with better survival outcomes.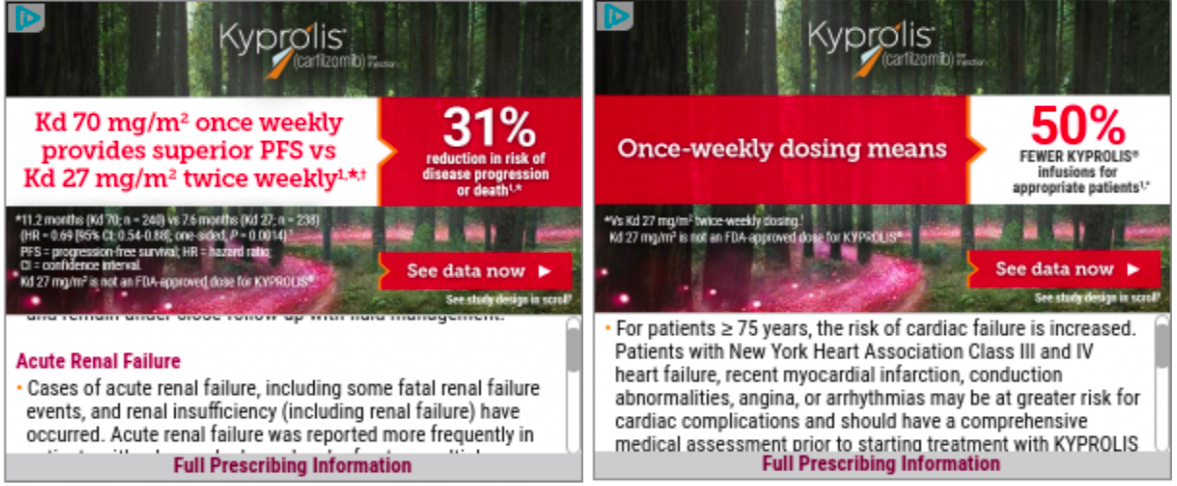 9. Calquence
Updated results from the ELEVATE-TN trial showed sustained survival benefit for AztraZeneca's Calquence in first-line CLL. In accordance, the lone campaign from the BTK inhibitor directed customers to learn more about these long-term efficacy results.
10. Trodelvy
After presenting the final data from its Phase 3 ASCENT study at the 2022 American Society of Clinical Oncology (ASCO) Annual Meeting, Gilead's Trodelvy has been actively campaigning its clinical appropriateness in mTNBC patients. Gilead has tagged Trodelvy as a cornerstone of its oncology portfolio, and the TROP2-targeted antibody-drug conjugate was the centerpiece of Gilead's $21 billion acquisition of Immunomedics two years ago.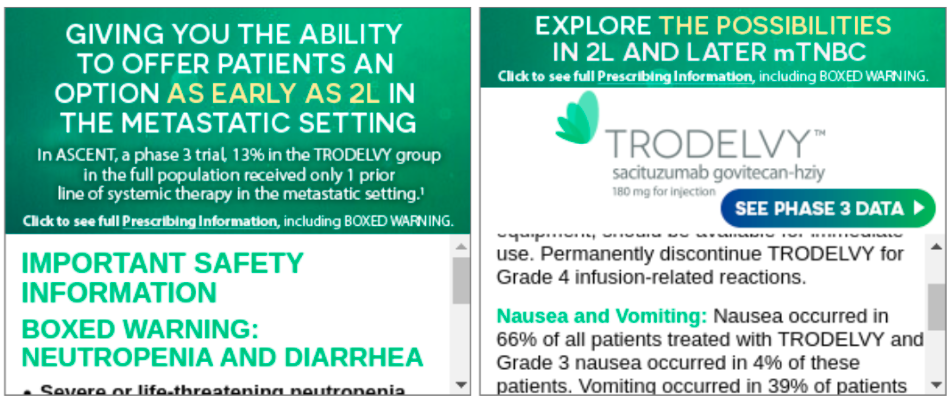 With so many brands competing for limited customer attention, spending more on digital content no longer directly translates into a competitive advantage. To win in today's digital marketplace, omnichannel marketers need to spend smarter. Spending smarter requires real-time intelligence on the digital activity of both your customers and your competitor brands, enabling a comprehensive understanding of the digital landscape.
PERxCEPT is designed specifically to enable life sciences brands to identify and exploit opportunities within their digital marketplace. Here are just a few of the ways in which PERxCEPT can enable life sciences organizations to spend smarter:
Customer Targeting and Segmentation: PERxCEPT tracks the browsing behavior of your target HCPs, so that you can better optimize your digital strategy by prioritizing the websites they are most active on.
Real-time Competitive Intelligence: PERxCEPT provides unprecedented views into your competitors' digital tactics, so you always know:
WHAT digital content your competitors are placing on the web
WHERE your competitors are placing digital content
WHEN competitor content is reaching your customers
Benchmarking: PERxCEPT benchmarks your brand's digital performance directly to key in-market competitors, enabling you to truly understand what success looks like in your market.
---
To learn more about this next-generation omnichannel intelligence tool, please leave your information below and one of our experts will contact you. In addition, you can read more about PERxCEPT's use cases and web portal capabilities in our prior posts.
Get in Touch With Our Omnichannel Experts
ZoomRx uses the info you provide to fulfill your request and contact you about relevant insights, products, and services. You may unsubscribe from all communications at any time. For more information, view our full
privacy policy