Digital customer engagement is an increasingly essential component of the pharma marketer's toolkit. However, understanding what success looks like within your digital market can be difficult without any competitive benchmarks.
While the process of competitive benchmarking has been finely honed for field-force engagement, existing digital measurement tools remain lackluster and are usually constrained to only a single brand or campaign. As a result, pharma brands often have little to no visibility into the activity, content, and impact of their competitors' digital campaigns.
To fill this gap, PERxCEPT takes a fundamentally different approach to digital tracking. Leveraging proprietary technology, PERxCEPT enables you to see exactly what your customers see when they open their laptop or mobile device, providing unprecedented views into your competitors' digital tactics from the eye of the customer.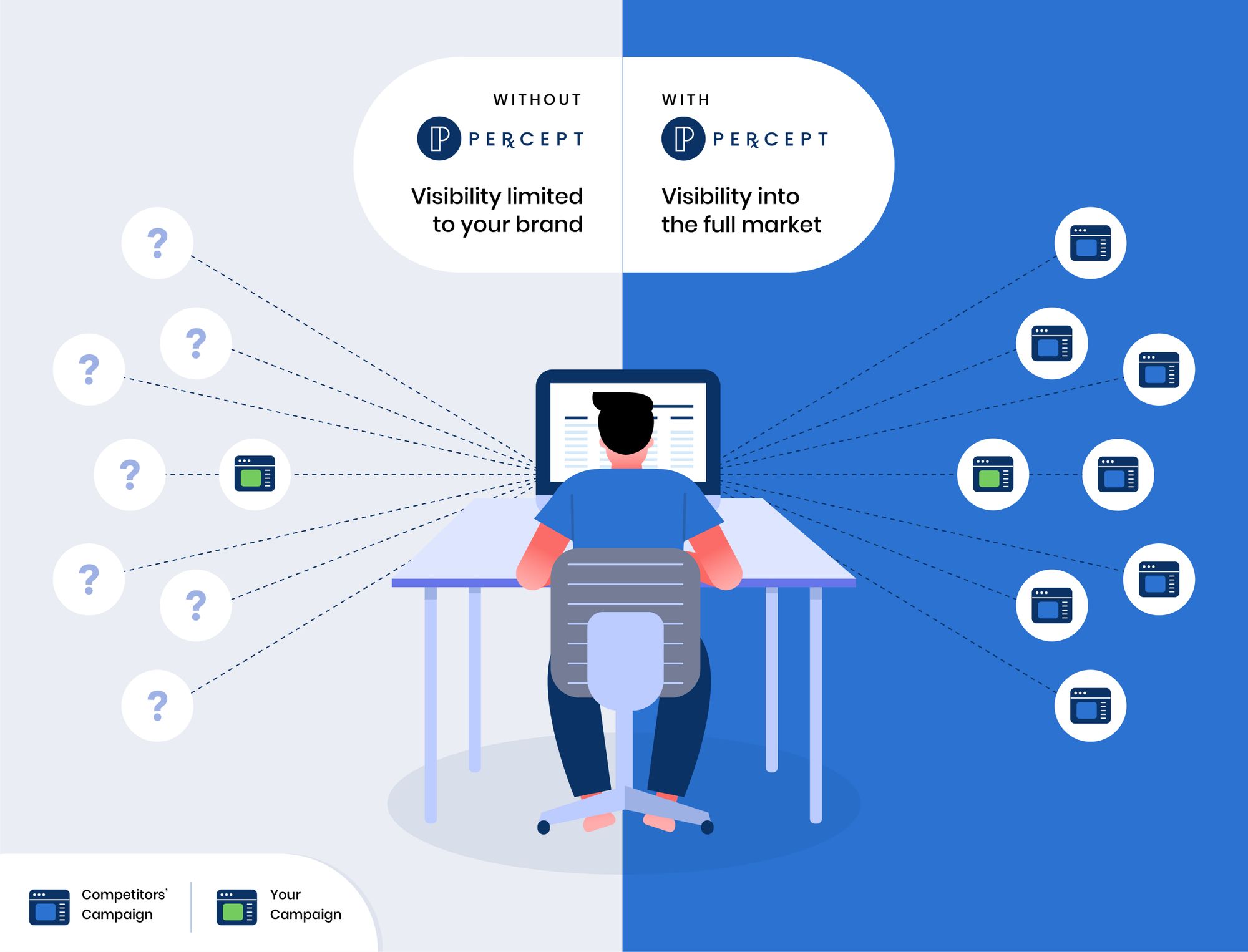 Now, you can access these competitive insights in real-time via the PERxCEPT web portal. As a next-generation omnichannel intelligence platform, PERxCEPT provides an interactive, user-friendly interface to track digital activity for every brand across your market.
In doing so, the PERxCEPT portal synthesizes competitive insights into three levels of depth:
MARKET-level views, to benchmark your digital presence vs. competitors
BRAND-level views, to deep-dive into the digital strategy of your key competitors
CAMPAIGN-level views, to understand the content and tactics of competitors' campaigns
Market Level
Whether across the entire online universe or per individual website, the PERxCEPT portal captures and illustrates your brand's digital share-of-voice relative to your in-market competitors.
Understanding where, when, and how much your competitors are investing in digital content across the web enables you to challenge competitors where their campaigns are most prevalent, or to seek out gaps in the market to maximize your imprint.
Brand Level
The PERxCEPT portal allows you to dive deep into the digital strategy of any individual competitor within your market. Updated on a daily basis, these brand-level deep dives provide full visibility into the visuals and messaging your competitors are disseminating across the web, in addition to where customers are encountering these digital campaigns.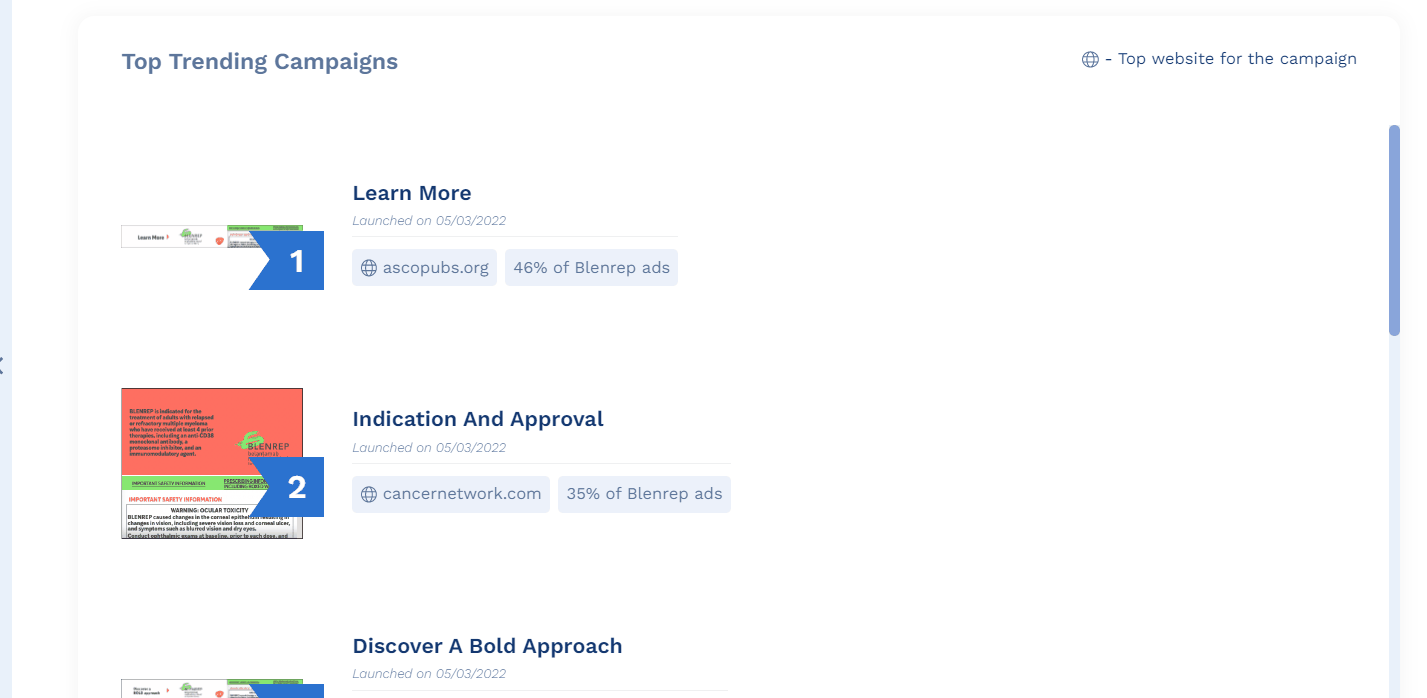 Campaign Level
In order to understand the breadth of digital tactics employed across your market, the PERxCEPT portal also offers campaign-level analytics. For each digital campaign, PERxCEPT provides visibility into the full variety of campaign concepts and A/B-tested branded messages. In addition, PERxCEPT measures how digital activity changes in real-time, identifying the channels and websites through which customers encounter each campaign.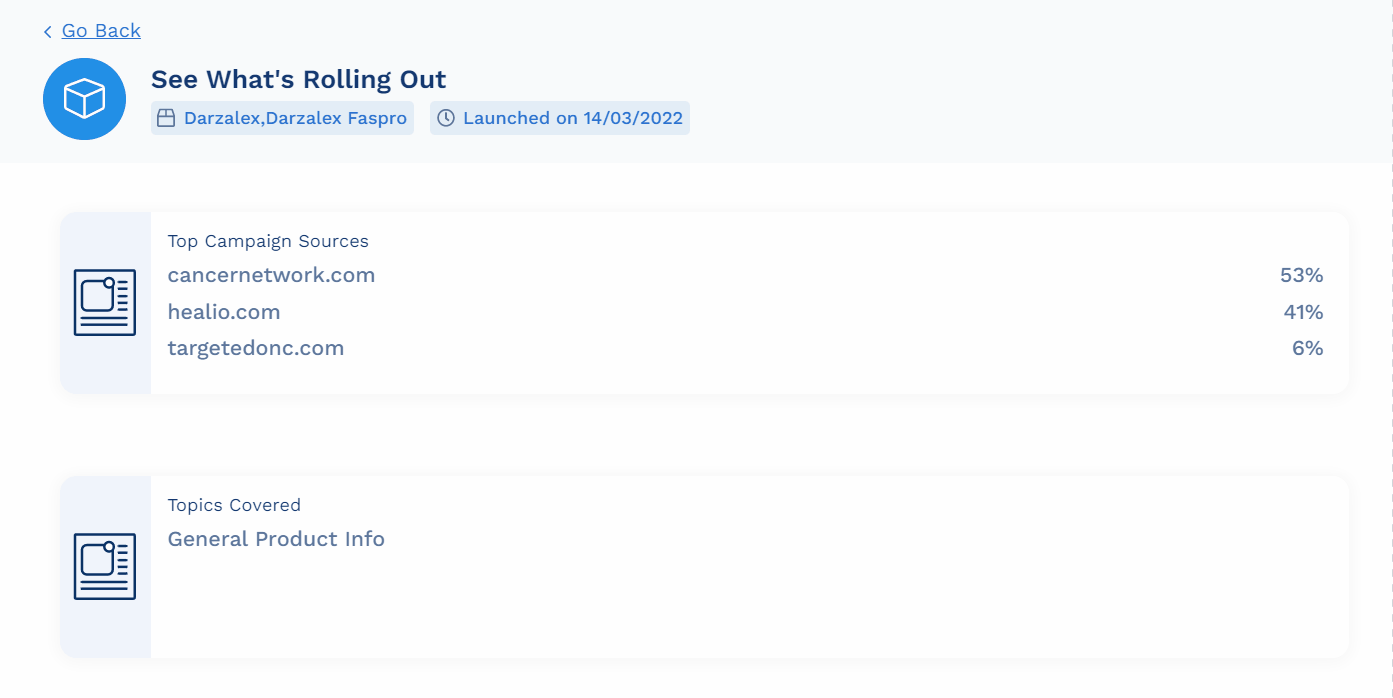 Optimize Your Omnichannel Strategy
Let PERxCEPT bring your omnichannel intelligence to the next level. To learn more about this next-generation tool, please leave your information below.
ZoomRx uses the info you provide to fulfill your request and contact you about relevant insights, products, and services. You may unsubscribe from all communications at any time. For more information, view our full
privacy policy