A strong line up of potentially practice-changing presentations generated a great deal of excitement among attendees at ASCO#2022 – both those in person at the McCormick Convention Center and those attending virtually. Based on ZoomRx's annual post-ASCO survey of about N90 oncologists who attended, the meeting generally exceeded oncologists' expectations. Nearly two-thirds of attendees felt that the conference either somewhat or greatly exceeded their expectations, a larger proportion than what we have seen in the past four years.
This higher level of satisfaction was driven, in part, by greater engagement associated with in-person attendance that was again an option for the first time since 2019. However, impactful scientific content was at the heart of the conference experience with over 50% of oncologists saying that the conference represented a major progress or breakthrough advances to the clinical oncology practice. This is the highest level of scientific progress oncologists observed since we started to monitor ASCO perceptions in 2019.
"There is a lot of potentially practice-changing data which I'm still needing time to digest in talking to colleagues."
"Many data of new drugs that would become standard of care or practice-changing."
"We saw new therapies, we saw some we assumed worked fail, and some underwhelm; but in the end it was about looking forward.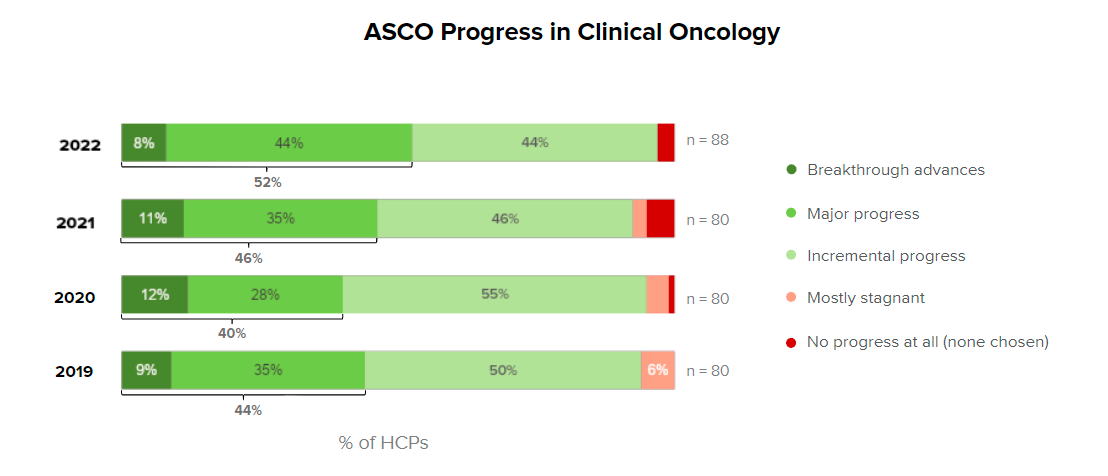 Immuno-oncology (IO) treatments were still front and center as the key theme of the conference, but the field has continued to move towards IO combination regimens and other novel targeted therapies. The PD-L1/PD-1 therapies contributions notwithstanding, attendees agreed that other MOAs such as antibody drug conjugates (ADCs), bispecifics, and CAR-Ts, and to some extent, novel checkpoint inhibitors had the potential to be practice-changing based on this year's presentations.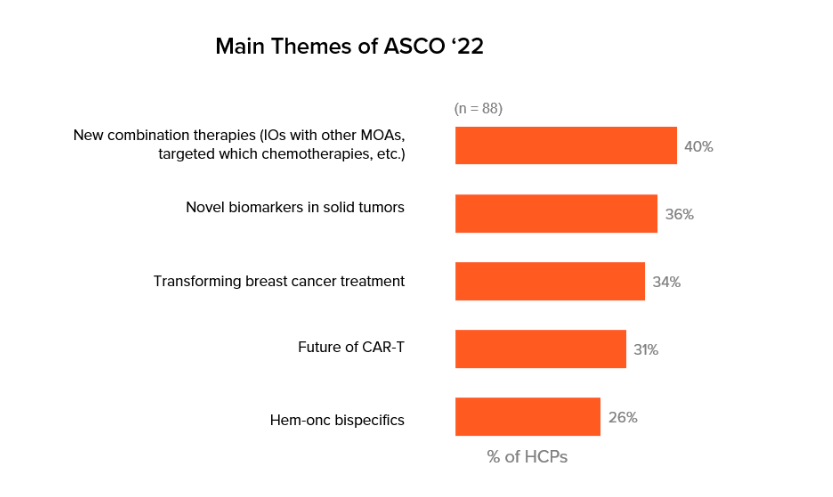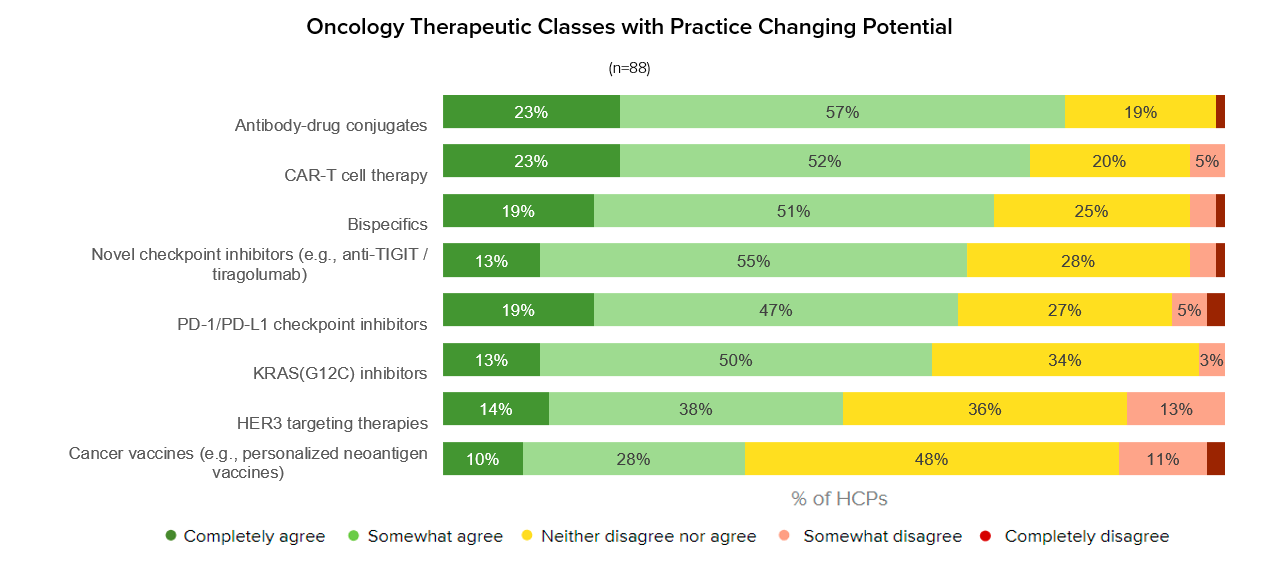 Here is what oncologists said about the highlights of ASCO 2022:
"Main themes of ASCO 2022 were the next generation non-chemo therapy, targeted therapy, and the immunotherapy."
"The most interesting was novel combinations of immune therapy."
"There is also focus on new targeted agents such as KRAS inhibitors for Breast Cancer. There is new HER2-Low designation and significant treatment responses to TDFD as well as additional insights into triple negative Breast Cancer in the neoadjuvant and metastatic disease and potential practice-changing implications regarding inability to prove overall survival of Palbociclib in the metastatic hormone positive disease. There are ongoing studies in GI with regards to circulating tumor DNA."
Transforming the classification of patients with Metastatic Breast Cancer
Oncologists who attended the ASCO annual meeting this year think that the data from the DESTINY-Breast04 study could be 'practice-changing'.
"I think the most interesting was the efficacy of Enhertu in low HER2 expressors. I think that would hopefully change the fields of application of HER2-targeted therapy including now low HER2 expressors, which were before excluded from the targeted therapy."
"The data on HER2 and HER2-Low was magnificent. Quiet important benefits."
The potential for redefining the way that patients with metastatic breast cancer are classified and treated was the undisputed highlight of the Annual Meeting. The Enhertu (T-DXd, trastuzumab deruxtecan) Destiny Breast-04 presentation at the Plenary Session was the top attended and most talked about session of the conference, as it introduced a new category of mBC patients, classified as HER2-Low. The presentation received a standing ovation, a rare and tangible sign of the attendees' excitement about the potential impact of this session.
"The Plenary, seeing everyone cheer almost made me cry. Was really inspiring after these past few years."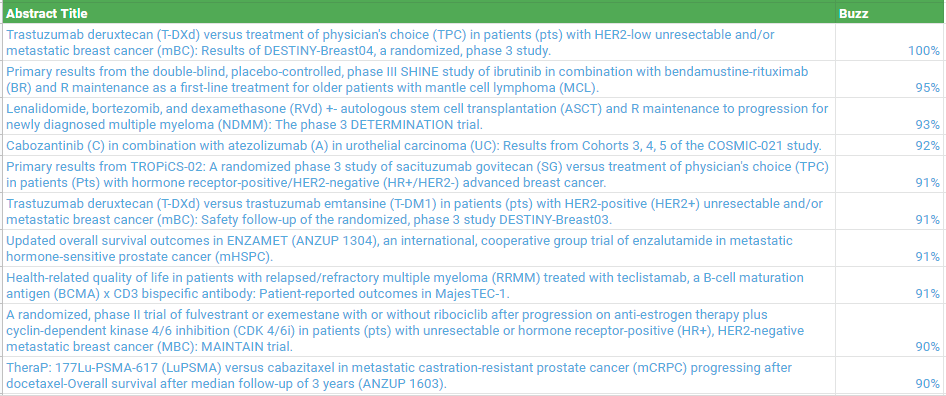 Reflecting these broader sentiments, ZoomRx survey respondents were highly enthusiastic about the potential of Enhertu for HER2-Low patients, with about half of oncologists saying that the DB-04 results were immediately practice-changing and another quarter seeing the results as inspiring an unprecedented shift in the way they will categorize and treat their patients with metastatic breast cancer. More than 8 in 10 oncologists also agreed that being able to target this new HER2-Low category will bring benefits to patients and improve their outcomes. In general, oncologists felt that the trial results applied to both HR+ patients and HR- patients with only a few (17%) oncologists raising any concerns around the relatively lower number of HR- patients included in the clinical trial.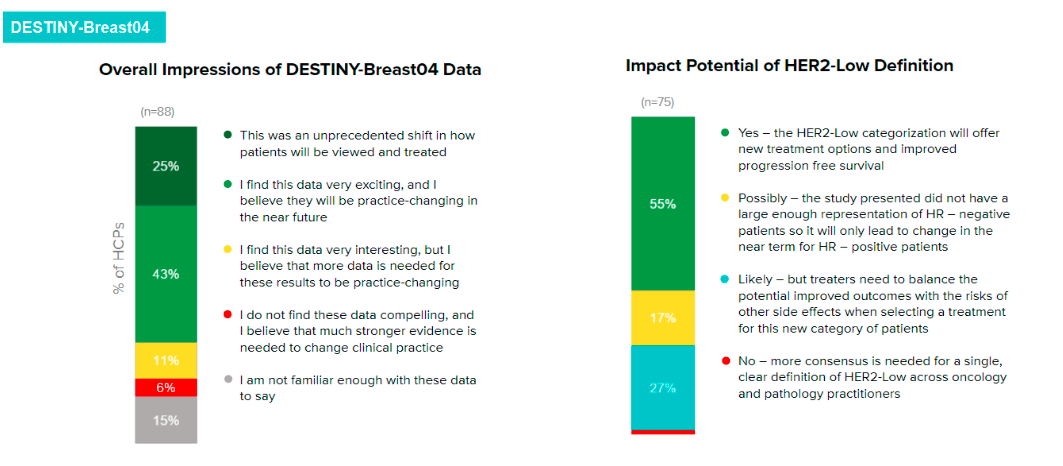 Oncologists were somewhat split on the ease of HER2-Low identification in their practices, with about 40% of oncologists expecting that there would be significant to extreme barriers to being able to identify HER2-Low patients. However, these were their initial impressions and do not account for the pathologist and lab director's perspective on testing burden. Further assessment of IHC score availability in their testing practices may ease these initial concerns.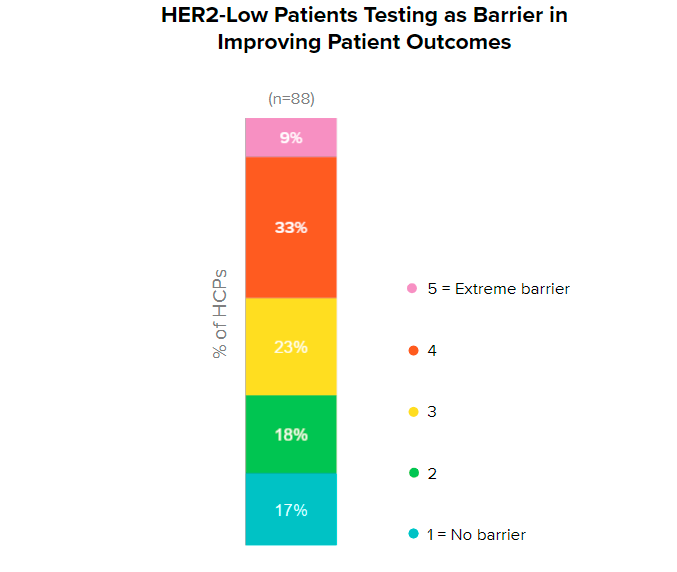 CDK4/6 Class: Not All Drugs Created Equal
Since 2015, CDK4/6 inhibitors in combination with aromatase inhibitors have been well established as the first-line standard of care for postmenopausal women diagnosed with HR+/HER2- mBC. In the past few years, both Kisquali (ribociclib) and Verzenio (abemaciclib) were able to demonstrate clinically meaningful improvements in Overall Survival (OS); in contrast, Ibrance (palbociclib) has not able to show the statistically significant OS benefit to date.  
Previously, ZoomRx found oncologists were generally in agreement that the OS benefit demonstrated by MONALEESA-2 was not a "class effect" and that OS benefit could not be attributed to any CDK4/6 treatment. (Findings from ZoomRx post-ESMO 2021 survey)
The additional analysis of the PALOMA-2 trial presented at ASCO2022 seemed to reinforce this belief. About forty percent of oncologists who attended this year's Annual Meeting believed that based on the PALOMA-2 updated presentation and what they heard at the conference, the CDK4/6 drugs were not interchangeable when it comes to OS benefits.
The PALOMA-2 presentation is likely to lead to some changes in oncologists' practices, with nearly 60% of oncologists anticipating that they would shift their prescribing in favor of Kisquali or Verzenio reflecting some willingness to take steps in their practices, even in the absence of (or ahead of) any official NCCN guidelines change.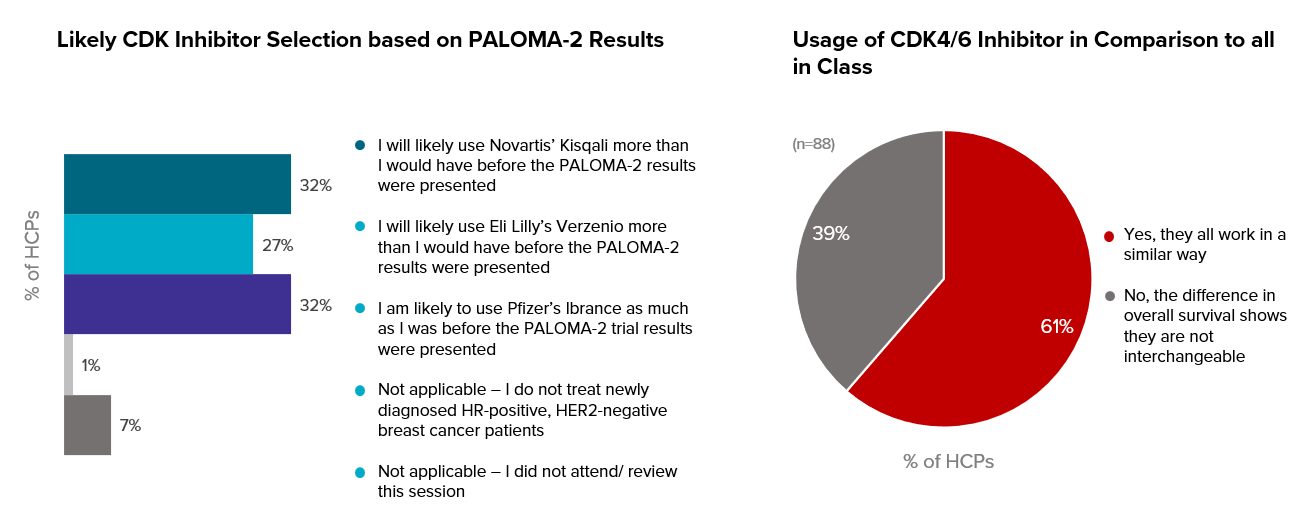 Wrapping Up
With the conference concluded and oncologists back with their patients, the 2022 Annual Meeting symbolically moved the oncology field beyond the COVID pandemic, as one attendee summed it up "The central theme actually was, we are done with COVID, we are moving forward, we will kind of sort of not go back, we will not revisit what was before, and we will move from here as the next step." What sets this conference apart from the prior conferences monitored by ZoomRx was a sense of optimism about the scientific progress and its transformational power, encapsulated in a belief held by the two-thirds of attendees that scientific innovation in oncology will ultimately drive equity and better quality of care for all patients.
---
Leave your info below to receive additional physician reported perspectives on this year's meeting including data on attendance and perceptions of select sessions.
ZoomRx uses the info you provide to fulfill your request and contact you about relevant insights, products, and services. You may unsubscribe from all communications at any time. For more information, view our full
privacy policy