Leaders of Oncologist's Perceptions: Who are they and what sets them apart
In the highly competitive oncology therapeutics landscape, there is a direct correlation between oncologists' preferences and financial success. That makes sense: oncologists prescribe the therapeutics they believe will be most impactful. But a little digging shows that perception rests on far more than efficacy study outcomes. Here's why—and what to do about it.
High Perception Correlates with High Revenue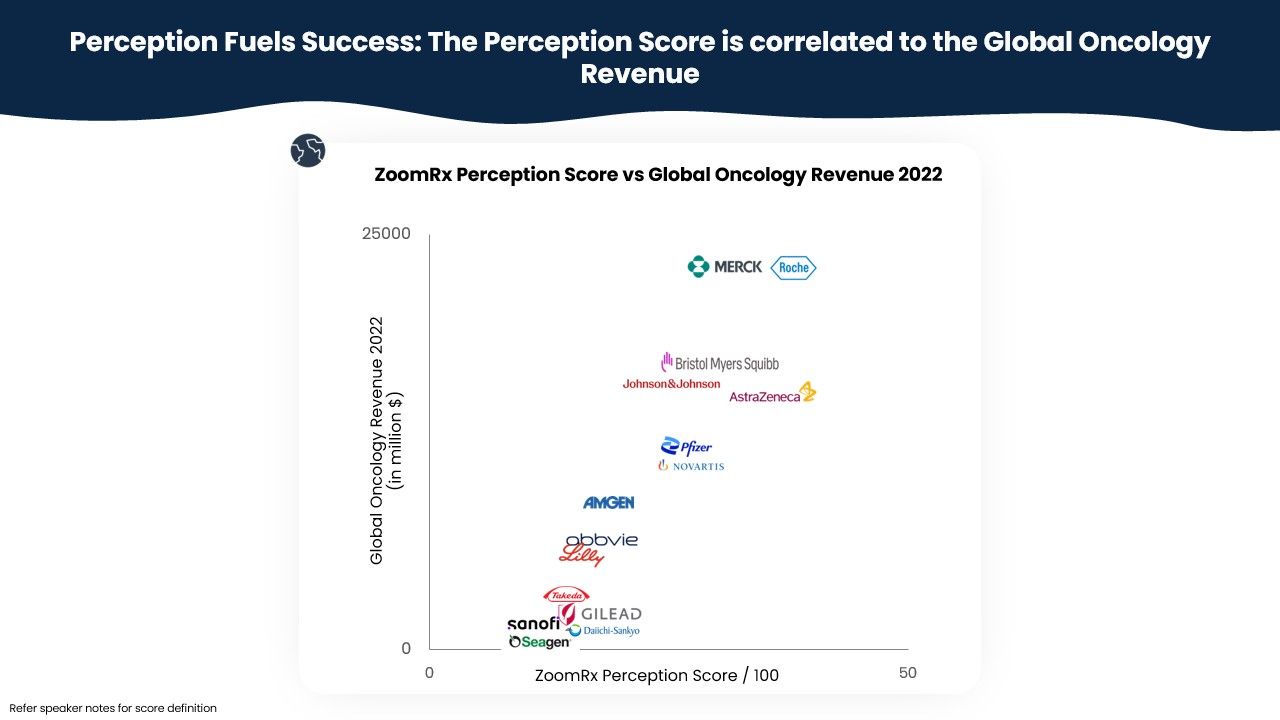 In 2022, ZoomRx conducted a global study involving ~250 oncologists from the United States and the EU5 (France, Germany, Italy, Spain, and the United Kingdom). The study assessed healthcare professionals' (HCPs) perceptions of oncology manufacturers. HCPs ranked 17 manufacturers across four key metrics: overall reputation, innovation, patient centricity, and promotional quality. Winners emerged as did insights into how other manufacturers could win the hearts and minds of oncologists. Of note: the oncology manufacturers perceived most positively by HCPs also earned the highest revenue. This suggests that perception is not merely a matter of image; it wields real financial clout.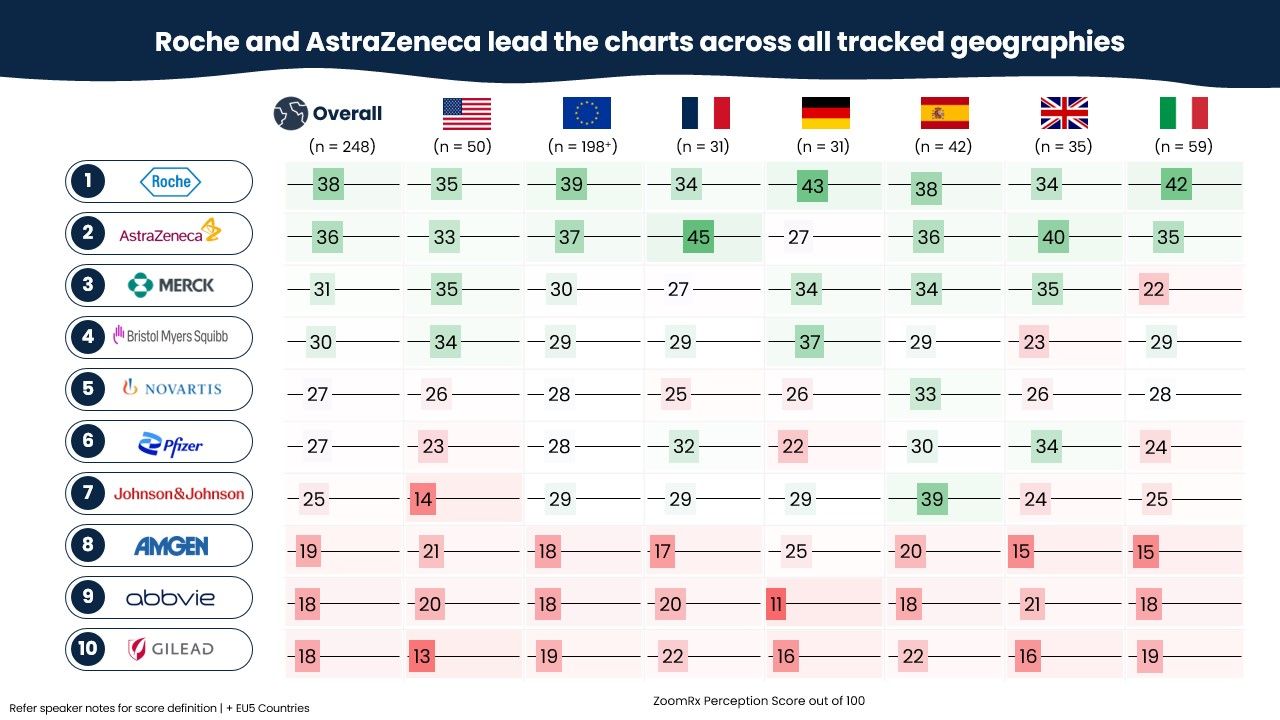 Oncologists Perceive the Roche Group as Superior
The Roche Group (including Genentech) is the clear leader. Almost 60% of the oncologists surveyed mentioned Roche or Genentech as one of the top three oncology manufacturers. The group draws on a long history of oncology leadership, a range of innovative drugs, and a strong pipeline—a trifecta of past, present, and future strengths. Indeed, more than 40% of Roche's revenue stems from oncology products, fueled by the successes of Phesgo, Tecentriq, Polivy and Perjeta. Yet, it takes more than an effective drug to win oncologists' approval—customer experience for both HCPs and patients counts. In lauding Roche, HCPs cite
"the quality of their products, cutting-edge clinical trials, well-prepared personnel, exceptional medical representatives and patient support programs."
Five Challengers Surface: AstraZeneca, Merck, BMS, Novartis, and Pfizer
AstraZeneca secures the second spot close behind the Roche Group. Their  revenue grew impressively in Q2 2023, primarily due to successful products like Imfinzi and Calquence. Imfinzi, in particular, has solidified AstraZeneca's role as a leader in immune-oncology.
HCPs note,
"[AstraZeneca] covers numerous types of cancers, [offers] innovative drugs, [and] rebounds from failures (anti-EGFR, anti-PARP)."
Merck is another formidable challenger. Keytruda® (pembrolizumab), their star product, drove substantial growth, reaching $6.3 billion in revenue in Q2' 2023, a 21% increase from the previous quarter. While Merck expects ongoing growth for Keytruda, it is anticipated to be at a more subdued pace than previous exceptional quarters. In praising Merck, HCPs cite their impressive portfolio, including the value of
"having pembrolizumab in many indications, the number of ongoing clinical trials, and their pipeline."
Novartis, Pfizer and Bristol Myers Squibb (BMS) closely trail these leaders, adding to the diversity and competition within the oncology manufacturing field.
The Leaders Share Three Traits
The report details commonalities among the manufacturers that HCPs perceive as being superior. These include:
Innovative Treatments: The winners are characterized by their consistent commitment to pioneering groundbreaking therapies. Their novel solutions resonate with healthcare professionals—and redefine the standards of care in oncology.
Patient-Centric Approach: For these manufacturers, revenue is only one measure of success. They prioritize patient care and wellbeing, and they are dedicated to delivering improved outcomes and quality of life.
Memorable Impact: These companies have made a lasting impact through remarkable products, beginning with singular, groundbreaking therapies which firmly establish them as forces to reckon with in the oncology landscape.
A Concentrated Effort Could Shift the Playing Field
No single oncology manufacturer reigns supreme across all perception dimensions. This opens a window of opportunity for challengers. By focusing their efforts on specific areas—unique for the US and the EU5—manufacturers can soar in HCP perception, mirroring AstraZeneca's recent rise.
Key Recommendations for the US Market
Strengthen Patient Support: In the quest to build 360° patient support programs, manufacturers should stretch beyond simple financial assistance to also offer emotional guidance, addressing the holistic needs of patients on their difficult journeys.
Maximize Innovation Communication: Emphasizing data-backed research advancements, including robust trial data from promising pipeline drugs, reinforces the credibility and impact of a company's oncology innovations.
Invest in Pipeline Development: With 90% of drugs in clinical trials failing, it is essential to maintain a robust pipeline of candidates to ensure a manufacturers' continued success.
Key Recommendations for the EU Market
Enhance Educational Initiatives: Developing educational platforms and interactive tools for both HCPs and patients enhances their understanding of novel therapies, thereby fostering better decision-making.
Diversify Disease Coverage: Manufacturers that develop effective treatments across a range of oncological indications gain broader reach and influence.
Engage in Clinical Research: Wholehearted collaboration with HCPs highlights manufacturers' commitment to evidence-based advancements—a clear path to credibility and success.
Manufacturers Can Improve Their Prognoses—and the Future of Oncology Patients
What an oncologist thinks of a manufacturer has far-reaching implications—for the therapies that HCP will prescribe, for the overall reputation of that manufacturer, and for the manufacturer's financial success. Yet, such perceptions are highly subjective, extending far beyond simple drug efficacy to encompass everything from a manufacturer's pipeline to their patient support programs to the digital experience they offer HCPs. That leaves room for companies to move up in the ranks, by focusing on immediate wins in access and communication as their scientists work on more long-range evidence-based research and pipeline development. Such multi-faceted progress helps ensure a brighter future for cancer patients.
ZoomRx uses the info you provide to fulfill your request and contact you about relevant insights, products, and services. You may unsubscribe from all communications at any time. For more information, view our full
privacy policy