The ASCO conference stands as one of the most influential and highly anticipated events in the field of oncology. Each year, it brings together leading HCPs, researchers, and industry experts to share groundbreaking research, advancements in treatment options, and discussions on the future of cancer care. For pharmaceutical company marketers seeking to market their drugs to HCPs or gain insights into the latest trends in oncology, the ASCO conference presents a unique and valuable opportunity.
As the ASCO 2023 commenced, we used Perxcept, ZoomRx's Omnichannel tracking offering, to analyze the browsing trends of its panel of 100+ Oncologists during ASCO 2022. Perxcept tracks HCPs' healthcare-related browsing activity on their personal devices to gain an in-depth understanding of HCP information needs and the digital content they are exposed to.
#1: Oncologists browsed journals and healthcare news websites more frequently after the conference
There was a 67% increase in the average time spent by an Oncologist in reading Journals and healthcare news articles after June 2022, aligning with the period after the ASCO conference in the first week of June. Furthermore, the average time spent per Oncologist browsing ASCO-related web pages increased by 85% in June as compared to May, and further increased by 60% in July. This pattern indicated a sustained interest among oncologists in staying informed about the latest developments and research during the conference.
September saw a considerable increase in the average time spent reading Journals and news websites by Oncologists as well, when the abstract submission dates for ASCO Gastro-intestinal Cancers Symposium closed. The subsequent months from October to December also maintained a relatively higher average time spent, indicating a continued focus on staying updated in the field of oncology.

#2: More Oncologists preferred reading ASCO-relevant content in ASCO Network websites than other Healthcare websites
Though oncologists spent more time browsing websites such as uptodate.com and medscape.com, websites part of the ASCO network had a comparatively higher reach. Oncologists spent 46% of their total time browsing ASCO related content in websites part of the ASCO network. ASCOPubs.org, the official publication platform of ASCO, held a significant share at 16% of total time spent and had the highest oncologist reach of 59%. This indicates that they were the majorly utilized sources for accessing ASCO-related content, including research articles and abstracts.

#3: Oncologists relied on journals and abstracts during ASCO to learn new information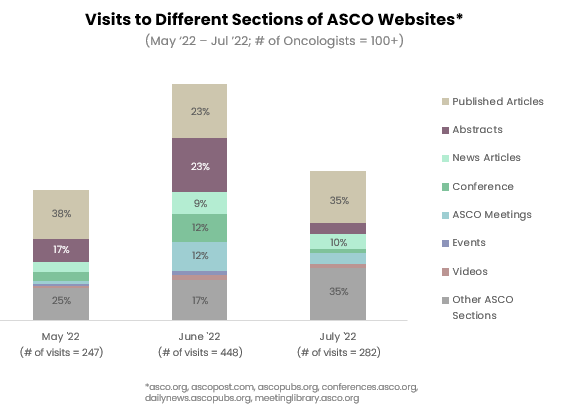 In preparation for the June conference, HCPs demonstrated a heightened interest in specific web pages in ASCO-affiliated websites compared to the months before and after the event. During the conference, a significant portion of their information was obtained from journals and abstracts, whereas they primarily relied on journals alone outside of that time frame. Furthermore, the increasing usage of video content emphasizes the importance of incorporating multimedia resources for effective knowledge acquisition.
ZoomRx uses the info you provide to fulfill your request and contact you about relevant insights, products, and services. You may unsubscribe from all communications at any time. For more information, view our full
privacy policy