The AACR Annual Meeting is a highly anticipated event that brings together distinguished cancer research experts from around the globe to exchange groundbreaking discoveries and insights. It covers a broad spectrum of topics related to cancer science and medicine, ranging from population science and prevention to clinical and translational studies, survivorship, and advocacy. The 2023 Conference was held from April 14 to 19 in Orlando, Florida where 8,389 abstracts featured the exceptional work of top-notch researchers from various institutions worldwide.
Ferma.AI has used its Social Listening Technology to determine the highest buzzed sessions during the AACR 2023 Conference. Through assigning a standardized "buzz score" to each conference session, Ferma.AI was able to highlight the most highly anticipated and discussed sessions among the attendees.
Interested in learning more about how Ferma.AI can enhance your conference coverage and insights while also reducing costs by 40%? Schedule a brief call with us to see a live demonstration.
Top Buzzed Sessions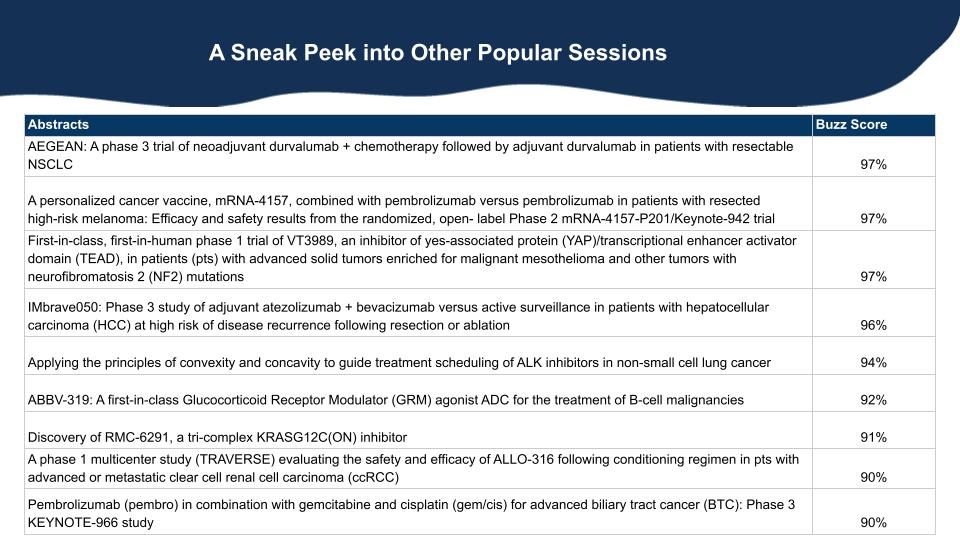 AEGEAN: A Phase 3 Trial of Neoadjuvant Durvalumab plus Chemotherapy Followed By Adjuvant Durvalumab in Patients with Resectable NSCLC
Buzz Score : 97%
The AEGEAN trial evaluated neoadjuvant durvalumab (D) plus chemotherapy (CT) followed by surgery and adjuvant D in patients with resectable non-small cell lung cancer.  Median EFS follow-up in censored patients was 11.7 months (mITT). The pCR rate was significantly higher and EFS significantly prolonged. The treatment had a manageable safety profile and the results suggest the clinical benefit of immunotherapy in the neoadjuvant or adjuvant resectable non-small cell lung cancer setting.
A Personalized Cancer Vaccine, Mrna-4157, Combined With Pembrolizumab Versus Pembrolizumab In Patients With Resected High-Risk Melanoma: Efficacy And Safety Results From The Randomized, Open- Label Phase 2 Mrna-4157-P201/Keynote-942 Trial
Buzz Score : 97%
Moderna's novel mRNA-based personalized cancer vaccine mRNA-4157, encoding up to 34 patient-specific tumor neoantigens, was tested in combination with pembrolizumab in patients with resected high-risk melanoma. 18-month recurrence-free survival (RFS) rates (95% CI) were 78.6% (69.0%, 85.6%) vs 62.2% (46.9%, 74.3%) in the combination and monotherapy arm respectively. The combination showed protocol-defined statistical significance and a clinically meaningful improvement in RFS compared to pembrolizumab, with a reduction in the risk of recurrence or death by 44%. The combination significantly prolonged RFS compared to pembrolizumab alone without an increase in clinically meaningful adverse events. These results provide the first randomized evidence that a personalized neoantigen approach is potentially beneficial for cancer patients. A phase 3 study will be initiated in patients with melanoma.
First-In-Class, First-In-Human Phase 1 Trial Of Vt3989, An Inhibitor Of Yes-Associated Protein (Yap)/Transcriptional Enhancer Activator Domain (Tead), In Patients (Pts) With Advanced Solid Tumors Enriched For Malignant Mesothelioma And Other Tumors With Neurofibromatosis 2 (Nf2) Mutations
Buzz Score : 97%
VT3989, a highly potent and selective inhibitor of TEAD palmitoylation, was evaluated in a phase 1 trial for patients with refractory solid tumors. 67 patients have been enrolled. 4 patients had NF2m (29 somatic and 5 germline). All MM patients had progressed on prior platinum/pemetrexed but 2 had prior immune checkpoint inhibitors. The most common AEs are proteinuria, albuminuria and peripheral edema, mainly observed with the continuous schedule. VT3989 has a 12-15 day half-life, dose proportional PK and reaches steady state within 2 weeks. The results showed that VT3989 is safe and well-tolerated with durable RECIST v1.1 antitumor responses in patients with advanced MM and NF2m cancers. Further optimization and expansion of the RP2D are ongoing.
Imbrave050: Phase 3 Study Of Adjuvant Atezolizumab Plus Bevacizumab Versus Active Surveillance In Patients With Hepatocellular Carcinoma (Hcc) At High Risk Of Disease Recurrence Following Resection Or Ablation
Buzz Score : 96%
IMbrave050 by Genentech and Roche Pharma is a trial evaluating the efficacy of adjuvant atezolizumab (atezo) plus bevacizumab (bev) in delaying or preventing recurrence in patients with high-risk hepatocellular carcinoma (HCC) following resection or ablation. The primary endpoint was met with an IRF-RFS hazard ratio of 0.72 and results were generally consistent across clinical subgroups. INV-RFS was similar. The safety profile was consistent with the well-established safety profile of each agent and with the underlying disease. Atezo plus bev has potential to become a new standard of care in adjuvant HCC.
Applying The Principles Of Convexity And Concavity To Guide Treatment Scheduling Of Alk Inhibitors In Non-Small Cell Lung Cancer
Buzz Score: 94%
The FDA's Project Optimus aims to reform the maximum-tolerable dose paradigm for targeted therapies. The authors propose a paradigm for treatment scheduling based on the curvature of exposure-response curves. They hypothesize the existence of a critical point in the time-evolution of ALK-positive tumors where it is optimal to switch from continuous treatment to high-dose/low-dose to mitigate the onset of gradual resistance. Using a mathematical modeling framework, they predict time-dependent curvature in continuous/volatile ALK inhibition in vivo and find that curvature increases in proportion to the amount of resistance in the tumor population. They test their hypothesis in vivo and compare different treatment schedules.
Abbv-319: A First-In-Class Glucocorticoid Receptor Modulator (Grm) Agonist Adc For The Treatment Of B-Cell Malignancies
Buzz Score : 92%
AbbVie's ABBV-319 is a CD19-targeting multi-modal antibody drug conjugate (ADC) that exhibits three distinct mechanisms of action to maximize anti-cancer activity and reduce systemic toxicities in B-cell malignancies. It delivers a high potency agonist of the intracellular glucocorticoid receptor, inhibits CD19/BCR downstream signaling events, and has increased FcγR binding via afucosylation. A single dose of ABBV-319 demonstrated sustained regressions/cures in multiple B-cell malignancy xenograft model systems. A first in-human Phase 1 clinical trial evaluating ABBV-319 in B-cell malignancies was initiated in late 2022, suggesting it will be a highly effective combination treatment with favorable safety and pharmacokinetic profiles.
Discovery Of Rmc-6291, A Tri-Complex Krasg12c(ON) Inhibitor
Buzz Score : 91%
RMC-6291 by Revolution Medicines is a clinical stage inhibitor of KRASG12C(ON), a mutation occurring in various cancers that drives oncogenesis. RMC-6291 forms a tri-complex with KRASG12C(ON) and cyclophilin A, suppressing RAS pathway activity and driving tumor regressions. In a mouse clinical trial, RMC-6291 outperformed adagrasib , potentially overcoming limitations of first-generation KRASG12C(OFF) inhibitors. 72% ORR and 92% DCR was observed for RMC-6291 while 52% ORR and 72% DCR was observed for adagrasib.
A Phase 1 Multicenter Study (Traverse) Evaluating The Safety And Efficacy Of Allo-316 Following Conditioning Regimen In Pts With Advanced Or Metastatic Clear Cell Renal Cell Carcinoma (Ccrcc)
Buzz Score : 90%
Allogene Therapeutics presented results from the TRAVERSE trial investigating the safety and efficacy of allogeneic CAR T cell therapy targeting CD70 in advanced ccRCC. Preliminary results from 17 patients who received ALLO-316 showed a manageable safety profile with mostly low-grade CRS and no GVHD or ICANS observed. The ORR was 12% and DCR was 71% with 3 patients achieving PR. In confirmed CD70+ tumors, the ORR was 22% and DCR was 100%. The trial is ongoing to enroll more patients with CD70+ tumors.
Pembrolizumab (Pembro) In Combination With Gemcitabine And Cisplatin (Gem/Cis) For Advanced Biliary Tract Cancer (Btc): Phase 3 Keynote-966 Study
Buzz Score : 90%
Merck's Phase 3 trial, KEYNOTE-966, evaluated the efficacy and safety of pembrolizumab in combination with gemcitabine and cisplatin versus placebo plus the same chemotherapy regimen in previously untreated patients with unresectable locally advanced or metastatic biliary tract cancer. At FA, median overall survival was 12.7 mo for pembro + gem/cis vs 10.9 mo for placebo + gem/cis (HR 0.83; 95% CI 0.72-0.95; P = 0.0034); 24-mo OS was 24.9% vs 18.1%. The trial showed that the addition of pembrolizumab to chemotherapy resulted in a statistically significant improvement in overall survival with a manageable safety profile, supporting the use of pembrolizumab plus gemcitabine and cisplatin as a first-line treatment option.
Looking Forward
Ferma.AI tracks abstract and data releases for all major healthcare conferences, alongside social media and healthcare news reactions. Interested in learning more about how Ferma.AI can enhance your conference coverage and insights while also reducing costs by 40%?
Schedule a brief call with us to see a live demonstration.
ZoomRx uses the info you provide to fulfill your request and contact you about relevant insights, products, and services. You may unsubscribe from all communications at any time. For more information, view our full
privacy policy