The global market for cardiovascular drugs was valued at USD 155.6 billion in 2021, and it is expected to grow significantly, potentially reaching USD 231.7 billion by 2030 with a  projected compound annual growth rate (CAGR) of 4.52% (Source). Pharma companies are needed to use this opportunity wisely, market their drugs well enough to capture maximum market share and reach the right set of MDs.
PERxCEPT's unique HCP Online behavior Tracking technology combined with the power of AI helps the brands to understand their market share and gain competitive intelligence across digital channels.  In this article we will be looking at 10 such brands that are dominating the Cardiology space in "Banner AD Campaigns" in Q4 2022
1.       Verquvo
Merck's Verquvo was the most prominent brand for online banner advertisements in the cardiology sector during Q4 2022. More than 90% of their digital impressions came from academic websites (nejm.org, acc.org, and jacc.org). Verquvo's marketing strategy primarily emphasizes the safety of their products, encouraging the use of sGC simulators, and providing information on heart failure and ejection fractions. The company also recently obtained FDA clearance for these efforts.


2.       Jardiance
Jardiance submitted safety and efficacy data to the FDA in Q1'22 to expand its use in lowering the risk of death and hospitalization for all heart failure patients, putting it in direct competition with AstraZeneca's Farxiga. It is also expected to receive FDA approval for its CKD indications in 2023, which will increase its online presence and provide more effective solutions for managing type 2 diabetes and improving cardiovascular health.
Jardiance's advertisements feature a link to learn more about its full savings card and strategies for managing type 2 diabetes, showing the brand's dedication to providing helpful resources and support to patients. Jardiance's focus on safety, efficacy, and patient education has helped establish a strong presence in the healthcare market, making it a significant player in the future.

3.       Brilinta
Brilinta established a strong presence in the US healthcare market by being included in the formularies of 49% of the top 400 institutions. To increase accessibility, the company has heavily promoted its Brilintatouchpoints/Az&Me program. Its advertisements emphasize the drug's benefits, including reducing cardiovascular deaths compared to acute coronary syndrome. Brilinta's advertisements often include a link to its full savings program to educate viewers on its cost-saving features. The program provides information on how patients can obtain the medication at an affordable cost. Overall, Brilinta's focus on affordability has made it a popular option for patients and healthcare institutions. Its continued promotion of value-based programs is expected to reinforce its position as a leader in cardiovascular healthcare.

4.       Xarelto
XARELTO® gained approval for use in combination with aspirin, reducing the risk of major thrombotic vascular events in patients with peripheral artery disease. It was the first and only anticoagulant to receive such approval. Xarelto also demonstrated noninferiority to Warfarin in the ROCKET AF trial to lower the risk of stroke and non-CNS systemic embolism in patients with nonvalvular atrial fibrillation. These achievements helped Xarelto compete and gain market share in the anticoagulant market.
To promote Xarelto's benefits and encourage consistent anticoagulant therapy, Janssen's Carepath program emphasized the importance of therapy in Xarelto's advertising efforts. Xarelto's recent achievements, commitment to patient education and support, and promotion of the Carepath program strengthened its position in the anticoagulant market and made it more accessible to patients in need.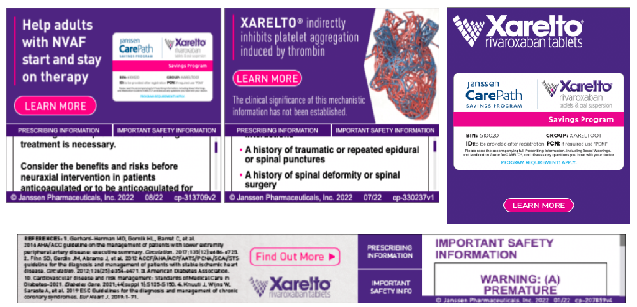 5.       Leqvio
Leqvio's marketing strategy prioritized patient access and used diverse channels to reach a wider audience, which helped the brand outpace competitors in digital footprint and impressions. Being the only FDA-approved siRNA therapy for reducing LDL-C, Leqvio focused on its unique benefits in its ad campaign. The brand also highlighted copay benefits for eligible patients to make it easier for healthcare providers to prescribe the drug without worrying about affordability. Leqvio's emphasis on accessibility and patient education, along with its copay assistance program, contributed to its growth and success in the market.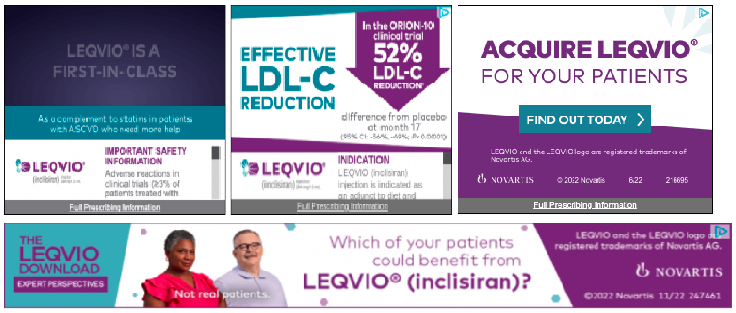 6.       Farxiga
Farxiga employs a digital marketing strategy that aims to reach a wide range of healthcare providers, including cardiologists, nephrologists, endocrinologists, and primary care physicians. The marketing team tailors messages for each group to address their unique interests and concerns, promoting all of Farxiga's indications.
By using this approach, Farxiga seeks to increase its equity among healthcare providers, effectively communicate the benefits of its various indications, and drive continued growth in the healthcare industry.



7.       Repatha
Repatha's marketing strategy is focused on promoting the updated findings on its extended usage to reduce total cardiovascular events. The brand also uses real-time budget allocation to optimize its marketing impact. In terms of targeting, Repatha aims to reach adults over 50 who are interested in healthy eating and cooking. The brand's ads are informative and engaging, highlighting Repatha's effectiveness in reducing cardiovascular events and providing reassurance to patients and healthcare providers. By tailoring messages to a specific audience and using advanced campaign optimization tools, Repatha aims to increase its market share and drive growth in the healthcare industry.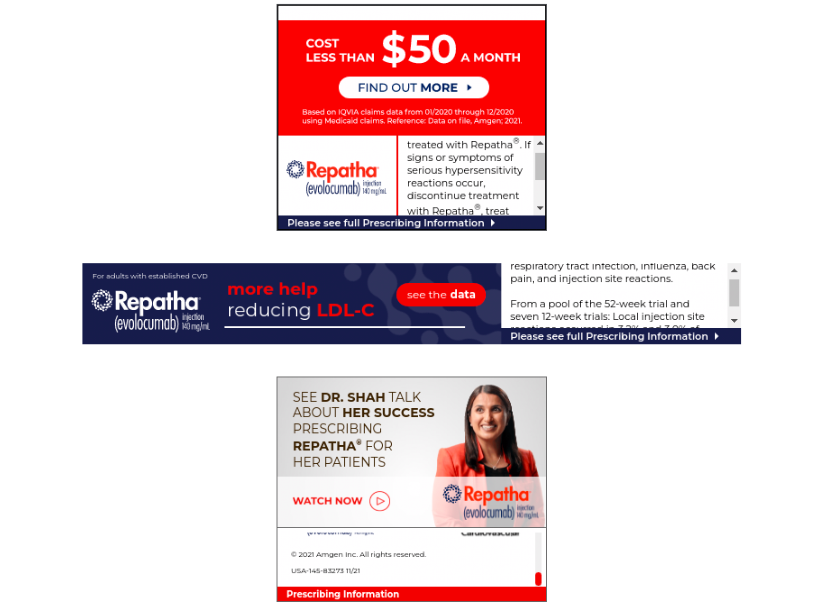 8.       Uptrav
Uptravi focuses on engaging their target audience instead of using many campaigns. They advertise on healthcare news sites like WebMD and use interactive quizzes to raise awareness of their brand among PAH patients, nurses, and medical professionals. They collaborate with nurses in unbranded ads to build trust with patients and healthcare providers. Their marketing strategy emphasizes engagement, awareness, and trust-building with their target audience rather than just using many campaigns.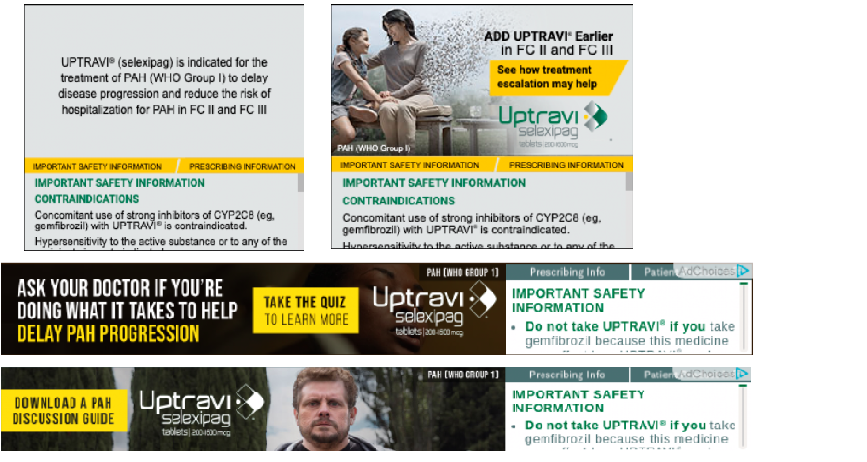 9. Entresto
Entresto is a safe and effective treatment, especially when started promptly after an acute myocardial infarction. Recent studies have shown that it also reduces advanced heart failure and improves ejection fractions. Entresto's marketing focuses on using the recommended first-line medication to reduce CHF in eligible HFrEF patients.
Although Entresto's marketing campaigns are relatively low in number, they target academic journals related to cardiology such as ajmc.org, which make up approximately 65% of the campaigns. This targeted approach is likely to reach healthcare professionals who are most interested in learning about new treatments and staying up-to-date with the latest research.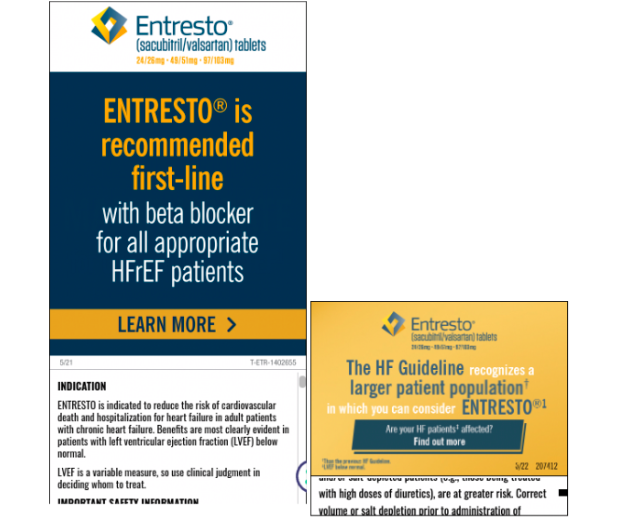 10.   Multaq
Multaq's marketing strategy focuses on emphasizing its safety and recent clinical data. In 2022, clinical data showed that Multaq may improve outcomes for patients with AF and HF and reduce risks for patients in sinus rhythm.
Multaq's banners are designed to align with strategies and guidelines for managing sinus rhythm and are targeted towards healthcare professionals through medical education websites like Medscape.com. Although the campaigns are few in number, they effectively deliver their message to the intended audience.
Multaq aims to establish itself as a safe and effective treatment option for AF and HF patients while also reducing risks for those in sinus rhythm through its targeted approach.
Insights in this post were generated by PERxCEPT, ZoomRx's omnichannel intelligence offering. This tool uses a unique method to monitor and track digital and offline channels. Reach out to info@perxcept.com to learn about how PERxCEPT could help your brand excel.
ZoomRx uses the info you provide to fulfill your request and contact you about relevant insights, products, and services. You may unsubscribe from all communications at any time. For more information, view our full
privacy policy