Nearly 30,000 hematology specialists gathered for this year's 2019 American Society of Hematology (ASH) annual meeting held Dec 7-10 in Orlando, Florida. This year's conference delivered on its promise to provide exciting updates on the most important topics in hematology according to the 56 practicing hematologists-oncologists who participated in ZoomRx's post-ASH survey.
Even with high expectations going into ASH 2019 (based on our pre-ASH survey), the conference delivered successfully.
More than 60% of the hem-oncs we surveyed reported that the event exceeded their expectations. This overall reaction is most likely driven by physicians' perceptions that the data presented at the conference represented major progress (39%) or breakthrough advances (14%) for the hematology space. The perception of breakthrough progress for the field we captured at ASH2019 (14%) is somewhat higher than for other major oncology conferences we covered in 2019 including ASCO 2019 (4%)  and ESMO 2019 (6%).

CAR-T therapies across indications drew the highest interest, while the latest in MM and CLL treatment also captured a great deal of attention.
CAR-T therapies for multiple indications led the pack of important themes covered at ASH 2019. Bispecific therapies and antibody drug conjugates in Multiple Myeloma (MM) and new BTK inhibitors (BTKi) for Chronic Lymphocytic Leukemia (CLL) also captured significant share of interest. MRD-negativity data across indications and Sickle Cell Disease (SCD) guidelines and new approved and emerging therapies appeared on our list of important themes, but received relatively less attention.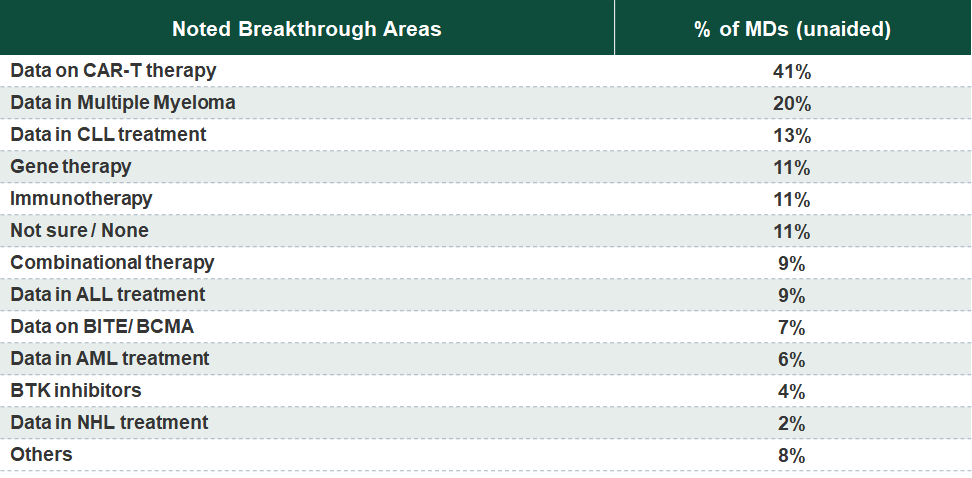 MM sessions generally drew the highest levels of attendance driven by interest in CAR-T and a new generation of anti-BCMA therapies and bispecifics.
Updates on anti-BCMA CAR-Ts, like JNJ-4528, Cellyan's dual targeting CD38 x BCMA CAR-T therapy, and Juno's anti-BCMA + gamma secretase inhibitor study, captured considerable attention and excitement at the conference. Hem-oncs who attended these sessions largely felt that the data offered major and meaningful  improvement over currently available treatment options.
"I'm excited to see this [CAR-Ts] as a treatment options for patients with [MM] relapsed disease"
"Very efficacious drugs [anti-BCMA CAR-T therapies] however they are in very early phase trials so hopefully it gets approved, and it moves along quickly and it gets an approval in the treatment of multiple myeloma. This patient population has a highly unmet need for  any efficacious therapy out there."
Established products also garnered interest, with the Kyprolis, Darzalex, and dexamethasone (KDd) late-breaking abstract having the highest session attendance out of those asked about in the survey, across indications.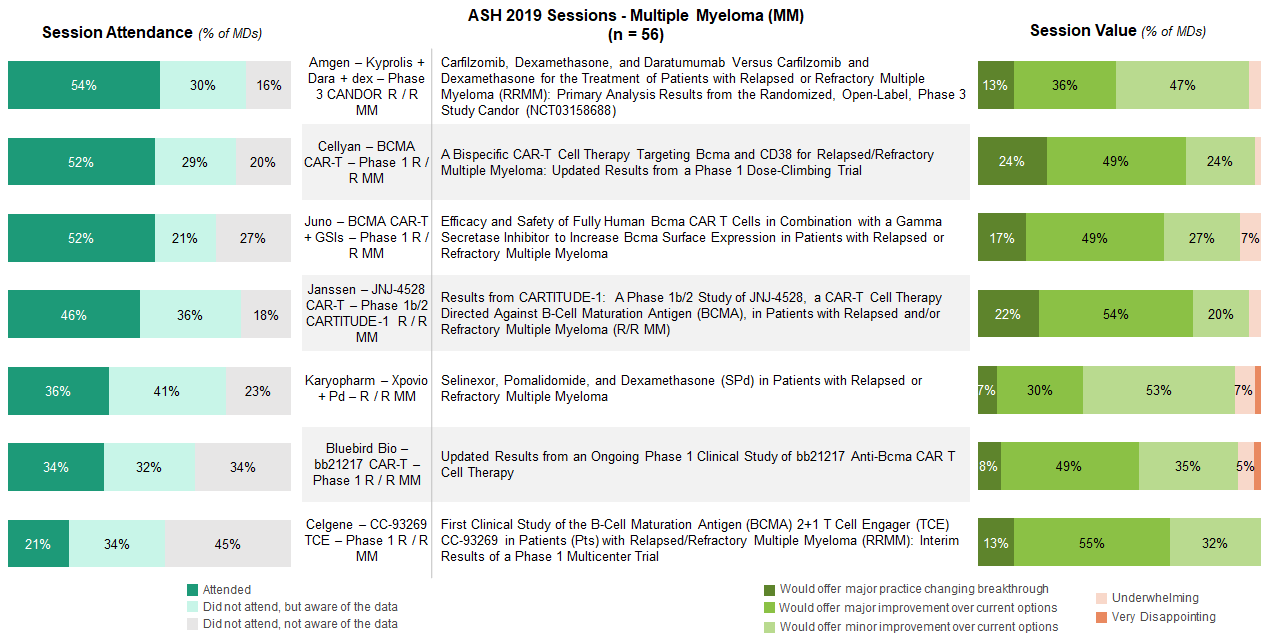 CLL sessions were generally well attended underscoring the continued evolution of this category with a growing body of data supporting novel options and new treatments emerging across a range of MOAs.  
The sessions drawing highest interest included Treatment sequencing and outcomes for Venetoclax and other novel agents, ELEVATE TN, and an update on the MURANO trial.
Prompted by the recent approval of Calquence (acalabrutinib), 86% of respondents indicated attending or being aware of the ELEVATE TN data.  Nearly all of these hem-oncs believed this regimen provides improvements over currently available treatment options. The two Venclexta (venetoclax) sessions also resonated highly with MDs looking to understand how the CLL treatment paradigm is shifting and where to place these novel therapies in the treatment flow.  Those who attended these two sessions largely felt that the data offered major improvement over current options.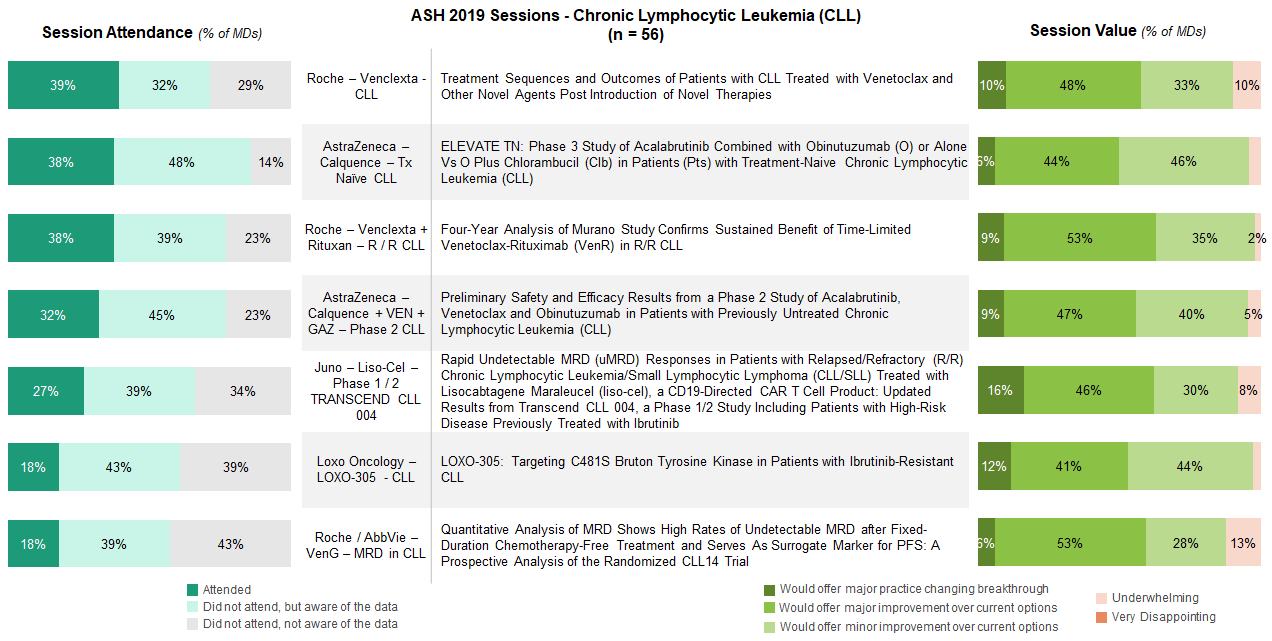 Across the CLL sessions, the clinical topics that captured hem-oncs attention included the role combination treatments, the clinical meaning of MRD negativity, and the value of fixed treatment duration as related to patient long-term outcomes, quality of life and cost savings.
"[CLL14 Trial] It is a highly effective regimen, showing MRD-negativity, has potentially something big for treatment, rather than treating to progression."
"Significant improvements in PFS and OS data were maintained in the 4-year [MURANO / Venclexta] data, confidence for physicians to use the combination."
"The sustained benefit of Venclexta-based regimens of fixed duration was notable."
In AML, data on multiple novel therapy combinations with azacitidine, like glasdegib+aza, were presented.
Many MDs believe that IDH-targeted therapy has the potential to become a standard of care for some patients in frontline therapy in AML, while MDs also continue to be most excited about the combination of venetoclax with hypomethylating agents.
"I do not believe that Glasdegib offers the same benefits as Venetoclax-based therapy together with hypomethylating agents in frontline."
"So in AML, we know the IDH1 agents, and combining them with drugs like aza, and it is proving to be an excellent strategy with high clearance of the IDH1."
"IDH therapy will likely become standard of care in the first line setting in the near future."
What else from ASH 2019 will have an impact?
In addition to these high-level perspectives, our full post-conference report provides a comprehensive look at ASH 2019, including additional MD perspective on key sessions and how they will impact practices across multiple indications. Highlighted sessions include:
JNJ-4528 CARTITUDE-1 Phase 1b/2 Results in R/R MM
Gazyva + Revlimid in Previously Untreated, High Tumor Burden FL
and other potentially practice-changing sessions
Beyond perspective on these sessions, we have additional reaction to key trends and more in depth analysis of the impact of the events and developments at ASH on the hematology practice landscape generally.

Leave your info below and we'd be glad to share the full report with you on the house.
Get your full complimentary post-conference report.
Leave your info to receive our free full post-ASH report. (Available early January.)
Thanks!
Your message has been successfully submitted.
ZoomRx uses the info you provide to fulfill your request and contact you about relevant insights, products, and services. You may unsubscribe from all communications at any time. For more information, view our full
privacy policy