The ASH 2019 Annual Meeting kicks-off this Saturday (12/7) in Orlando. Our survey of 51 practicing hematologists-oncologists indicated a great deal of excitement and anticipation, as they prepare for the meeting.
In addition to reflecting overall pre-conference sentiment, we've gathered perspectives on key themes to watch (and compared these to what industry analysts have been highlighting), as well as measured which sessions are capturing participants' attention.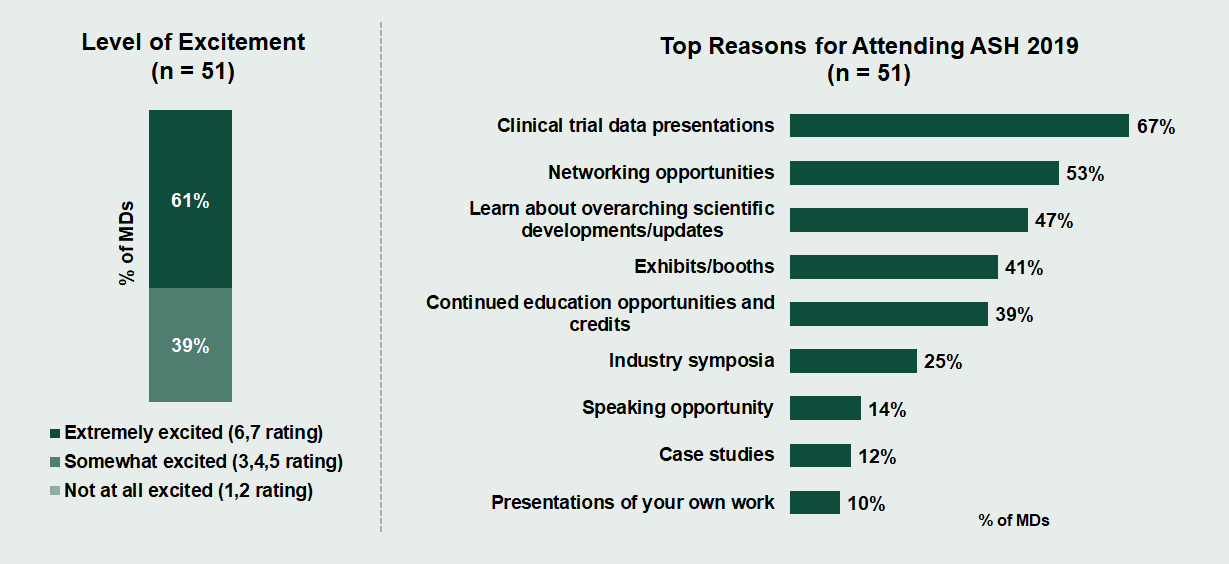 Hematologist-oncologists' interests largely aligned with those of analysts, but show greater breadth
Industry analysis over the past few weeks have focused on data from a new generation of CAR-T treatments, including assets from Celgene (lisocabtagene maraleucel or liso-cel) and Tmunity (NYCE T cells). Other topics frequently cited by analysts include anti-BCMA therapies, use of gene therapy in sickle cell disease, BTK inhibition (BTKi), namely newly approved therapies in CLL (Acalabrutinib and others), and anti-CD20 bispecifics.
Our survey largely confirmed that the themes mentioned by analysts also reflect the interests of hem-oncs we surveyed: 1 out of 4 MDs specifically indicated looking forward to new data in CAR-T therapies across indications, and almost half the MDs indicated they will attend the Calquence + Venclexta + Gazyva Phase 2 study data update. However, we also saw a greater breadth of topics mentioned by physicians. While CAR-Ts (both existing and newer technologies) led the pack in excitement, immunotherapy applications in hematology-oncology, combination therapies and more generally clinical updates in MM, CLL, and AML were also key themes of ASH 2019 highly anticipated among surveyed MDs.
"I believe the major themes will be targeted therapy and combination therapy."
"I think immunotherapy will be big again, and so will CAR T therapy."
"[I anticipate the major themes of ASH 2019 to be] combination therapies, new treatments in AML, advances in CLL"
"[the major themes I anticipate include] expanding success of CAR T cell therapy, especially in lymphoma and myeloma, expanding success of bispecific therapies, novel combination therapies in myeloma."
"Sickle Cell; CAR-T and BiTE and BCMA; thrombophilia; myeloma; CLL [are the major themes I anticipate]."
"Excited for multiple myeloma r/r data, CAR T cell data and further results, sickle cell advancements and AML data"
BTKi therapies top list of sessions; breadth of interest evident in planned session attendance

The list of specific sessions that hematologists-oncologists are planning to attend confirms the breadth of topics driving session awareness. The sessions with top intended attendance include combinations of existing BTKi therapies and new indications for BTK inhibitors (Preliminary Safety and Efficacy Results from a Phase 2 Study of Acalabrutinib, Venetoclax and Obinutuzumab in Patients with Previously Untreated Chronic Lymphocytic Leukemia, and ELEVATE TN: Phase 3 Study of Acalabrutinib Combined with Obinutuzumab (O) or Alone Vs O Plus Chlorambucil in Patients with Treatment-Naive Chronic Lymphocytic Leukemia), late-breaking data in RRMM for Daratumumab (Carfilzomib, Dexamethasone, and Daratumumab Versus Carfilzomib and Dexamethasone for the Treatment of Patients with Relapsed or Refractory Multiple Myeloma: Primary Analysis Results from the Randomized, Open-Label, Phase 3 Study Candor) and several sessions on CAR-Ts and immunotherapy.  

However, in terms of excitement generated by the sessions -- CAR-T sessions including Celgene's liso-cel and other next generation CAR-T options show highest levels of excitement going into ASH 2019.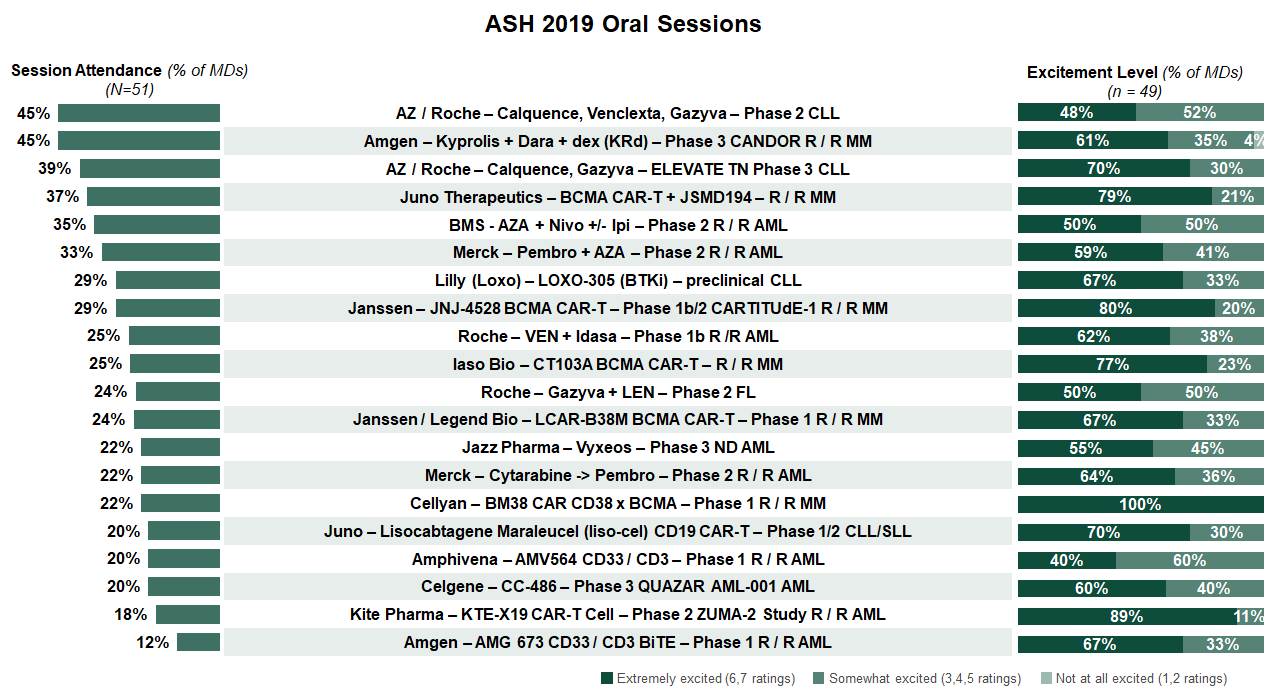 Sickle Cell Disease gains momentum at ASH
Sickle cell disease has become a topic of greater interest at ASH in the past 2-3 years; 1 in 4 surveyed MDs indicated interest in viewing the poster entitled "Relationship between Vaso-Occlusive Crises and Important Complications in Sickle Cell Disease", with 80% of those MDs extremely excited to see that data.
What's next?
ZoomRx will be attending ASH and following key themes and high-impact sessions. Reach out to Kinga Zapert, Ph.D. (kinga.zapert@zoomrx.com) or Anu Mohan (anubhav.mohan@zoomrx.com), if you'd like to meet up or discuss the conference.
Following the conference we'll be conducting additional research with hem-oncs, collecting major takeaways, observations, and perspectives on how this year's meeting may change practices.
Leave your info below or reach out directly to get the full post-ASH report delivered to you.
Get your full post-conference report.
Leave your info to receive our free full post-ASH report.
Thanks!
Your message has been successfully submitted.
ZoomRx uses the info you provide to fulfill your request and contact you about relevant insights, products, and services. You may unsubscribe from all communications at any time. For more information, view our full
privacy policy