With ASCO just days away, oncologists are divided in their outlook for this year's meeting. In our survey of 54 practicing oncologists who plan on attending the conference, half (52%) reported they expect only "incremental" progress,  while 39% expect "major" and 7% expect "breakthrough" progress.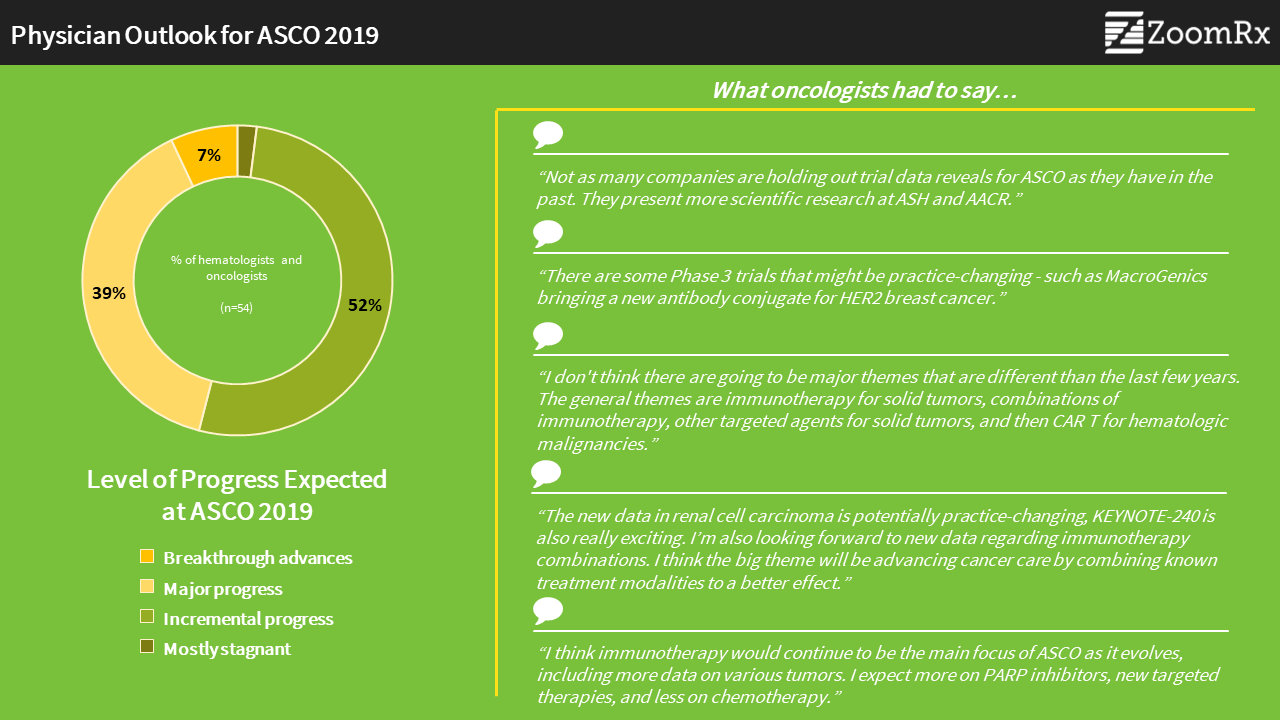 Oral Sessions

While there is no consensus on the most attention-grabbing oral session, a wide range of presentations are receiving notable levels of interest from oncologists. Some of the top trending sessions are consistent with analysts' picks and represent novel MOAs, new targets, and extensions of existing treatment classes in new indications. Other top sessions reflect interest in updates on established treatments.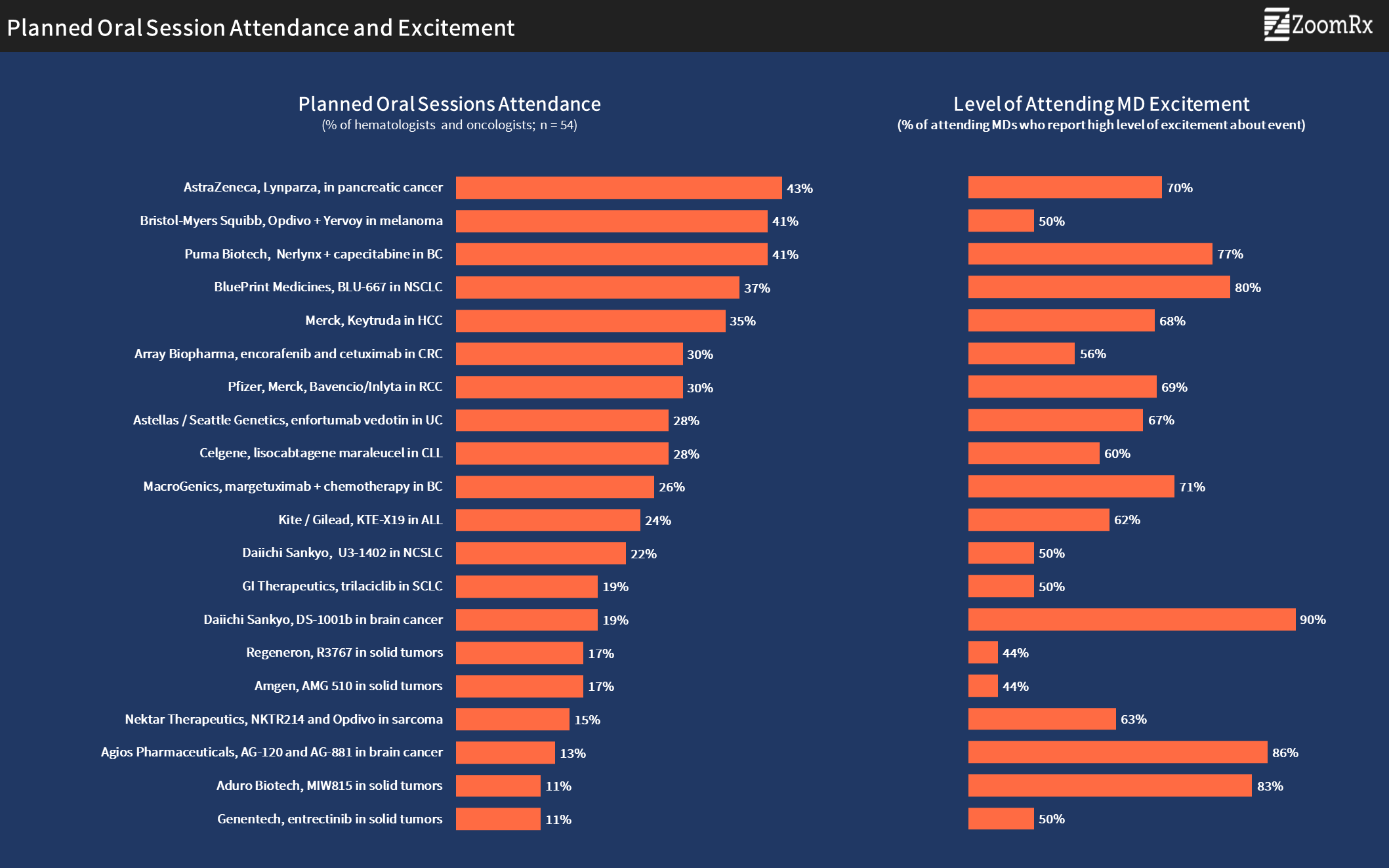 AstraZeneca's Lynparza for pancreatic cancer tops the list of sessions oncologists are most likely to attend. Relatively high levels of excitement among those attending reflect potential interest in expanding the use of PARP inhibitors beyond the existing indications in breast and ovarian cancers.
"I'm curious to see what happens as the olaparib data in pancreatic cancer matures. I'm also interested to see what other PARP inhibitors are doing - there are a lot of combinations with immunotherapy and Avastin."
Lynparza is followed closely by two sessions, BMS's Opdivo plus Yervoy data in patients with melanoma and Puma Biotech's data for Nerlynx (neratinib)-based regimen in patients with HER2+ metastatic breast cancer.
"The big trends that are emerging for immunotherapy are PDL-1's in combination with the standard of care (cytotoxics or TPI's), and new antibody drug conjugates being developed. Opdivo-combos in development might be exciting too."
Blueprint Medicine's RET inhibitor is generating high physician interest as a new target for NSCLC, and many plan to attend their oral session.
"The Blueprint drug has incredible response rates. The mutation frequency of RET is pretty low in lung cancer (higher in thyroid cancer) - but if you have a patient for it, this is a big step forward."
The oncologists who are planning to attend the Daiichi Sankyo, Agios, and Aduro sessions also highlight the importance of these sessions.
"For NSCLC, there is nothing approved for a HER3-directed therapy - that's where the studies are going. I'm excited to hear more about the Daiichi Sankyo drug."
Poster Sessions

Oncologists will be following poster sessions covering a wide array of topics. The topics of highest interest range from updates and new indications for already approved therapies to data on novel MOAs and new targets.

A few sessions did, however, capture a fairly high concentration of interest.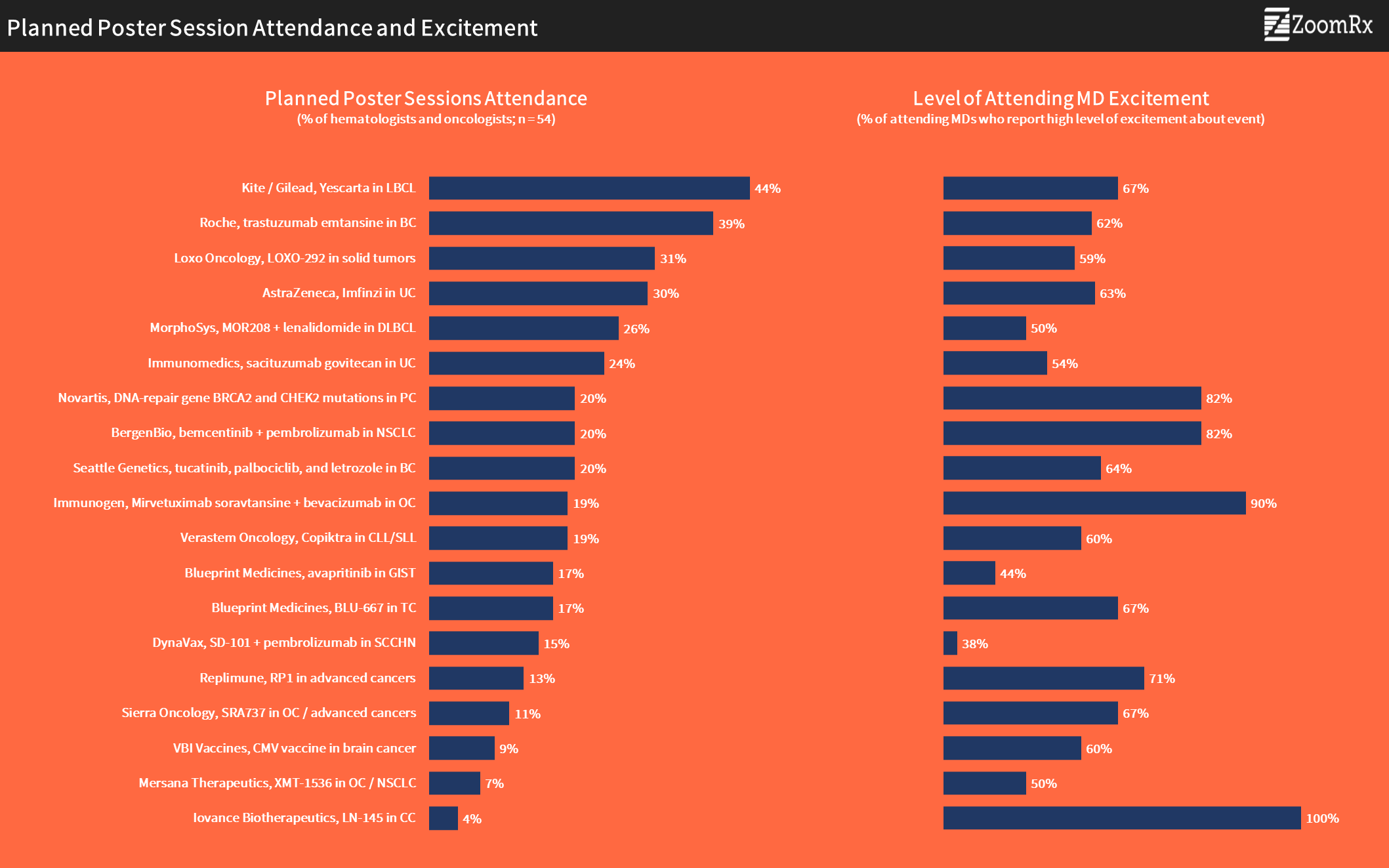 Leading the poster sessions in terms of anticipated attendance is Kite/Gilead's safety data for its CAR-T treatment Yescarta in large B-cell Lymphoma among patients 65 and older, with nearly half of oncologists indication that they will attend this session.

Roche's KATHERINE study of Kadcyla (trastuzumab) in adjuvant breast cancer is also capturing a fairly large share of interest with 2 in 5 oncologists planning on attending.

Other priorities are AstraZeneca's poster on first-line Imfinzi combination with tremelimumab for urothelial cancer and Loxo Oncology's data on LOXO-292 for NSCLC.
"RET as a new target for NSCLC is exciting. It'll be interesting to see the Blueprint drug and LOXO-292 in competition as they are both RET inhibitors and both of those may come to market soon."
What's next?

We'll be attending and following the events of this year's meeting closely and preparing to gather oncologists' reaction to key events and readouts through our post-ASCO survey.

This study will be run immediately after the conference to collect major takeaways, observations, and perspectives on how this year's meeting may change practices. Leave your info below or reach out directly (kinga.zapert@zoomrx.com) to get the full report.
ZoomRx uses the info you provide to fulfill your request and contact you about relevant insights, products, and services. You may unsubscribe from all communications at any time. For more information, view our full
privacy policy