American Society of Nephrology (ASN), will hold it's 2022 edition of kidney week conference in Orlando, Florida from November 3rd to November 6th. The conference is one of its kind and the world's premier kidney conference with ~10,000 kidney health professionals representing and working to help patients with kidney diseases and their families by providing expert care, cutting-edge medical research and training the next generation of kidney experts. The 2022 edition will have 4000+ abstracts presented across the 4 days of the conference in an hybrid fashion with in-person and online setting.
Most Buzzed Sessions at ASN 2022
Using ZoomRx's FERMA Social we tried to understand the Buzz for each of the abstract and the top 10 buzzed sessions for ASN 2022 are below.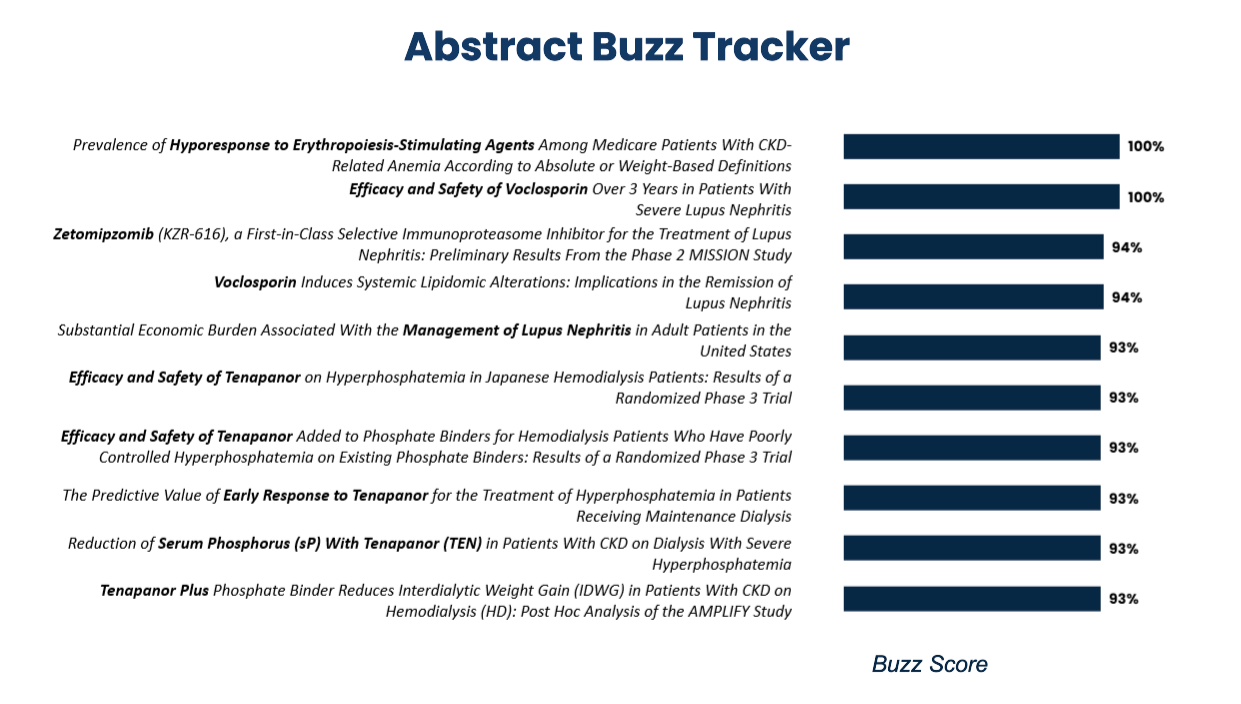 Key Themes in ASN 2022
Three key themes that are creating the most buzz among the nephrologists are:
Long term efficacy and safety data from Lupkyins (voclosporin)
Patient management with zetomipzomib (KZR-616)
Clinical efficacy and safety of tenapanor
1. Long-term safety and efficacy data from trials investigating LUPKYNIS - calcineurin inhibitors - in the treatment of lupus nephritis

The results of numerous trials on LUPKYNIS (voclosporin) marketed by Aurina Pharma will be presented at ASN Kidney Week in 2022. This is expected to alter the course of the therapeutic treatment of autoimmune diseases. Some of the key sessions that would cover this theme are:
Talks by a number of top nephrologists add to the strong evidence LUPKYNIS has for treating people with active lupus nephritis (LN), a potentially fatal consequence of systemic lupus erythematosus (SLE). (Abstract ID:FOR-OR58)
LUPKYNIS  has received FDA and EC approval for adult patients with active lupus nephritis as oral medication. (Abstract ID:TH-PO486)
LUPKYNIS is a brand-new, structurally modified calcineurin inhibitor with a dual mechanism of action that inhibits T-cell activation and cytokine generation to suppress the immune system while also enhancing podocyte stability in the kidney. (Abstract ID:FR-PO640)
2. Patient monitoring, management with Zetomipzomib
Kezar Life Sciences's selective immunoproteasome inhibitor, Zetomipzomib, is the principal development asset of, and is being tested in a Phase 2 clinical trial for lupus nephritis. Additionally, this product candidate may be used to treat a number of chronic immune-mediated illnesses.
All 17 evaluable patients finished the 37-week experiment, and the full data set from the completed study will be presented in the Phase 2 MISSION presentation. The poster presentation will include additional MISSION statistics that are not included in the abstract. This is a study with Zetomipzomib (KZR-616) which is a new, first-in-class, selective immunoproteasome inhibitor with extensive therapeutic potential for a variety of autoimmune disorders. (Abstract ID:FR-PO607)
Zetomipzomib displays a positive safety and tolerability profile for development in severe, chronic autoimmune disorders, according to data from Phase 1 clinical trials.In animal models of several autoimmune disorders, selective immunoproteasome inhibition causes a wide anti-inflammatory response without causing immunosuppression, according to preclinical study. (Abstract ID:FR-PO608)
The company's platform's initial anti-cancer clinical candidate, KZR-261, targets the Sec61 translocon and the protein secretion pathway. (Abstract ID:TH-PO487)
3. Clinical safety and efficacy of tenapanor
Ardelyx has presentations scheduled on the phosphate absorption inhibitor XPHOZAH (tenapanor), discovered and created by Ardelyx, is an investigational first-in-class PAI for the management of blood phosphorus in adult patients with chronic kidney disease (CKD) receiving dialysis
Data from three Phase 3 trials BLOCK, AMPLIFY, and PHREEDOM, in patients with hyperphosphatemia receiving maintenance dialysis in the United States are highlighted in three poster presentations. In addition, Kyowa Kirin Co., Ltd. (Kyowa Kirin), the company's partnership partner for tenapanor in Japan, will discuss significant findings from two Phase 3 studies of tenapanor in a comparable patient group in Japan. (Abstract ID:SA-PO400)
Tenapanor, discovered and created by Ardelyx, works locally in the gut to inhibit the sodium hydrogen exchanger 3 (NHE3), lowering the absorption of phosphate through the paracellular pathway, which is the main channel for phosphate absorption. (Abstract ID:TH-PO163)
Top 5 Pharma Manufacturers in ASN 2022 by Sessions
Apart from these popular themes, a handful of pharma marketers are expected to highlight the continued evolution of the Nephrology offerings, fueled by the rapid pace of new data and therapeutic offerings. Indications with few options just 10-20 years ago are now buttressed by several approved therapies and bolstered by an exciting pipeline ahead for these firms.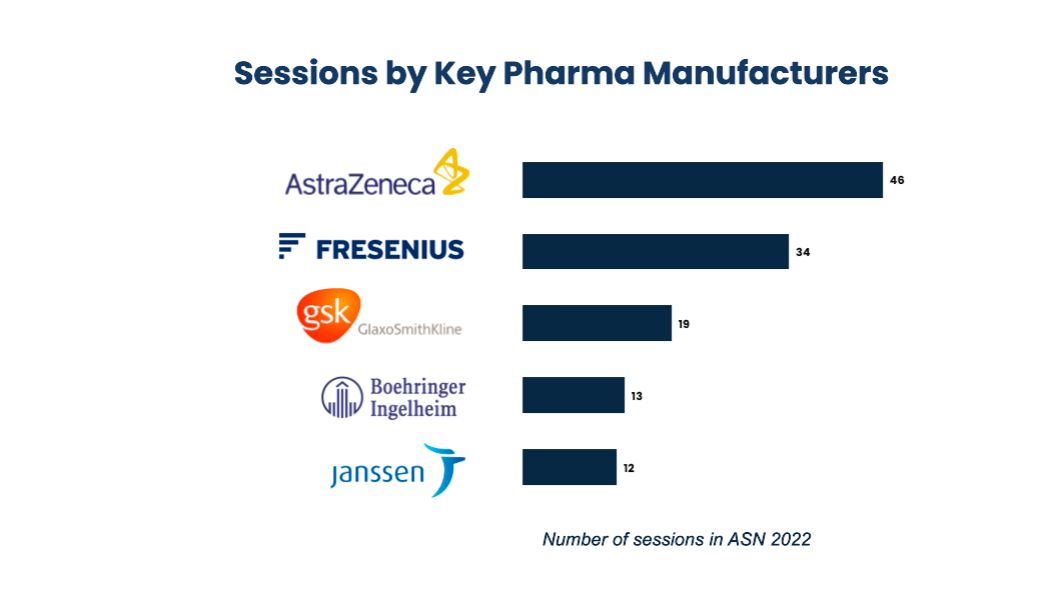 AstraZeneca's brands including Ultomoris (Ravulizumab), Farxiga (Dapagliflozin), pipeline assets ALXN2050 are being discussed predominantly in the sessions
Fresenius talked about its vaccine mRNA which has increased antibody levels among dialysis patients. They will also provide a 6 month follow-up study about Sucroferric Oxyhydroxide and latest reviews about Heparin.
GSK discussed via poster sessions about Benlysta (Belimumab), Duvroq (Daprodustat)
Boehringer Ingelheim's BI-685509, Atrasentan, Jardiance (Empagliflozin), BI-690517, BI-764198 are being discussed and can expect impactful results
Janssen's pipeline drug Invokana (Canagliflozin) will be presented through poster session.
With the upcoming ASN 2022 Conference researchers and patients can hope for new light in the field of Nephrology. There are significant trial results coming up in the conference which will have a positive impact in CKD Patients. ZoomRx will be covering the conference in close quarters to understand the social conversations around the ASN conference.
Interested in gaining access to similar insights from this space? Please leave your information below and an expert consultant from our team will be touch.
ZoomRx uses the info you provide to fulfill your request and contact you about relevant insights, products, and services. You may unsubscribe from all communications at any time. For more information, view our full
privacy policy