On Sept 12 '22, President Biden announced a reignition of the "Cancer Moonshot" program during his JFK speech anniversary in Boston. The goal of the initiative is to reduce cancer deaths by 50% over the next 25 years.
We asked 30 oncologists on the ZoomRx panel what they thought; overwhelmingly, they believe the initiative will improve cancer care. Primarily, they anticipate improvements in cancer testing and prevention; they also see increased patient access to care and an uptick in cancer treatment innovation.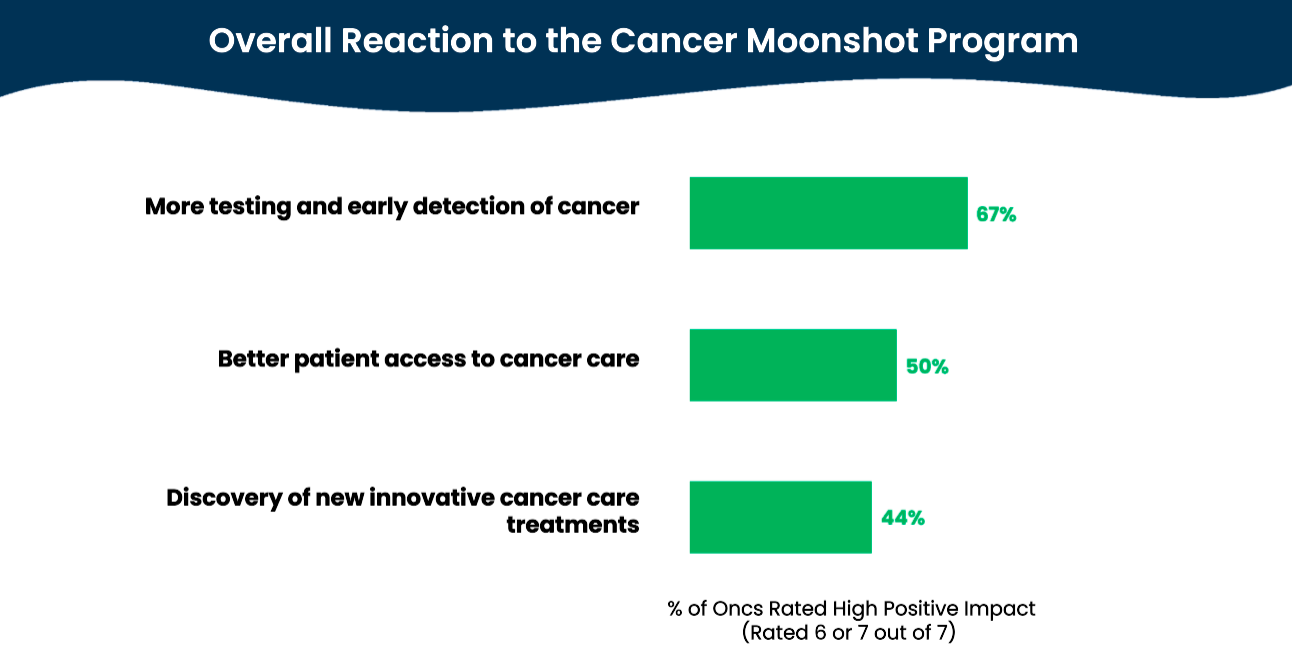 These precisely mirror the advancements oncologists deem most important in reducing cancer-related deaths. Across the board, oncologists name early cancer detection as a key lever, followed by accelerated treatment discovery and better access for patients.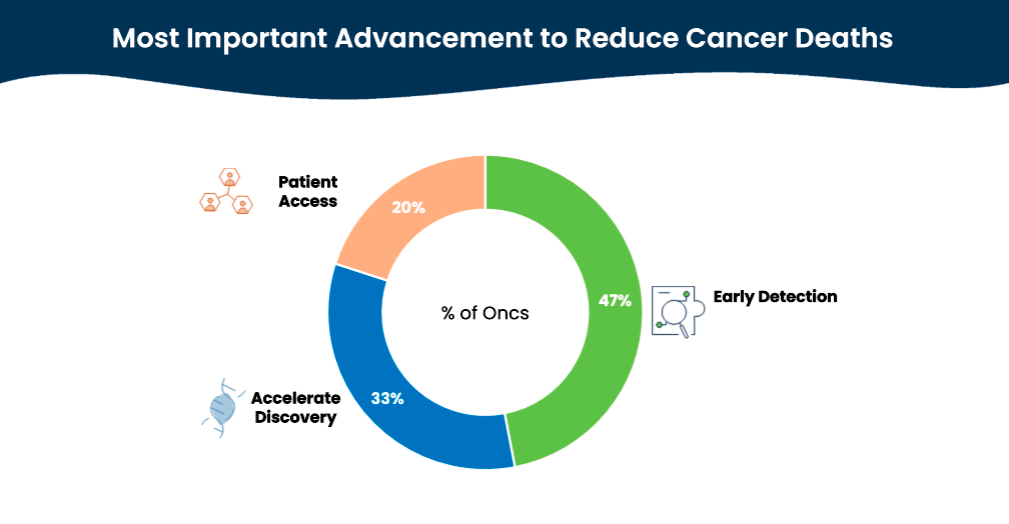 What moves the needle? Individual initiatives that matter.
Focusing on specific initiatives of the Moonshot, oncologists identified three aspects as critical: the Scholars Program, Delivery of New Technology, and Inflation Reduction Act.
Of these, oncologists ranked the "Scholars Program" as the most important to the Moonshot's success. This early-career grant opportunity, funded by The National Cancer Institute, invests in the next generation of innovative cancer researchers; its goal is to develop a cancer research workforce that is more representative of the U.S. population.
Their other top priorities include driving innovation through "Delivery of New Cancer Technologies" and implementing the "Inflation Reduction Act" to lower the cost of prescription drugs.
These findings mirror our other research on oncologists' priorities. Over the past two years, ASCO has increasingly focused on equity in oncology care. In 2022, they spot lit equal access to high-quality care regardless of social, economic, ethnic, or geographic factors. ZoomRx polls show that oncologists are aligned; among a range of priorities, they value improved patient access equally to innovation and support for careers in oncology research.
Conquering lung cancer: Building on success
Of course, the Cancer Moonshot will build on tremendous recent advances in cancer care. Of these, a large majority of oncologists agree that lung cancer (NSCLC and SCLC) and breast cancer (across all subtypes) treatments have seen the most progress in the past 5 years. Still, there is much work to be done.
Our panel rated lung cancer and pancreatic cancers as the most important cancer type to target in the next 5 years, with colorectal cancer and leukemias close behind.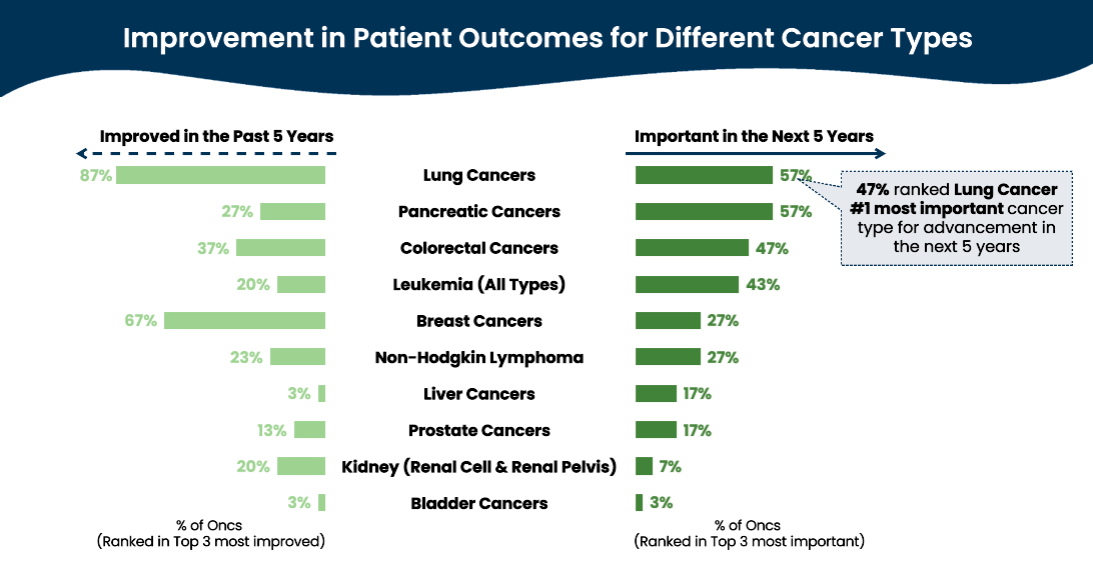 Can we cut cancer-related deaths by half?
The Cancer Moonshot has set an ambitious goal of halving cancer-related deaths. Oncologists are reasonably optimistic about achieving it. Not only that, they believe it can happen within the next 12-20 years—even for those notorious for being difficult to conquer such as pancreatic cancer.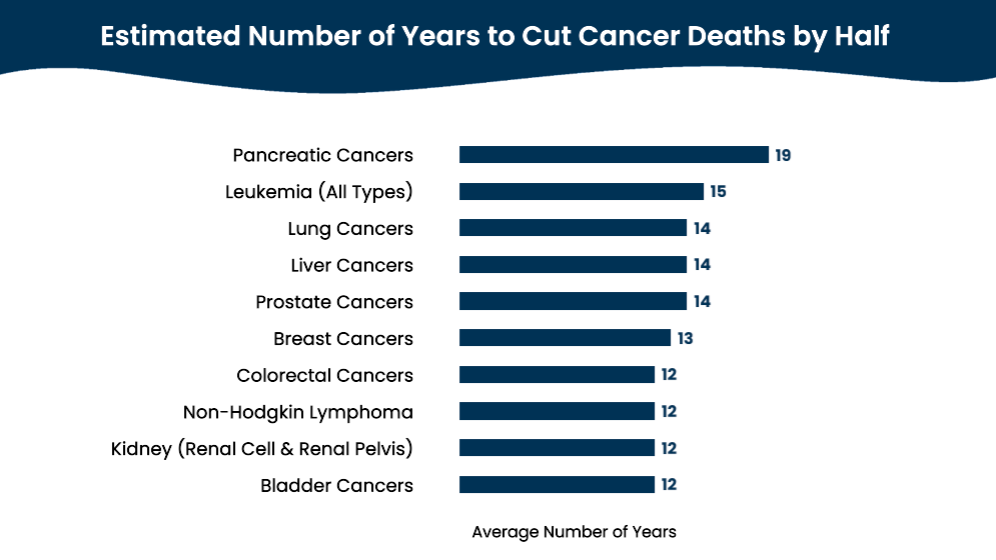 Tracking Success: How oncologists view the unfolding progress of the Cancer Moonshot
The Cancer Moonshot is a bold, all-encompassing government effort to fight one of mankind's most pernicious enemies. As we've seen, oncologists are aligned with the program's priorities and needs. But will that deliver the hoped-for success? As the initiative unfolds, we will monitor its impact on cancer testing and prevention, innovation and patient care, sharing insider assessments from our proprietary panel of oncologists.

ZoomRx is uniquely able and qualified to deliver insights about attitudes of oncologists and other medical care providers via rapid turnaround studies.
Have questions you would like our proprietary panel of oncology experts to address? Get in touch with us at info@zoomrx.com or leave your information below.
ZoomRx uses the info you provide to fulfill your request and contact you about relevant insights, products, and services. You may unsubscribe from all communications at any time. For more information, view our full
privacy policy