While opioid abuse deterrence and deprescribing topics were again center stage at the American Academy of Pain Medicine (AAPM) Annual Meeting this year—held February 26-March 1 in National Harbor, MD—headache and migraine management commanded a large share of attention as well.
Among our panelists that attended, 72% (n=18) reported "managing headaches/migraines" was a major theme.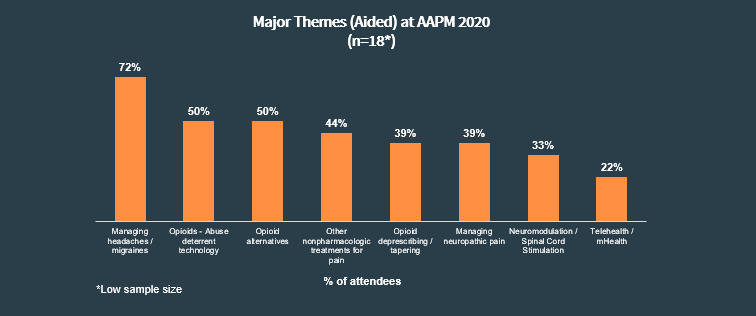 "The major themes that were discussed during this meeting were, obviously, I was interested in infusion therapies for migraine treatment, chronic suppressive therapies for migraine treatment as well as common diagnosis pattern and reimbursement" - Neurologist
"Treatment of Chronic pain, opiate abuse prevention, new migraine headache treatments" - Primary Care Physician
"Expanded use of CGRP monoclonal antibodies" - Primary Care Physician
Calcitonin Gene-Related Peptide Monoclonal Antibody Treatments
Since 2018, the migraine treatment landscape has changed dramatically, with two new approvals in the last month alone (Vyepti, Nurtec ODT). In light of AAPM 2020 last weekend, we were curious about migraine treaters' level of awareness of these newer treatments and how they are thinking about each product within the migraine treatment algorithm.
We found that among migraine treaters on our panel, Aimovig had 100% awareness, followed closely by the other more established products, Emgality and Ajovy. The more recently approved treatments still have progress to be made in HCP awareness: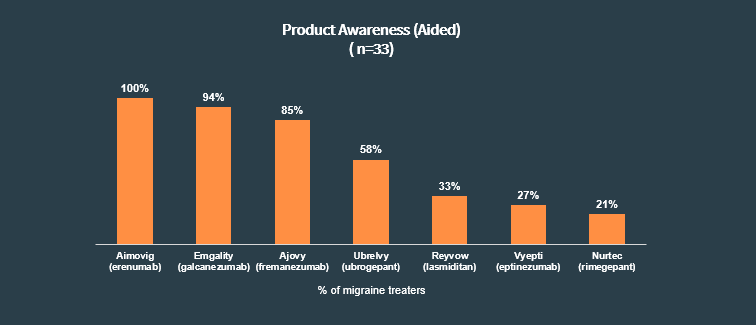 Aimovig, Emgality, Ajovy and Vyepti are approved as preventative treatments for chronic migraine, while Ubrelvy and Nurtec ODT are approved for acute treatment of migraine. We asked these HCPs what lines of treatment they think each product is most suitable for (among those of which they were aware):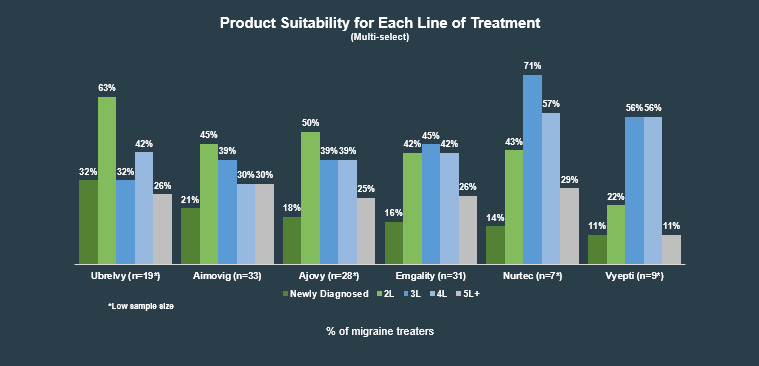 As expected, aware HCPs most often selected Ubrelvy as suitable for first line treated, as its the first oral anti-CGRP approved for acute treatment. The majority of the products tested were seen as most suitable in the second and/or third lines, generally after at least one acute treatment has been tried. Unsurprisingly, newly approved Vyepti was viewed as most suitable in lines three and four, likely due to its intravenous route of administration.
ZoomRx will continue to monitor the migraine space. Stay tuned for our upcoming Physician-Patient Conversations Research to find out how physicians are talking about these new migraine therapies to their patients—which brands are mentioned? What exactly are they highlighting about each product? For what types of patients?
If you have any key questions in this space, we can run a rapid turnaround study and have results for you in less than 2 weeks.
Speak with a ZoomRx research expert.
Leave your info below.
Thanks!
Your message has been successfully submitted.
ZoomRx uses the info you provide to fulfill your request and contact you about relevant insights, products, and services. You may unsubscribe from all communications at any time. For more information, view our full
privacy policy