Since 2018, the migraine treatment landscape has changed dramatically, with two new approvals in the month of February alone (Vyepti, Nurtec ODT).
In light of these developments, we were curious about how migraine treaters' are discussing these newer treatments with their patients and how they are thinking about each product within the migraine treatment algorithm.
ZoomRx's curated in-house panel of healthcare professionals and custom tech platform enabled us to record real doctor-patient interactions with migraine patients to provide insight into the complexities of these treatment decisions.
Two key takeaways arose regarding neurologists' perception of various CGRP treatment options and the manner in which the patient's quality of life is discussed and considered at the point of treatment decision:
1. Physicians believe that CGRPs may have variable efficacy by patient.

While doctors acknowledge that CGRP agents have their differences, there is a low bar to switch and try a different CGRP. The sequencing of CGRP's seems to lack structure and could benefit from MD education.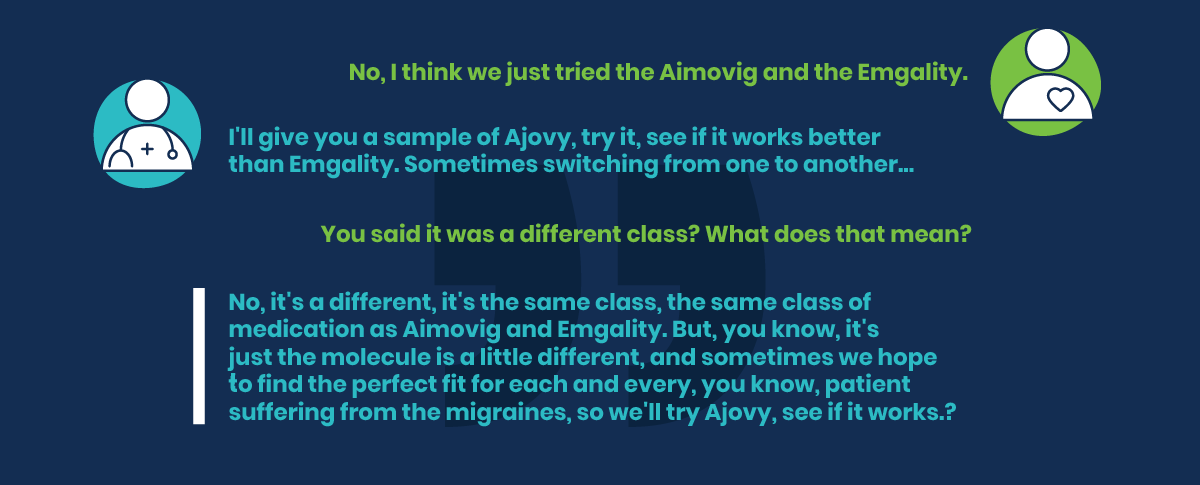 2. Detailed discussions about the patient's quality of life and circumstances are a central focus of migraine interactions and play a major role in determining which therapy gets prescribed


The conversations reveal a dynamic treatment landscape with a variety of factors influencing treatment decisions. The conversations also demonstrate targeted messaging and education around these factors could aid MD treatment decisions.
Interested in the full report?

Our full report on the evolving migraine treatment landscape as seen through 9 real conversations between physicians and their patients includes:
Full access to de-identified audio with transcriptions
Analysis report with key insights tailored to your team's needs
Conversations feature MDs discussing the latest treatment options including: Ajovy, Aimovig, Ubrelvy, Emgality, Imitrex, Topamax, Cefaly, among others.
Want to hear more migraine treatment conversations?
Leave your info below.
Thanks!
Your message has been successfully submitted.
ZoomRx uses the info you provide to fulfill your request and contact you about relevant insights, products, and services. You may unsubscribe from all communications at any time. For more information, view our full
privacy policy