The evolving COVID-19 pandemic is causing enormous impact on individuals and the healthcare system. Increasingly, it is also clear that COVID-19 has broad-ranging effects on our workplaces, our economy, and our social interactions. These social and financial aspects are also at play within the microcosm of U.S. HCPs' practices.
ZoomRx conducted a study from March 14-17 with 162 HCPs across five specialties–pulmonology, oncology, primary care, allergology, and neurology–to understand the initial impact of the COVID-19 pandemic on their practice and patients.
Practice Impact
At a practice level, the inability to triage patients effectively due to asymptomatic presentation, lack of widespread testing, and diminishing supplies of personal protective equipment (PPE) is forcing HCPs to defer non-essential visits and procedures.
In order to maintain access to care, and despite reimbursement concerns, most HCPs are increasing their usage of telemedicine. The pandemic is proving a catalyst for a rapid uptake in telemedicine usage; 40% of HCPs stated that they are using telemedicine for the first time. However, HCP responses suggested that ensuring the continuity of care may be difficult in this new virtual setting.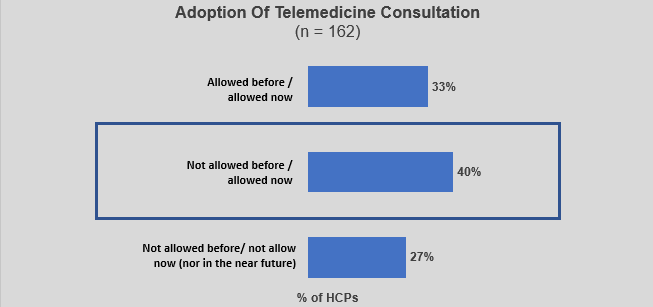 "[If the situation gets worse, I will] convert all outpatients to telemedicine, I may be needed on the inpatient side. I'm wondering if i need to brush up on my internal medicine." - Neurologist
Clinical Impact

HCPs are most concerned for patients who are receiving immunosuppressants/chemotherapy, the elderly, and patients with known high-risk comorbidities. Roughly one-third of HCPs indicated that they have postponed initiation on a new treatment (38%) or have delayed ongoing treatment (29%). Immunosuppressants, biologics, steroids, and chemotherapy are the drug classes that are most often delayed or postponed.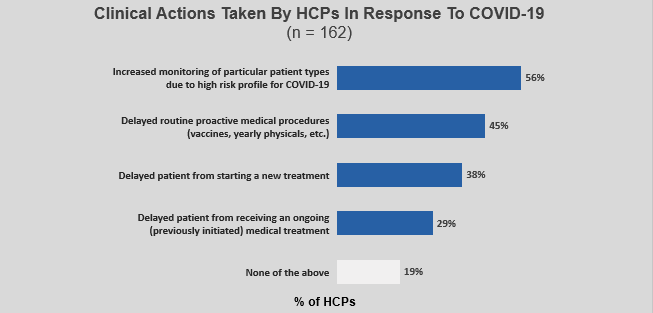 Impact on Pharmaceutical Manufacturers
During this unpredictable time, HCPs want pharmaceutical manufacturers to provide stability—particularly in the form of consistency in the drug supply chain and drug samples for patients. Additionally, given the potential financial hardship inflicted on patients as a result of pandemic, HCPs asked that drug samples continue to be available via mail order. Financial relief should also be made available to HCPs in the form of contractual adjustments and buy and bill forgiveness for medications that may expire due to decreased treatments.
"Some contractual adjustment because there were delays and cancellations, probably won't be able to get the volume required by contracts to achieve discounts and rebates"- Oncologist
Get the Complimentary White Paper
In addition to these high-level perspectives, our full white paper provides a comprehensive look at the impact of COVID-19 on HCP practices. While the situation is evolving rapidly, the concerns and risk mitigation strategies cited by HCPs at this baseline are early indicators of what may be more widely adopted in the coming weeks.

Further topics covered in the white paper include:
Proportion of patient cancellation and proactive treatment discontinuations
Adoption of telemedicine and level of confidence in reimbursement by specialty area
Additional breakdown of clinical actions taken and delay of treatment regimens by HCPs
Detailed HCP requests for support services from pharma
Leave your info below and we'd be glad to share the full 18 page report gratis.
Receive the full white paper.
Leave your info below.
Thanks!
Your message has been successfully submitted.
ZoomRx uses the info you provide to fulfill your request and contact you about relevant insights, products, and services. You may unsubscribe from all communications at any time. For more information, view our full
privacy policy