ZoomRx is a life sciences consulting partner that combines a curated panel of healthcare providers and payers with deep industry expertise and in-house market insight tech. As part of our ongoing COVID-19 coverage, we surveyed a number of payers to build upon our prior physician research.
COVID-19 Payer Impact: Environmental Analysis
Throughout the COVID-19 outbreak, health plans have collectively gone to great lengths to provide coverage in an urgent and unexpected situation. Plans have rapidly adapted to current healthcare needs (Healthcare Dive) by waiving cost-sharing for COVID-19-related care, foregoing out-of-network billing rates, and lifting authorizations for triage across sites of care. However, as payers begin to set FY2021 market premiums and make pivotal decisions about Exchange participation and Medicare Advantage (CMS) bidding, there remains a myriad of open questions about the current and future coverage landscape.

Payers face immense COVID-19-related costs that are largely, or at least partially, offset by widespread delays in costly elective procedures (Health System Tracker). And though such cost tradeoffs are relatively straightforward in a fee-for-service payment model, the projected impact is substantially more complex after considering the size and scope of national payers' risk-based contracting business. Taken from UnitedHealth Group's most recent earnings call: "The elective and chronic disease management deferrals work both ways in a business that has two-thirds of its business risk-based and a third of them fee for service based." (In other words, while non-emergency deferrals under fee-for-service benefit payer cash-flow, deferrals under capitation are most beneficial for provider cash flow.)

Looking ahead, there is even greater uncertainty around the potential COVID-19 cost-drivers in the second half of 2020 and beyond. There are increased costs associated with expanded COVID-19 testing and contact tracing, the potential impact of a fall seasonal COVID-19 resurgence, and coverage costs for a hopeful vaccine. Meanwhile as payers work to manage the uncertainty, they do so amid a profoundly shifting insurance marketplace with millions of beneficiaries migrating from employer-sponsored coverage toward Medicaid (Health Management) and the Exchanges.

With these open questions in mind, the ZoomRx team conducted a survey with 16 national and relevant regional payers focused on the following key COVID-19-related set of questions:
What is the overall expected budget impact for the plans?
How will the COVID-19-related costs affect patient cost-sharing and benefit management for FY2021?
How has COVID-19 affected performance scores for current Advanced Payment Models (APM) and what implications may this have for future APM design?
ZoomRx Payer Panel Summary Insights
The ZoomRx study confirmed that payers are primarily concerned with the medical and pharmacy cost impact of COVID-19 coverage amid a rapidly changing beneficiary mix.  Ultimately, payers anticipate that the COVID-19 related costs will sharply drive premium increases in 2021 (Figures 1 and 2).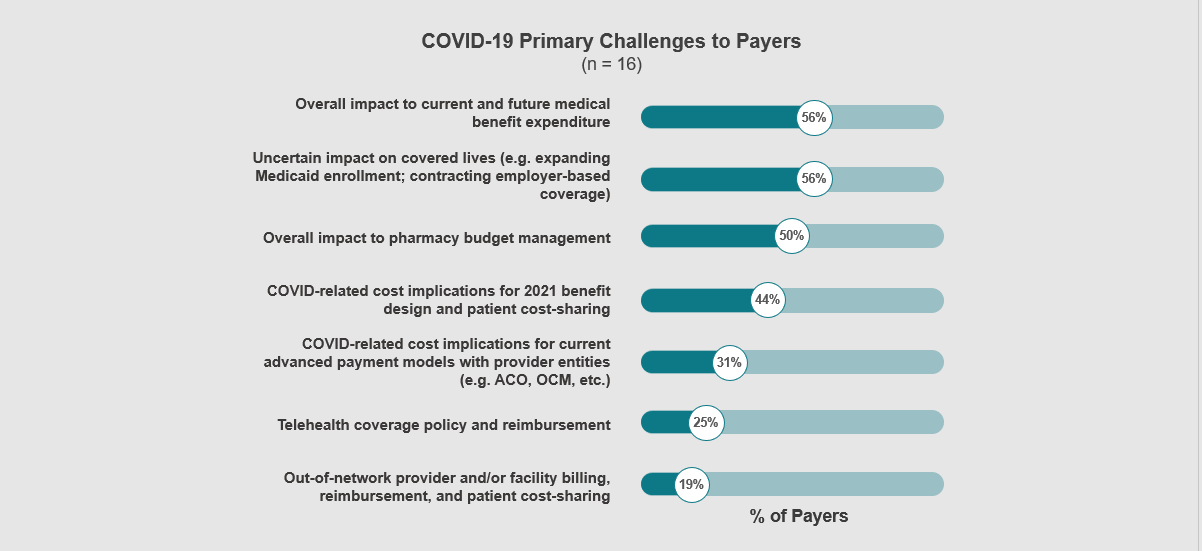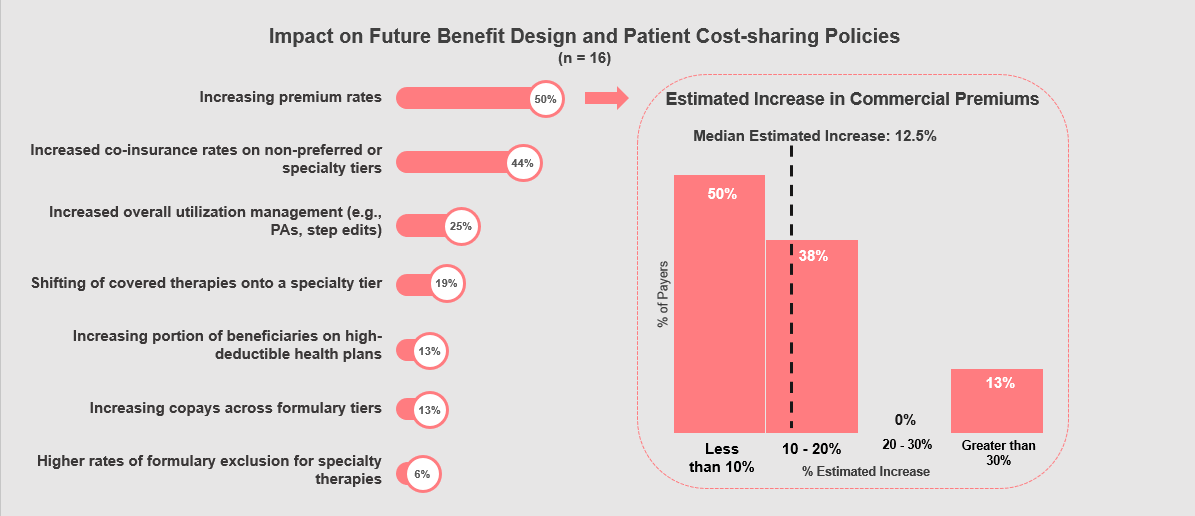 While a median estimated premium shift of +12.5% is an extreme and de-stabilizing increase, there are no government subsidies or risk-adjustment mechanisms in place to handle the pent-up demand from deferred services. On this very issue, the Peterson-KFF Health System Tracker notes, "Insurers may have an incentive to over-price their plans, particularly on the individual market where many enrollees are subsidized and sheltered from premium increases." Although the ZoomRx payer survey results do not necessarily forewarn >10% premium increases, they certainly underscore the urgent need for evidence-based health policy solutions to this looming problem.

While it is true that payers have responded to the COVID-19 crisis with a broad expansion of benefits and increased costs, (BCBS Press Release) it remains unclear how much of these costs may be offset by procedure deferrals and future policy considerations (i.e. federal subsidies and/or risk-adjustments). This extreme cost uncertainty, combined with the unprecedented loss of employer-sponsored commercial enrollees, is ultimately why our panel of payers is leaning toward substantial premium increases and expanded member cost-sharing for FY2021.
Get the complimentary free report
Receive our full report which includes additional perspective from payers on the impact of COVID-19. Further topics explored in the report include:
analysis of COVID-19's overall impact on US payers, and subsequent effect on FY2021 benefit design and category management
COVID-19's impact on employer-sponsored coverage and perspective on initial payer discussions with employers
insight into COVID-19's impact to Advanced Payment Model (APM) reporting and implications for future APM design
Leave your info below and we'll follow-up with the full report .
Receive the full report.
Leave your info below.
Thanks!
Your message has been successfully submitted.
ZoomRx uses the info you provide to fulfill your request and contact you about relevant insights, products, and services. You may unsubscribe from all communications at any time. For more information, view our full
privacy policy