The following is based on a presentation given by ZoomRx at the Pharma Market Research Conference in Newark, NJ on Feb 5-6, 2020. Please reach out via the form at the bottom of this post if you're interested in receiving the full presentation.
Facing nuanced and shifting dynamics that are often difficult to predict, teams frequently find themselves in a fix—having to respond to competitive actions that do not typically fall within the traditional market research planning framework.
Events such as releasing clinical data at conferences, fast-track approval for 'skinny' indication labels, or a change in competitor's messaging strategy makes predicting what key business questions will be evermore challenging.

In addition to competitive pressures, researchers are increasingly relied upon to provide guidance to their key internal stakeholders so they can make informed decisions, such as introducing a different SKUs or evaluating the impact of a new social media channel.
What business questions require a more agile approach?
More than ever, teams are faced with business questions whereby traditional market research approaches are too slow in providing answers. This is because they tend to be predetermined and monolithic in scale. The alternative of ad-hoc research tools available in the market tend to prioritize speed. However, they often produce results lacking the depth needed to make truly informed decisions.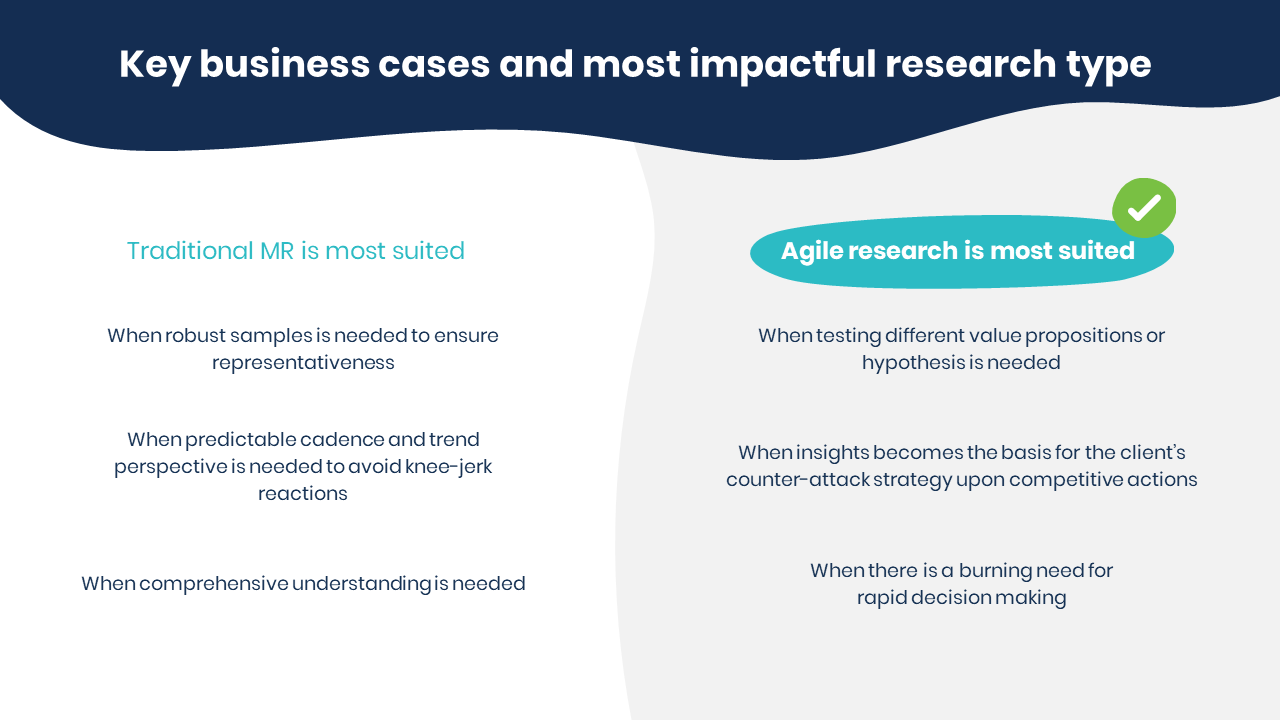 Where traditional research falls short
An agile market research framework can be complementary to traditional approaches. While the traditional framework can focus more on pre-determined KPIs that operate more on a steady state, agile research can be activated to provide fast-paced insights for decision making.

Dissatisfaction with existing DIY service platforms and tools
It is worth highlighting that an agile research framework is different from the DIY service platforms and tools that are already available. These tools provide access to sample panels or survey platforms, often promising speed and cost-savings by cutting the "middle man" - the full service agency.
However, raw data outputs that are often provided by DIY service platforms and tools, lack the thinking process or contextualization that more full service approaches provide. Additionally, DIY research projects often result in an increased operational burden on insights teams.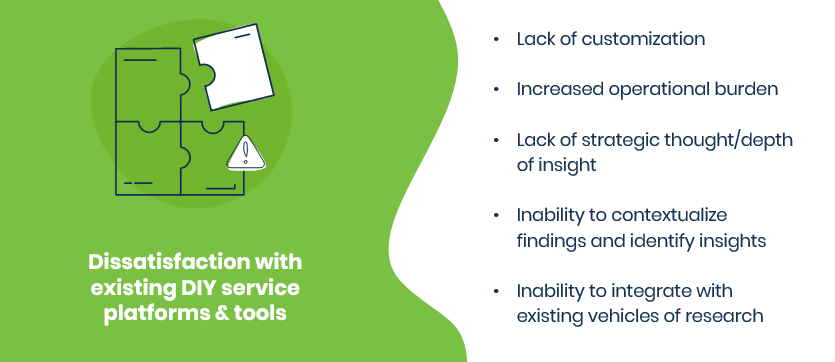 Changing organizational philosophies
An organizational shift we have observed is that there is more acknowledgment and acceptance that "good enough" insight is often sufficient to support evidence-based and timely decision-making (rather than waiting for the 'perfect and complete' insight which slows down the process).
With nimbleness as the priority, how business questions are approached these days has also evolved. Traditionally, decision-making is anchored around pre-defined milestones which leaves less room for flexibility. Now we often encounter teams who pose business questions in the form of hypotheses in need of validation.

What's next?
Brand teams need to develop a research framework that delivers the same high-quality insights at significantly shorter turnaround times by equipping themselves to conduct ad-hoc research based on shifting dynamics and cultivating a philosophical shift away from monolithic, pre-defined research vehicles.

Share your information below and we'll be glad to share our experience helping teams shift to more agile research. Including keys to implementation including:
close collaboration between research partner and commercial teams
finding a champion
choosing methodologies based on business questions
partnering on deliverables
We'll also share some examples of when agile research methods allowed teams to make informed decisions when faced with unforseen obstacles.
Speak with a ZoomRx agile research expert.
Leave your info below.
Thanks!
Your message has been successfully submitted.
ZoomRx uses the info you provide to fulfill your request and contact you about relevant insights, products, and services. You may unsubscribe from all communications at any time. For more information, view our full
privacy policy