Despite the disruption and transition to a completely virtual format, 2020 was not an off-year for ASCO.
Nearly all oncologists who attended this year's ASCO Annual Meeting felt that it represented at least some progress in medical oncology, with 2 in 5 saying it brought "major progress" or even "breakthrough" results. While this assessment of clinical progress is comparable to oncologists' assessment of ASCO 2019, there is strong sentiment indicating that this year's conference was "practice changing" and will have immediate clinical implications.
Source: ZoomRx survey with n=75 U.S. oncologists who attended ASCO20, survey conducted June 3-7
Despite the positive response to new clinical data, the virtual format received mixed reviews. Many oncologists appreciated the ease of access to presentations and the convenience of participating at their own pace. However, they also felt that the interpersonal aspect of the conference was missing and that the virtual framework offered reduced opportunity for networking and engagement with manufacturers.
This year's meeting showcased studies with immediate clinical implications
Last year's conference included a wide range of updates on novel MOAs, but had relatively few studies immediately applicable to clinical practice, causing some analysts to call it an "off-year" for ASCO. This year, about half (48%) of oncologists identified at least one session that they felt was practice-changing, with strong consensus around the top sessions (essentially reflecting the line-up of the Plenary Session), including:
These studies were seen as introducing a new standard of care or even a paradigm shift in their respective indications, including the move towards earlier (adjuvant) settings in EGFR+ NSCLC, proof of maintenance concept in 1L mUC, and the first successful use of PD-L1 in MSI-high CRC.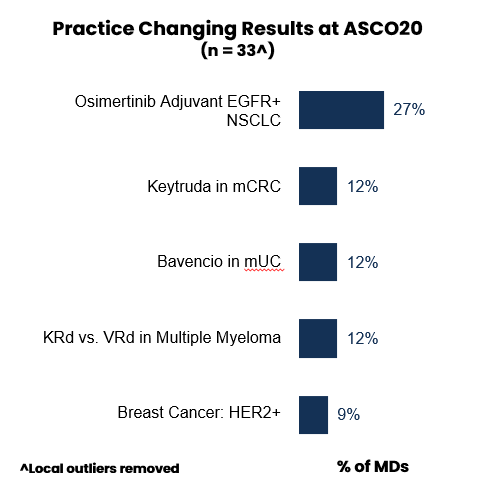 "…the plenary data I saw on pembrolizumab in colon cancer and adjuvant TKI therapy in lung cancer did appear practice changing."
"VRd vs KRd in myeloma, establishes that KYPROLIS is not superior to VELCADE for efficacy."
"Plenary session mainly, i) use of osimertinib as adjuvant therapy in early lung cancer, ii) [guidance on] removing [tumor] in a metastatic setting, iii) the maintenance use of avelumab in bladder cancer after chemotherapy and also [iv] in multiple myeloma  - KRd was not better than VRd."
Beyond attracting the highest attendance, a number of these sessions also generated the greatest amount of excitement and live engagement via Twitter based on our Ferma.AI buzz analysis.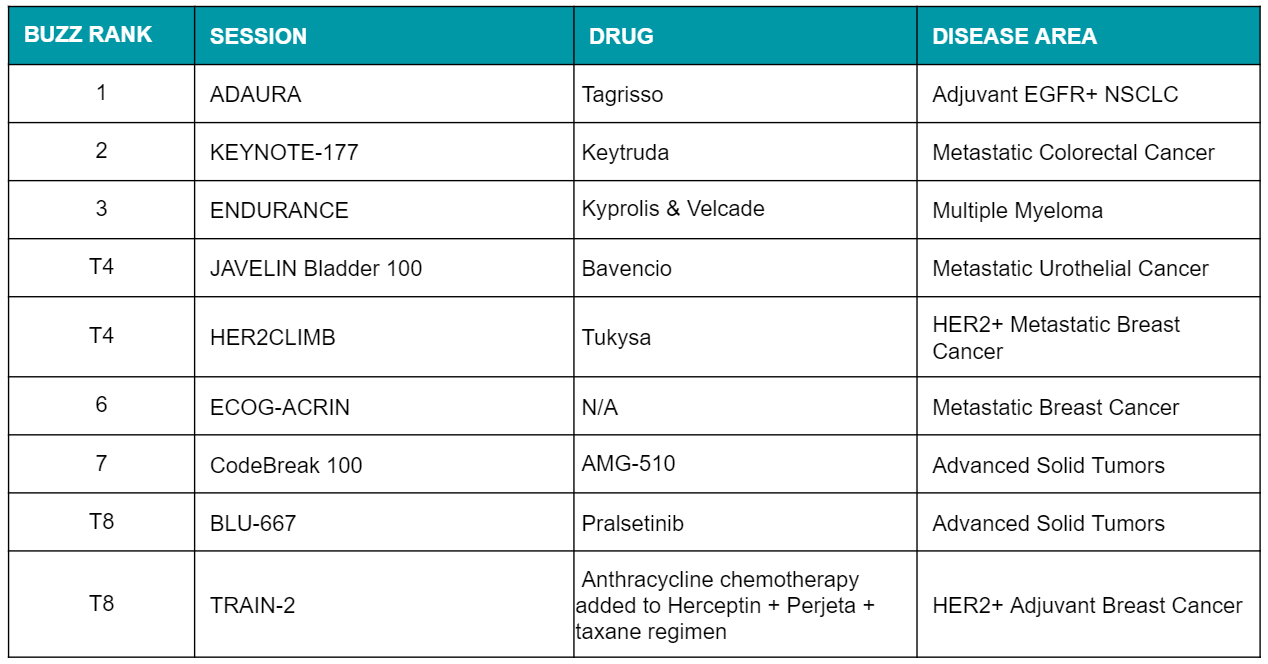 While cost discussions were somewhat less prominent this year, the cost-effectiveness argument was highlighted during the plenary Velcade vs. Kyprolis presentation, with financial benefit tipping the scale in favor of Velcade given the relative clinical parity between the two therapies.
Oncologists reported on both the positive and the negative aspects of a virtual ASCO meeting

Oncologists overwhelmingly would prefer to attend future ASCO annual meetings in person. However, they would encourage organizers to retain select aspects of the virtual format moving forward.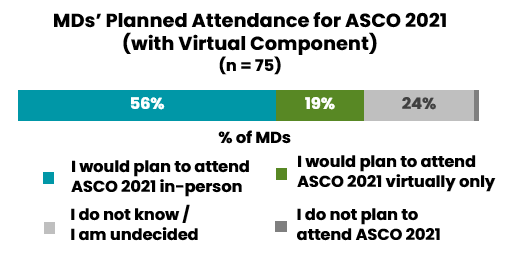 Aspects of the virtual format they would like to see retained include the full digital library of presentations, video recordings of presentations, and the ability to submit questions during live presentations.
"I thought the virtual format was convenient, and I liked the access to the presentations. I miss the networking that normally occurs at in-person ASCO. I also feel more focused on the conference when I am physically there."
"I thought ASCO did a very nice job. Perhaps in the future there could be more encouragement of networking / research collaborations. One obstacle with the virtual format was that it was difficult to justify suspending my clinical care to focus on the meeting."
"I was able to review all the information within my office home. It was very convenient."
Overall, half of oncologists viewed the key highlights of the day and seminar sessions, including the opening and plenary sessions, though most oncologists did not watch them live, choosing instead to watch them later on-demand. Additionally, some oncologists declared an intent to view the sessions at a future date.
The total number of hours oncologists engaged with the meeting was relatively low compared to previous 5-day in-person ASCO meetings. Attendees reported an average of 6 hours of live engagement and 10 hours of post-conference engagement.
Booth attendance and networking between oncologists and manufacturers suffered within the virtual framework
Only 16% of respondents visited virtual booths or exhibits from pharmaceutical companies this year; among those who did visit, over half spent significantly less time visiting exhibits compared to other in-person conferences. The virtual booths ranged from minimalist (contact information, website directories, etc.) to digital recreations of physical booths. However, the extent of creativity put into the booths (videos, downloads, and engaging interfaces) did not seem to drive greater participant engagement. Manufacturers may need to expand their efforts to include greater opportunities for networking and peer-to-peer interaction either during or following ASCO.
Looking forward to 2021 and beyond
While the virtual format increased the accessibility of exciting new data and other key information, the lack of an in-person meeting left many oncologists wanting increased networking opportunities and the intangible benefits of informal interactions. Oncologists' reactions to this year's first fully virtual ASCO meeting suggest that a hybrid virtual/in-person approach may be necessary to deliver the best of both worlds.
---
Get the complimentary full report for more perspective from oncologists on this year's ASCO Annual Meeting.

In addition to these high-level perspectives, our full post-conference report provides a deeper look at ASCO 2020, including:
Major themes observed by oncologists who attended the conference
Reported levels of engagement with presenters across channels
Oncologists' attendance and perception of key sessions
Leave your info below and we'd be glad to share the complimentary full report with you.
Get the report.
Leave your info below and a member of our team will follow-up shortly.
Thanks!
Your request has been successfully submitted. A member of our team will follow-up at the email you provided with your report shortly.
ZoomRx uses the info you provide to fulfill your request and contact you about relevant insights, products, and services. You may unsubscribe from all communications at any time. For more information, view our full
privacy policy